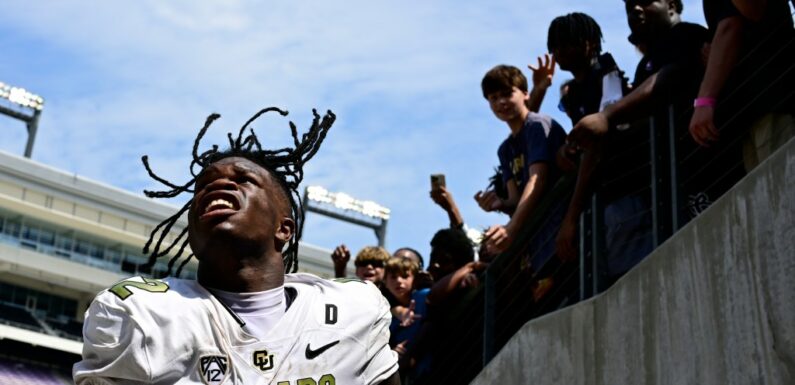 BOULDER — Only one man in the free world can stop Travis Hunter. And that's Deion Sanders.
"He gets upset," Sanders, coach of the No. 22 CU Buffs and king of the college football world, said Tuesday. "Like I told he and (CU running back) Dylan (Edwards), 'I don't want to see (you) practicing until Wednesday.' So they're gonna start work (Wednesday), which gives them a few days off to get their body recuperated."
TH12 set college football back years in Week 1. And by years, we mean decades. According to ProFootballFocus.com charting, the lithe, smooth, 6-foot-1 sophomore celebrated his Buffs debut by kicking it old-school, logging 144 snaps for CU — 80 at cornerback and 64 at wide receiver.
Context: The NCAA record for FBS team offensive plays a game is 118. The FBS mark for combined plays, by two teams, is 209.
"He's different, as the young folks say," Coach Prime said. "He's phenomenal."
He's the bar. You want to talk Power 5 statements? Try 119 receiving yards on the road against the defending natonal runner-up, 11 catches, one interception, one pass break-up If the Heisman Trophy means what it says on the base and goes to the most outstanding college football player in the country, that's easy.
There's Hunter. Then there's a hole you drive Russell Wilson's Ram 2500 through. Then there's everybody else.
"He's a freak athlete," TCU offensive lineman Patrick Willis, who played with Hunter last fall at Jackson State, told me last week before the Buffs tussled with the Frogs in Fort Worth. "He's a great kid. He's doesn't go out to parties … doesn't go out to (clubs) and do any of that stuff.
"Travis plays football, goes home, stays in, has fun at home. He's one of those guys who just loves the game of football. He's uber-talented. He can do anything on the field, offensively, defensively, and he's just a good kid. He's a great kid to be around."
Willis also said Shedeur Sanders was legit; that Coach Prime cares more about offensive line play than you think; and that CU had the goods to be all kinds of scary, right from the jump.
Three for three.
"(Hunter's potential), I think, is high," Patrick continued, "and I expect good things from him this year. I'm rooting for him."
Hunter's on a pace for nearly 1,750 snaps this season. If he gets there, the kid's not just a freak. He's a cyborg. For all the hand-wringing on social media and on the talk shows Tuesday about "load management" and "burnout," keep two things in mind before you start shaking a fist at the nearest cloud.
One, Hunter is only 20. Two, Sanders already has a pitch count in mind for his best player.
"You have so many young men in high school that play both ways and all these (college) coaches promised them this, that, (and) 'You're gonna be able to continue to do that when you come to this institution,'" Coach Prime said. "And they're just (saying) it to get them (to come). I haven't seen it. I just haven't seen it happen. And I told (Hunter), 'I'm not hard to find, I know how to do it. I know how to monitor it. I know how to make sure that you're where you need to be.'
"But the rule I have (is), you must be dominant on one side of the ball before I allow you to go to the other side. You must be dominant. And I feel as though Travis had proved his dominance on either side of the ball. And he's in incredible shape as well."
It's Huskers Week, and we know Deion and Shedeur Sanders have already sussed out what that means around here. Speaking of the Big Red, former Huskers defensive great Ndamukong Suh in 2009 received 161 first-place votes for the Heisman. Mine was one of them.
Sorry, Mark Ingram. You, too, Toby Gerhart. Suh was a one-man wrecking crew, unblockable as a defensive lineman and unmissable in his offensive cameos.
You know what?
Hunter's better.
"(Heisman voters), they want action," Coach Prime continued. "They want to see plays made. And it's hard to make plays (as a cornerback) when the play is not designed for you to make it.
"You've gotta be so aggressive and so dominant, as a Charles Woodson was, to be able to command that type of attention, and make those type of plays where you actually win the Heisman.
"Just having the audacity to get on the offensive side of the ball and be dominant, that gives (Hunter) the upper hand. He's tremendous."
He's different. Like Michael Jordan and Dean Smith at North Carolina, the only limits on No. 12 are in the hands of the coach and the system.
Only one guy can stop Hunter. And based on that smile he flashed at the Champions Center on Tuesday, Coach Prime's having too much darn fun to spoil the party now.
Want more sports news? Sign up for the Sports Omelette to get all our analysis on Denver's teams.
Source: Read Full Article