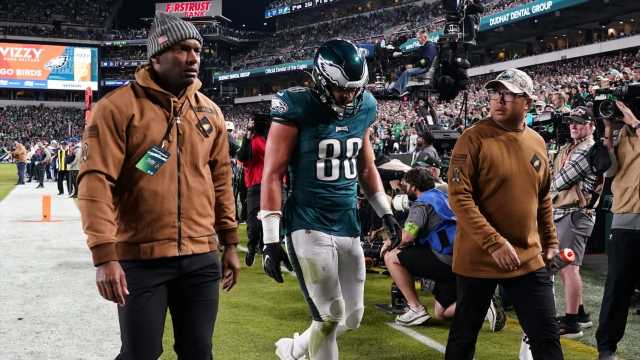 The Philadelphia Eagles' rivalry win Sunday didn't come without a significant loss.
Eagles tight end Dallas Goedert suffered a fractured forearm in Philadelphia's win over the Dallas Cowboys and is expected to need surgery, NFL Network Insider Ian Rapoport reported Monday on Good Morning Football.
Goedert is scheduled for an MRI and additional tests on Monday to confirm the diagnosis and need for surgery, per Rapoport, who added that the procedure would likely happen as soon as today, and the hope is that Goedert would only miss around four weeks.
In the third quarter Sunday, Goedert hauled in the last of his three catches from Jalen Hurts and was thrown down along the sideline onto his arm. He remained on the field for a good amount of time before leaving for the locker room.
Goedert, who had a slow start to the season, has come on lately. He had three catches for 50 yards Sunday and has 38 receptions for 410 yards and a pair of touchdowns on the year.
Goedert has missed time in each of his previous four seasons, including being sidelined for four games last season with a shoulder injury.
Source: Read Full Article