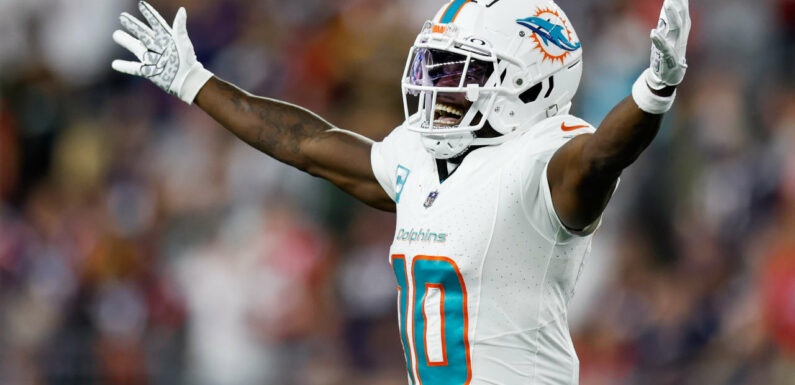 Following Sunday night's 24-17 victory over the New England Patriots in Foxborough, Miami Dolphins receiver Tyreek Hill reveled in the road win by taunting the home fans by waving goodbye.
"It felt tremendous, man," Hill said, via Marcel Louis-Jacques of ESPN. "Those fans are some of the worst fans in the NFL. And I'm going to stand on that; they are real nasty. Some of the things they were saying, I wouldn't say in church. So yeah, it felt great to wave goodbye to the fans, and I'll do it again. Bye."
There is some background between Hill and Patriots fans. In 2018, after Hill scored a 70-yard touchdown as a member of the Kansas City Chiefs, a man threw a beer on the WR, was subsequently charged with disorderly conduct and was banned from future events at the stadium.
Related Links
2023 NFL season, Week 2: What We Learned from Sunday's games
Week 2 NFL picks: Who wins Saints-Panthers, Browns-Steelers on Monday night?
Jets QB Aaron Rodgers aims for potential playoff return after innovative surgery on torn Achilles
After his 215-yard performance in Week 1, Hill was slowed to 40 yards on five catches Sunday night, but snagged an important TD late in the first half to push the Dolphins' lead to 14. Hill wasn't worried about his lack of big plays against Bill Belichick's defense.
"We won, didn't we?" he said. "That should be the only focus. That's why we play the game."
The Patriots played five-plus defensive backs on 32 of 61 snaps, per Next Gen Stats, to slow down the speedy Hill and running mate Jaylen Waddle. It worked for the most part, but the Dolphins beat New England with an excellent running game and spreading the ball around.
Rookie corner Christian Gonzalez did a fantastic job tailing Hill (with help over the top). The rookie was the nearest defender on four of Hill's nine targets and allowed one catch for eight yards.
Hill was held to -36 receiving yards over expected on nine targets, per NGS, his second-lowest since joining Miami in 2022. The Patriots have held Hill to a negative RecYOE in all three matchups with the Dolphins. Miami won all three games.
"It feels good, man. It always feels good to beat probably one of the greatest coaches of all time," Hill said. "To come in here in a tough environment, to win a game like this on a Sunday night, it feels good — especially the way this team played, the way this team battled through adversity. It just shows that if you put in the work mentally, physically, and come into this game prepared, you'll be ready for situations like that."
Source: Read Full Article