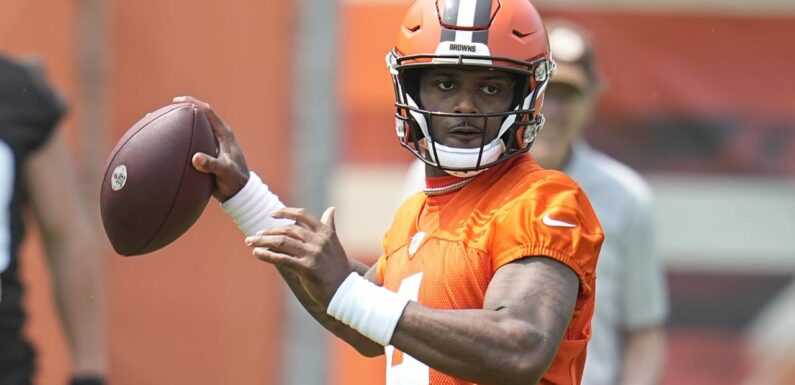 After three weeks out of action, Cleveland Browns quarterback Deshaun Watson could return this weekend.
Watson (shoulder) will be listed as questionable for the Browns' Week 7 game against the Indianapolis Colts, head coach Kevin Stefanski told reporters Friday.
"I want to see how he responds over the next 48 hours, based on that full workload that he just got, but he looked good today," Stefanski said.
When asked if Watson was trending toward starting Sunday, Stefanski quipped, "Those are your words." The coach added Watson is "making progress every day" and the reps he took were considered normal for a starting quarterback.
Related Links
NFL Week 7 bold predictions: Lamar Jackson shreds Lions; Vikings stun 49ers; rookie receiver breaks out
NFL trade deadline: Tracking every move since start of the 2023 regular season
NFL QB Index, Week 7: Tua Tagovailoa returns to No. 1; Matthew Stafford enters top five
It might sound unnecessarily redundant, but considering how Watson's injury status has evolved since first suffering it in a Week 3 win over the Titans — including a last-second scratch in Week 4 and vague messaging from the team before Watson spent another Sunday in street clothes in Week 6 — the repetitive questions regarding otherwise minor details are required.
For the first time since Week 4, it sounds as if the Browns believe there is a legitimate chance Watson could play. And if he can't, backup P.J. Walker — who helped the Browns upset the San Francisco 49ers in Week 6 — will play in his place, per Stefanski.
Earlier this week, Watson revealed his injury was not simply a shoulder contusion, but an issue related to his rotator cuff. He explained he hasn't felt right, and wouldn't return to action until he knew he could play without putting the team "in jeopardy."
Watson tested the shoulder in the latter practice sessions of the week. Now, it's about seeing how his body responds before making a final decision prior to kickoff.
Source: Read Full Article