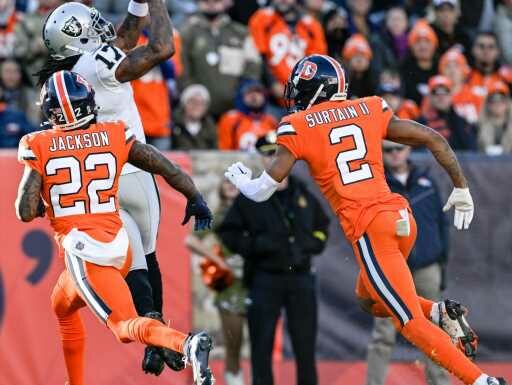 Very few wide receivers can make Broncos cornerback Pat Surtain II look lost on the field. That's why Davante Adams is one of the best in the business.
In overtime of Denver's Week 11 matchup against the Las Vegas Raiders, Adams faked left, turning Surtain around before cutting to the right corner where he caught a wide-open 35-yard touchdown pass to beat the Broncos, 22-16. Adams' insane footwork and precise route running had Surtain flat-footed and many Broncos players in disbelief.
"That's the toughest thing about the position. … Sometimes stuff like that happens," Surtain said on Thursday.
Surtain might be a top-two cornerback in the game, but on that afternoon in November, Adams — who recorded 144 receiving yards and two touchdowns — reminded the 23-year-old that he is still a youngin'.
Surtain doesn't dwell on the past, one of the many reasons he has had success in his career. But if he wanted payback for Adams' waving at Broncos fans in the end zone after leaving him in the dust, Sunday's season-opener against Las Vegas at Empower Field at Mile High would be the perfect opportunity.
"I set myself at a high standard and always want to compete against the best," Surtain said. "(When) competing against him and other great receivers in this league, I look at those matchups as a win-win situation."
Surtain held his own in the first matchup against Adams last season. He broke up three passes while allowing 54 receiving yards when facing the Fresno State product. Week 11 was a different story, with Adams recording 85 receiving yards and two scores.
Adams, who is seeking to become the first player to record 1,500 receiving yards in three straight seasons, had a hiccup during training camp when he suffered a minor right leg injury during joint practice with the San Francisco 49ers last month. At the same time, he is still developing his chemistry with new quarterback Jimmy Garoppolo. Still, Adams is Adams.
Surtain has the utmost respect for Adams, calling Aaron Rodgers' former go-to target a "technician" who's smooth and crafty. The same could be said about Surtain, the youngest player in Broncos history to earn AP First-Team All-Pro honors. His cover skills seem effortless, like he's always two steps ahead of his opponent.
Through two seasons, Surtain has 118 tackles, six interceptions and 24 passes defended.
"(Surtain) is unique," Broncos defensive coordinator Vance Joseph said. "He's got something in his body and his brain that a lot of guys don't have. He loves to play."
When facing the Raiders, Joseph said you have to pick your poison. He understands it's hard to contain Adams and running back Josh Jacobs. But the Broncos have Surtain, which Joseph finds reassuring when he is game planning.
Surtain can line up against anybody in the world, which gives Joseph the freedom to worry about other aspects of Denver's defense. Surtain didn't say if he would shadow Adams for the entire game, but he's excited about the game plan for Sunday.
"That's a tool that not a lot of coordinators have," Joseph said. "One side of the field? It's done. Now I can help the other side of the field. It's a comfort you don't realize is awesome until you have one."
Want more Broncos news? Sign up for the Broncos Insider to get all our NFL analysis.
Source: Read Full Article