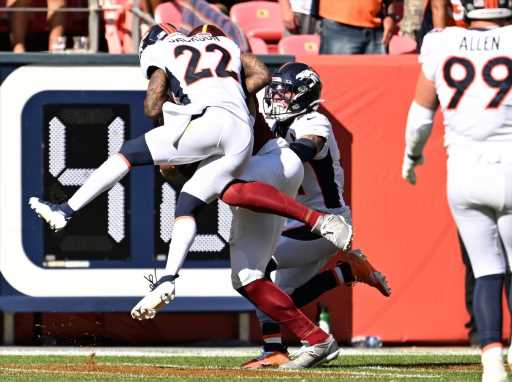 Broncos veteran safety Kareem Jackson will not be suspended by the NFL for his second illegal high hit in as many weeks, a league source confirmed Monday to The Post.
Jackson, 35, was penalized and ejected in the second quarter of Sunday's game against Washington after he launched into a high hit on Washington tight end Logan Thomas on a fourth-down touchdown reception.
The Broncos safety was also flagged for unnecessary roughness in Week 1 for a high hit on Las Vegas wide receiver Jakobi Meyers.
Meyers and Thomas were each diagnosed with a concussion and Meyers did not play Week 2 for the Raiders. Jackson apologized for that hit after the Week 1 game and said, in part, ""Obviously we don't play this game to hurt guys. It's a tough sport we play. … Unfortunately stuff like that happens. Definitely sending my thoughts and prayers to him."
The NFL considered a suspension after the second hit, but opted against, a league source said. The play now proceeds through the league's normal review process to determine if — in this situation, more likely how much — Jackson will be fined. After Week 1, he was fined $14,819 for the hit on Meyers.
Denver also lost reserve safety Delarrin Turner-Yell to a cramping issue in the second half, prompting the Broncos to move nickel Essang Bassey to safety.
Assuming both Jackson and Turner-Yell are available against Miami on Sunday, Denver still has just three true safeties healthy.
"When we finalize our injury statues from this weekend heading into this week of practice, we'll make sure we're deep enough there," coach Sean Payton said Monday.
Want more Broncos news? Sign up for the Broncos Insider to get all our NFL analysis.
Source: Read Full Article