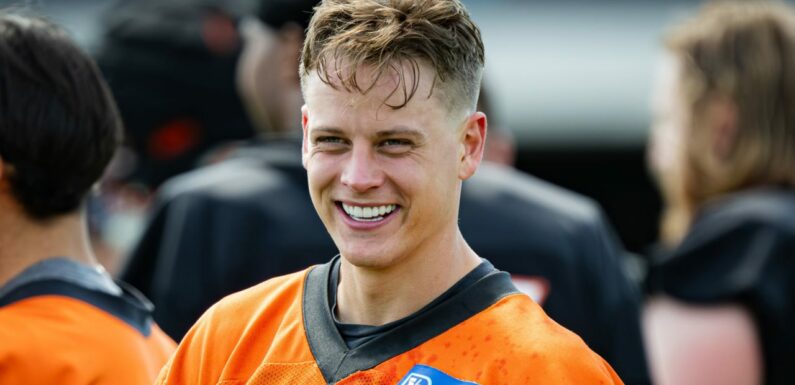 Bengals quarterback Joe Burrow's performance in Cincinnati's 24-3 loss to the Cleveland Browns was out-of-character and a touch worrying for those who saw his struggles to get the offense moving. Apparently, one way Burrow has tried to remedy last week's issues is with a fresh haircut ahead of this week's practices.
After a reporter asked on Wednesday what prompted him to get a new style right now, Burrow responded: "When you have a game like that on Sunday."
With the cut, Burrow returns to the shorter look that he has sported for most of his career, and the Bengals will hope that this will also bring back the high-level play they're more used to seeing from their QB.
Burrow had a career-worst performance in Week 1, throwing for a career-low 82 yards and completing 45.16% of his passes. That is a far cry from the usual numbers for Burrow, who averaged 279.7 passing yards per game and a 68.3% percentage last season when he made his first Pro Bowl and finished fourth in MVP voting.
Related Links
2023 NFL Offensive Player Rankings, Week 2: Best QB option for Jets? Evaluating 6 struggling offenses
Bengals WR Ja'Marr Chase after blowout loss to Browns: 'We just lost to some elves'
NFL Power Rankings, Week 2: 49ers hit No. 1; can Jets overcome Aaron Rodgers' devastating injury?
✂️😁 pic.twitter.com/MqyOvP7QhV
Though Burrow said his answer about the haircut was partially made in jest, there's an underlying sense of honesty to the statement. Something will need to change if the Bengals want to get right, and Burrow could be hoping a change to his physical appearance can lead to improvement on the field. New hair, old Joe Burrow.
Though he'll need to clean up some aspects of his play from last Sunday, one area which Burrow said he doesn't have to worry about is his health. After suffering a calf strain early in training camp that kept him out the entirety of the preseason, Week 1 was Burrow's first chance to see game action since the AFC Championship Game back in January. Burrow said that his calf "felt good" after Sunday's outing, and his practice status backed up that assertion. He was listed as a full participant on Wednesday.
With a fresh new cut and hopefully an accompanying on-field change, Burrow will now look to get back on track with the Bengals' upcoming matchup against the Ravens, hoping to avoid starting the season 0-2 for a second straight year. Burrow is 3-3 in his career versus Baltimore, and the teams split the regular-season series in 2022 before Cincinnati took down the ACF North rival in the playoffs.
"They run the ball really well on offense, so it limits your possessions, and then their defense is tough, very physical, very sound in their scheme," Burrow said of the Ravens. "They do a great job of sending blitzes at you that you don't see on tape before, they have a lot of great week-to-week game plan stuff, so you have to be able to adapt to it. They got good players, good coach, good scheme, it's going to be a challenge."
The Ravens and Bengals will kick off at 1 p.m. ET on Sept. 17 in Cincinnati.
Source: Read Full Article