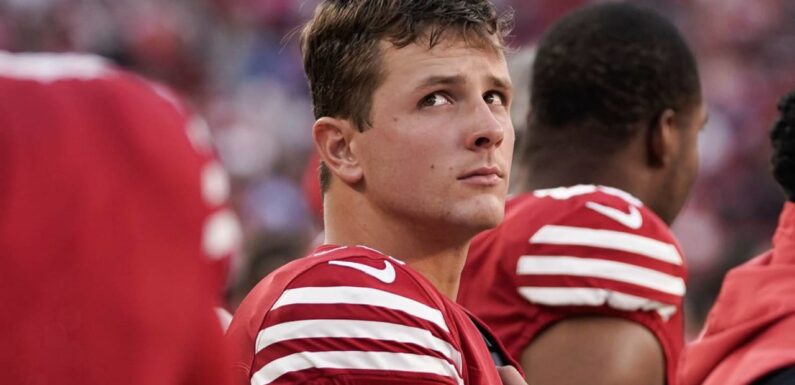 Pittsburgh Steelers cornerback Patrick Peterson made some waves this week, saying publicly that the San Francisco 49ers offense has "some tell signs" ahead of Sunday's Week 1 matchup.
On his All Things Covered podcast, Peterson, who praised Kyle Shanahan's scheme, noted that there were tells about what play might be run and predicted he'd intercept Brock Purdy on Sunday.
Related Links
Week 1 NFL picks: Jets unanimously predicted to top Bills in Aaron Rodgers' debut; Steelers to beat 49ers?
Niners edge Nick Bosa agrees to terms on record 5-year, $170M extension
2023 NFL season preview: Fifty-eight things to watch on the road to Super Bowl LVIII
Exclusive T.J. Watt interview before Week 1 vs. 49ers | 'NFL Kickoff Preview'
Status of Brock Purdy's elbow on Sept. 7 | 'The Insiders'
Which NFC team poses top threat to Eagles? | 'NFL GameDay: Season Kickoff'
"There is some tell signs out there that tells us what plays we're gonna get from those guys in certain situations," Peterson said, not divulging what exactly those tells were. "When I get my pick Sunday, we'll talk about it."
Purdy, set to start his ninth career game, including playoffs, brushed off the comments when asked about Peterson suggesting he knew what plays were coming.
"Yeah, I don't really know what to say about that," Purdy said, via NBC Sports Bay Area. "I mean, he's a good player. Patrick Peterson's a great player. I grew up watching him and everything. I was obviously from Arizona. He played for the Cardinals and stuff. So yeah, it's the competitive nature of football. So, we'll see."
A 33-year-old, eight-time Pro Bowler, Peterson joined the Steelers this offseason. He has 34 career interceptions, including five last season with Minnesota. Purdy, meanwhile, has thrown two total INTs in his eight career starts (two additional interceptions in relief appearances).
Source: Read Full Article