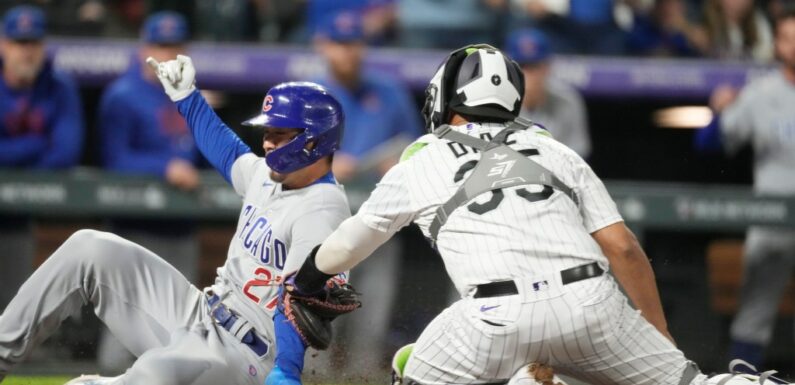 As usual, September is the closest Colorado will get to the cold-weather thrills of playoff baseball. The Rockies can try to conjure a little October excitement from time to time, but the real postseason contenders often arrive to put the last-place teams in their place.
The Rockies coughed up a ninth-inning lead Monday night to drop their series opener 5-4 to the Cubs at Coors Field. Brenton Doyle singled home tying and go-ahead runs in the seventh, but Yan Gomes returned the favor in the top of the ninth, handing Tyler Kinley a blown save and Colorado (51-92) its fifth consecutive loss.
"This is a good experience for them, to see these types of games," Rockies manager Bud Black said. "And to see what happens, and to see the little things that can turn a game. These are all learning experiences for so many guys."
Aside from a three-run seventh, Colorado only mustered four hits as the summer heat and long-fly-ball tendencies of the Front Range chilled out — a reminder that this unflattering 2023 season is almost over. The Rockies have failed to hit a home run in eight of their last nine games.
They're playing for pride, prospects and to avoid 100 losses in these final weeks, while the Cubs are jockeying for playoff positioning. Coors sounded like it on Monday night.
"Witnessing that on the wrong side of it sucks," starting pitcher Kyle Freeland said. "Knowing that we're not going to the playoffs, knowing that we're not close to a hunt for playoffs. It stings."
LoDo Wrigley was re-energized when Dansby Swanson's liner into left-center to lead off the ninth bounced off the glove of a sliding Nolan Jones, resulting in a double. A walk, a double steal and Gomes' single amplified the Chicago fans.
"I made a mistake," Jones said. "The ball should have been caught, and it cost us the game."
"Nolan's a converted infielder to outfielder," Black said. "We've seen that a couple times this year. But we're going to go through that as he becomes more comfortable as an outfielder."
The Rockies actually lucked out from the cool air more than the visitors, who drove a number of hard-hit balls toward the track that might have soared a few feet farther in July. Freeland navigated those loud outs and a couple of jams to produce a solid six-inning, three-run outing. He allowed eight hits, including a go-ahead home run to Christopher Morel in the fifth inning that would have left the yard in below-freezing temps.
Freeland also worked around an unusual delay. In the top of the third, home plate umpire Brian O'Nora abruptly jogged off the field, through the Rockies dugout. An approximately 15-minute stoppage ensued before second base umpire Tom Hanahan took over calling balls and strikes. O'Nora didn't return to the game, which proceeded with a three-man crew.
"He was sick. I think he was throwing up or something," Freeland said. "It's never happened to me. I can't recall ever having a home plate umpire get knocked out, like with a foul ball or anything like that, and have to switch. Not while I'm pitching at least."
When the game paused, the Cubs were trying to keep the line moving. Three straight singles to start the inning had tied Colorado 1-1. When action reconvened — Charlie Blackmon had left his post in right field to hang out in the bullpen — Freeland escaped. With help. Blackmon made a diving catch in right to possibly save a run, and Cody Bellinger grounded out to end the threat.
Outfield defense kept Colorado in the game until it didn't. Jones gunned down an insurance run to end the top of the sixth, keeping the score 3-1; it wasn't enough, however, to prevent him from feeling like his missed catch was the reason his team lost.
"To lose this one for us, it hurts," he said. "It sucks."
Want more Rockies news? Sign up for the Rockies Insider to get all our MLB analysis.
Source: Read Full Article