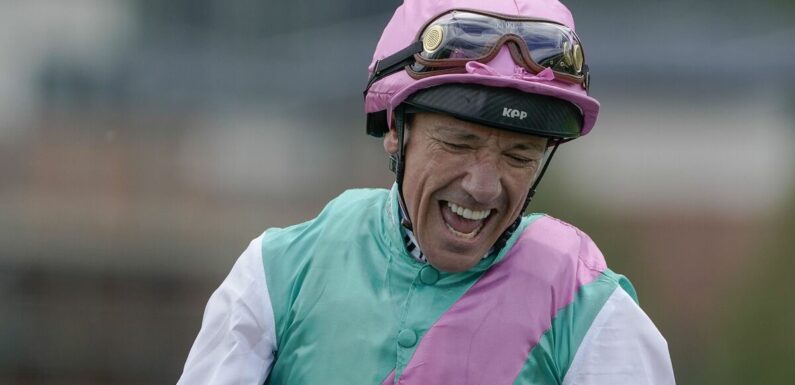 Frankie Dettori's trophies, jockey scales and boots among items up for auction
Legendary jockey Frankie Dettori has announced that he will no longer be retiring at the end of the season, despite participating in a 'farewell tour' of the UK and Ireland. The Italian has decided to remain in the saddle next year, though will only be riding in the United States.
After revealing in December 2022 that he was set to conclude his successful career at the end of this season, Dettori posted a video on X (formerly Twitter) announcing that he has had a change of heart and those plans have been scrapped.
He explained: "Hi everyone, Frankie here. I'm in London promoting British Champions Day which will be my last day riding in England, but I have a scoop for you guys, I have decided to prolong my career and I'm going to go to the United States from next year. Keep on following me!"
Detorri is expected to move to California and continue riding there, though he insists that his last race in the UK will come later this month. The 52-year-old highlighted QIPCO British Champions Day at Ascot as his finale, and those plans remain in place.
Don't miss… Aintree protestor told ban would be 'greatest equine crisis since WW1′[LATEST]
Rumours have been circulating over recent months that Dettori would U-turn on his retirement announcement given that he is still producing winners at some of the biggest meetings. The legendary jockey has ridden two Classic winners this season and recorded his 500th winner at Newmarket last weekend when guiding Inspiral to a sensational victory in the Sun Chariot Stakes.
Trainer John Gosden then fuelled the fire by hinting that he did not think that racing fans were set to see the last of Dettori this year, with the success that his retained rider playing a key role in his decision to cancel his plans. Speaking to the Racing Post, Dettori explained: "I didn't expect this year to be so successful.
We use your sign-up to provide content in ways you've consented to and to improve our understanding of you. This may include adverts from us and 3rd parties based on our understanding. You can unsubscribe at any time. More info
"I feel like I still have to get it all out of my system, so the obvious choice for me is to move full-time to America because I had such a good time there over the winter. I'm going to be based at Santa Anita but I'll also do a bit of stuff on the international scene in Dubai and Saudi Arabia when available.
"We have been working on this for the last few weeks but I wanted to dot all the Is and cross all the Ts before saying anything. We've now sorted things out at home. The kids are settled, our house has been rented and I've got myself a visa, which was the big concern. It was a long process to get that but we've got it now. We are good to go."
Source: Read Full Article