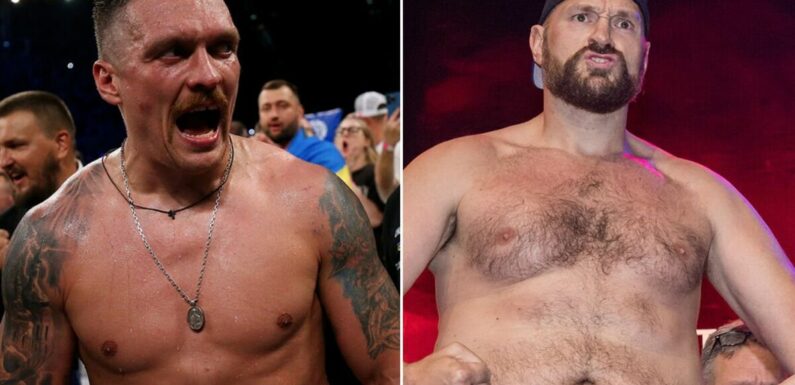 Boxing star Tyson Fury has seemingly declared he has no interest in fighting Oleksandr Usyk, as it seems increasingly less likely a unification between the two will ever happen. Fury is currently preparing for a fight with MMA star Francis Ngannou in Saudi Arabia on October 28.
The two heavyweights are preparing for the highly-anticipated super-fight in Riyadh at the end of October. It will see Fury go up against former UFC heavyweight champion Ngannou, who is typically accustomed to entering the Octagon rather than the ring.
Fury currently holds the WBC Heavyweight title after beating Dereck Chisora by TKO at Tottenham Hotspur Stadium in December 2022. Usyk, on the other hand, is also a heavyweight champion and holds the WBA Heavyweight title.
Usyk and Fury are yet to face each other in the ring, although there have been rumors that a deal could be agreed between the two fighters. However, Fury has seemingly distanced himself from the likelihood of facing Usyk in a fight any time soon.
Fury has a little over a month before entering the ring to fight Ngannou. However, the 35-year-old did outline a condition that would need to be met for him to enter talks to fight Usyk.
Speaking to Sky Sports, Fury admitted he has no interest in legacy, and is simply fighting for money at this stage of his career. He explained: "I didn't come back for belts, for titles or anything. I came back to secure my grandkids and their grandkids and their grandkids. And I've done that.
"I have no interest in fighting [contenders]. I'm bigger than all of them, I'm a superstar, they're nobodies. I'm happy, they're not." 
Don't miss…
Wilder's coach throws Anthony Joshua fight into doubt after agreement claims[LATEST]
Anthony Joshua's two likeliest opponents named if Deontay Wilder fight collapses[LATEST]
KSI forced to play in goal in Sidemen charity match because of Tommy Fury[LATEST]
We use your sign-up to provide content in ways you've consented to and to improve our understanding of you. This may include adverts from us and 3rd parties based on our understanding. You can unsubscribe at any time. More info
Amid the preparations for the Fury vs Ngannou fight, Fury has been labeled as the favorite by large sections of media and analysts. But Ngannou, who has a 17-3-0 record in the Octagon, recently explained why he had plans to "shock" people with the fight against Fury.
"I think just talking about my power is going to be a huge mistake," Ngannou told Sky Sports on Aug. 7. "We are going to shock the world and show the skillset, showcase the work we have been doing behind the scenes. I am not taking this lightly, it's very important and I know that it's going to be very challenging for me.
"I am taking every single thing seriously, this for me is the biggest fight of my career. As every fight should be, but this one is the most important. I respect him [Fury] as I respect every single one of my opponents, which I should. Being intimidated by him? No, I am not intimidated by him and I am not intimidated by anybody."
Source: Read Full Article