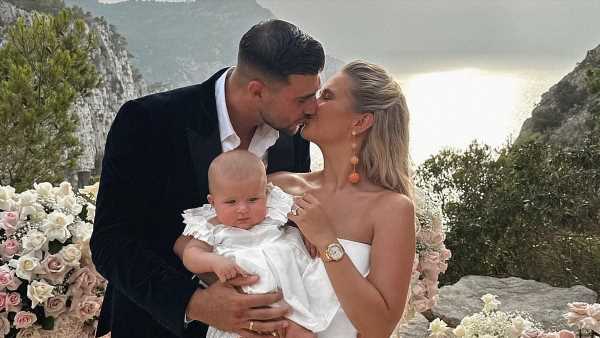 Tyson Fury jokes he thought his brother Tommy 'didn't have the minerals' to have a baby with fiancee Molly-Mae Hague in heartwarming clip from new fly-on-the-wall Netflix series
Tommy Fury and his partner told Tyson the positive news during a christening 
Hilariously, Tyson jibed he didn't think Tommy had the 'minerals' to have a child 
The baby, Bambi, was welcomed in January, before Tommy defeated Jake Paul 
Tyson Fury hilariously joked he didn't think his brother Tommy 'had the minerals' to have a baby with his fiancee Molly-Mae Hague.
World heavyweight champion Tyson was at the christening of his sixth child, Athena, along with wife Paris when Tommy and his partner broke the news. 
Fortunately, the heartwarming moment was caught on camera for Netflix's fly-on-the-wall reality show on the family, which is set to be renewed for a second season.
Tommy and Molly-Mae revealed they were having a baby girl to their loved ones and in January of this year their first daughter, Bambi, was born.  
Gathered around a table, Tommy told Tyson: 'Basically, we've got an announcement to make. So, me and Molly are having a baby.'
Tyson Fury joked his brother Tommy 'didn't have the minerals' to have a baby with Molly-Mae
Tommy's daughter, Bambi, was born in January of this year and is the couple's first child
The news had been broken to Tyson (left) during the christening of his sixth child, Athena
He then announced that Molly was already six months along at the time. 
'Come on, guys! I never thought he had the minerals to do it,' Tyson jibed.
Tommy then quipped back: 'At least we know it works!'
'I was coming from the gym and she had a little parcel, I thought it was a designer t-shirt or something wrapped up,' Tyson added. 
'I sat down to open it and it was a baby grow. I thought "No!", that was it from there.' 
However, the public birth announcement was marred by Jake Paul, who used the occasion as part of the promotion campaign for his pay-per-view bout with Tommy.
Tyson and his wife Paris were both present when Tommy broke the heartwarming news
Shortly after the birth, Tommy jetted out to Saudi Arabia and defeated Jake Paul in Riyadh
Fury emerged on top, however, after earning a split decision triumph in Saudi Arabia.
Tommy and Molly-Mae are now engaged and have been together for four years following their time on ITV's Love Island, in which they secured second place.
He will return to the ring next month, with Tommy poised for a sensational homecoming showdown against YouTube sensation KSI at Manchester's AO Arena.
Tyson will then take on UFC heavyweight champion Francis Ngannou in Riyadh.  
The elder sibling first met Paris at a mutual friends wedding in 2005 aged 17 and has been married to his childhood sweetheart for 13 years.
They are expecting their seventh child this month. 
Source: Read Full Article