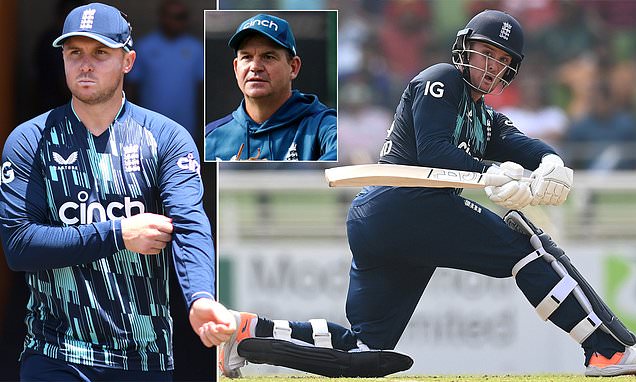 Jason Roy is ready to answer World Cup call, insists England coach Matthew Mott… with big-hitting opener on stand-by for tournament after being dropped from squad
Jason Roy is on stand-by has been left out of squad for ODI World Cup in India
Coach Matthew Mott says it 'was the toughest decision I've ever had to make'
England will have a number of non-travelling reserves for the tournament
England head to India for the World Cup on Wednesday night with the white-ball star they are leaving at home still desperate for a late call-up.
Matthew Mott has confirmed that Jason Roy will be one of a number of non-travelling reserves and still has a 'burning desire' to play for England again.
'It was never in question,' said the England white-ball coach after the debacle of the abandoned last one-day international against Ireland at Bristol.
'He is incredibly disappointed not to be picked, as you would expect, but he is strongly keen to get on that plane. If an opportunity does come up I think the time at home will serve him well.'
Roy was picked in England's provisional World Cup squad and told he would definitely be travelling to India, where England open the World Cup against New Zealand in Ahmedabad on October 5.
Jason Roy is on stand-by has been left out of England's squad for ODI World Cup in India
Coach Matthew Mott has confirmed England will have a number of non-travelling reserves
But a number of back spasms that ruled the 33-year-old out of the entire four-match 50-over series against New Zealand coupled with the controversy over the original omission of Harry Brook led to a late re-think by England.
'It was the toughest decision I've ever had to make,' said Mott. 'There were so many conversations. Where do you start? We have been talking about this team for eight months.
'It came down to where we arrived at in that last series. Harry has presented a very good case as has Dawid Malan and unfortunately three into two doesn't go. A guy with Jason's record was incredibly unlucky to miss out.'
Roy will be at the front of the queue should England need another opener in India as long as he then passes a fitness test on the back problem that flared up at the worst possible time for him.
'He had back spasms – they can come and go – and we would expect him to be assessed by the fitness team should an opportunity arise. We are not expecting him to have any long-term problems with that.'
Mott insisted there is no limit to the amount of reserves England can ask to keep themselves ready and available to go to India should injury rule out one of their 15 players from the seven-week tournament.
'Everyone is on stand-by,' said the Australian. 'We don't need to declare where we're at and we certainly don't want to speculate on it. I think you would have a fair idea of who we would call on. Everybody in this group here (who defeated Ireland 1-0 with two wash-outs) and everyone on the periphery should be maintaining their fitness.
'You never know what might happen. We took reserves to Australia for the T20 World Cup last year because it's a 24-hour flight and the logistics around that can prove difficult. The flight to India is not that bad and the reality is that any player called up would not go straight into the team anyway. So they'll have time to adjust.'
The one reserve player England are taking with them is Jofra Archer although Mott insisted no risks would be taken with a special player returning from serious injury.
'Jofra won't be fit until the latter stages of the tournament so a lot of where he's coming from is to get some intensive work with our medical staff,' said Mott. 'We have been very big on not rushing him back and he understands that.
'He's desperate to play but he's also realistic that if this thing happens again (his elbow injury) it could have serious ramifications. We'll take him over there, work with him and if something happens at the back end he's someone who could come in.'
Andrew Flintoff's return to the England camp as a mentor ended with the dampest of squibs in Bristol and Mott revealed that the Ashes hero's next involvement on his cricketing comeback will probably be at youth level.
'He's definitely going to join us again in the future,' added Mott of Flintoff. 'We've loved having him around. He's revered and he's got an aura about him. Fred is very special and after what he's been through the humility he's displayed and the life experiences he can share have been immense. I don't know when he will be with us again but he's keen to work with the Under 19s and be involved in the pathway.'
Source: Read Full Article