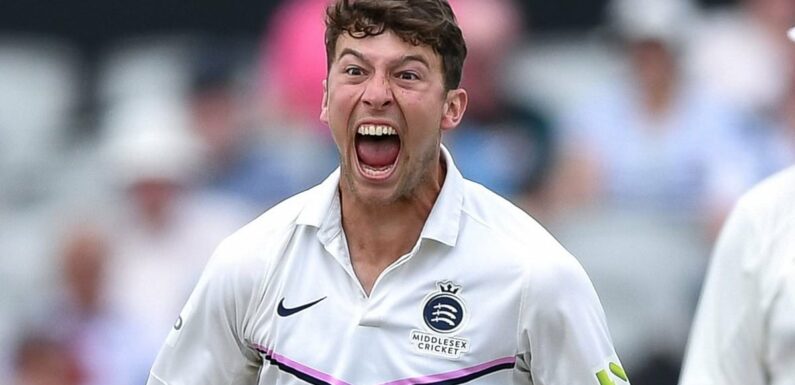 INSIDE COUNTY CRICKET: Middlesex all-rounder Josh De Caires talks about his lucky break, England hopes and listening to dad Michael Atherton… sometimes
Josh De Caires boasts the best figures in County Championship this season
He has worked on his bowling with former England leg-spinner Ian Salisbury
Josh De Caires smiles when he remembers the presence of a particular Sky Sports commentator at one of his first televised Twenty20 appearances for Middlesex.
'It was at the Oval,' says the once part-time off-spinner who has become a frontline threat this year. 'I was bowling an over when he was on commentary, which was quite funny.
'I could see him in the Sky pod when I was walking back to my mark. I'm sure it would have been a terrible experience for him having to commentate on me like that — but it was amusing for me.'
The man De Caires is talking about is a former England captain and one of the most respected pundits in the game, Michael Atherton. And it was amusing for the 21-year-old because Atherton happens to be his father.
De Caires was something of a chip off the old block — albeit one with a more modern array of strokes — when he started making his way at Lord's as an opening batsman. But his career has exploded in a different direction this year after he worked particularly hard, with the help of former England leg-spinner Ian Salisbury, on his second suit as a slow bowler.
Middlesex's Josh De Caires boasts the best figures in the County Championship this season
De Caires has worked on his bowling with the help of former England leg-spinner Ian Salisbury
Former England captain Michael Atherton is one of the most respected pundits in the game
So much so he now boasts the best figures in the County Championship this season — eight for 106 against Essex — to go along with his seven-wicket haul against Hampshire. And to think he only had one first-class wicket to his name going into June.
'I was definitely a part-timer even at the start of this year but I got a lot of confidence from how I bowled in the T20s,' says De Caires, who grew up in Hertfordshire and has barely a hint of his father's Lancastrian tones. 
'I felt I had a good enough skillset to try to influence games in first-team cricket with the ball. I've not completely invested everything in it and I still hope to forge a career with the bat. The bowling is coming along at the moment and it would be nice to do both.'
De Caires, who carries his mother's surname, only played at Chelmsford because of a delay in the arrival of Middlesex's new overseas off-spinner Jayant Yadav due to visa issues.
'It could have been a very different week for me if the Indian embassy had been a bit more organised!' he smiles.
Atherton will be taking something of a back seat in De Caires' development — unless he is commentating on him.
'He's helped lots but at the same time he tries to stay out of the way,' De Caires explains. 'It would be very draining if all you talked about with your old man was cricket, so we try to avoid it a little bit. But he's a great sounding board and he's got a pretty level head on his shoulders. So he gives me good advice here and there. He tries to make his level head rub off on me but I'm not sure we're there yet!'
A few more big hauls of wickets and there might be another 'Atherton' playing international cricket before long. Intriguingly, De Caires qualifies in theory for West Indies through his Guyanese mother but he insists a Caribbean future is not an option.
'I'm not too sure about that but I'd have to forego my county contract and my ambition is to play for England anyway,' he says. 'So if that's ever a possibility, I'll go down that route.'
Leicester packing a good punch
Leicestershire, so often the whipping boys of domestic cricket, could have suffered another under-achieving season when coach Paul Nixon suddenly left Grace Road in June and then three of their best players in Colin Ackermann, Callum Parkinson and Chris Wright announced they would be joining other clubs at the end of this season.
Leicestershire have gone from strength to strength since departure of coach Paul Nixon
Instead they have been transformed under new joint head coaches James Taylor and Alfonso Thomas. They go into Saturday's 50-over cup final against Hampshire at Trent Bridge on the back of Wednesday's narrow failure to chase a mammoth 499 against Sussex aiming to strike a blow for the little guys so often marginalised in modern county cricket.
'It could have been a real negative turning point,' former England batsman Taylor told Mail Sport of Nixon's departure by 'mutual consent'. 'There was lots of noise from the outside and it could have massively derailed us.
'But we've gone from strength to strength and we've got stronger and tighter as a unit over the last two months. The players have done a fabulous job and we've got some real leaders in the group. We've got some experienced players and the younger ones are learning from them. We're well led and the guys have stepped up.
'Lots of great things come with big clubs but it's powerful when a county like Leicester do well. Little old Leicester are packing a good punch well above our weight by reaching this final and still pushing for promotion in the Championship despite only just losing to Sussex.'
Source: Read Full Article