Nick Kyrgios celebrates
Nick Kyrgios battled back from two match points down to beat Ugo Humbert in a five-set thriller at the Australian Open.  
Kyrgios clinched the victory in what has been labelled the best match of the tournament so far. 
After coming back from 2-1 to take the final two sets, Kyrios managed to defeat the 29th seed Humbert 5-7, 6-4, 3-6, 7-6, 6-4.  
It took the Australian three hours and 25 minutes to seal the win and put himself through to the third round where he will play last year's finalist Dominic Thiem.  
Earlier in the match, Kyrgios unsurprisingly received a point penalty for unsportsmanlike conduct and another for racket abuse, which he gifted to his boisterous fans after the match. He also argued with the chair umpire, Marijana Veljovic, over the let cord machine.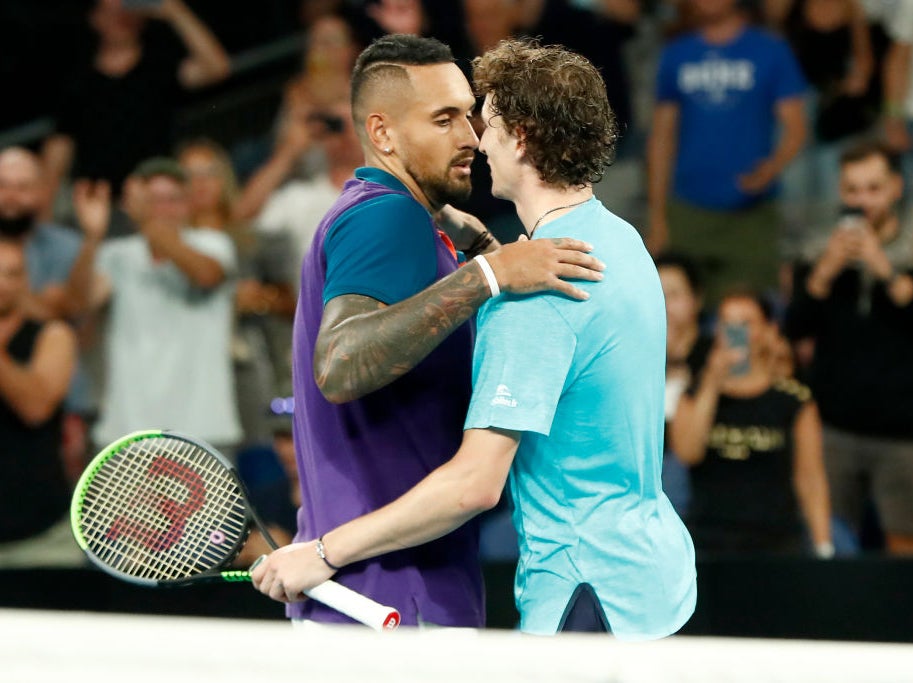 Nick Kyrgios and Ugo Humbert embrace after the match
Humbert held serve to secure the third set and break early in the fourth, with the match seeming beyond Kyrgios, but it looked like his anger helped fuel his tennis and he was able to break back. 
The 25-year-old found his composure near the end of the fourth set when Humbert served for the match at 5-4, but it was Kyrgios' superior serve as well as the loud crowd that rattled the Frenchman.  
Independent Rugby Newsletter
Live Rugby union coverage direct to your inbox every week
Read our full mailing list consent terms here
Kyrgios served 30 aces and won 89 per cent of his first serves in the final set to win the late-night decider. 
He said: "If you were in my head, I was thinking of all the s*** I was going to cop if I lost that match. 
"I don't know how I did that. It's one of the craziest matches I have ever played. That tends to be my career. 
"He is a heck of a player. I haven't played for a year but the one thing I had on him was experience." 
Kyrgios, as the home favourite, will face off against world No 3 Thiem in the third round of the men's singles on Friday. 
Elsewhere in the tournament, Alexander Zverev beat Maxime Cressy 5-7, 4-6, 3-6 and is set to play Adrian Mannarino in the third round also on Friday. 
World No 1 and defending champion Novak Djokovic also made it into the third round after a physical match against Frances Tiafoe 6-3, 6-7, 7-6, 6-3.  
In the women's tournament, world No 2 Simona Halep scraped through after a tense match against Australian Ajla Tomljanovic 6-4, 4-6, 5-7.  
The bookies favourite Naomi Osaka took an easy win over Caroline Garcia with 2-6, 3-6 in just over an hour. 
Serena Williams also eased into the third round after defeating Nina Stojanović 3-6, 0-6. 
Source: Read Full Article