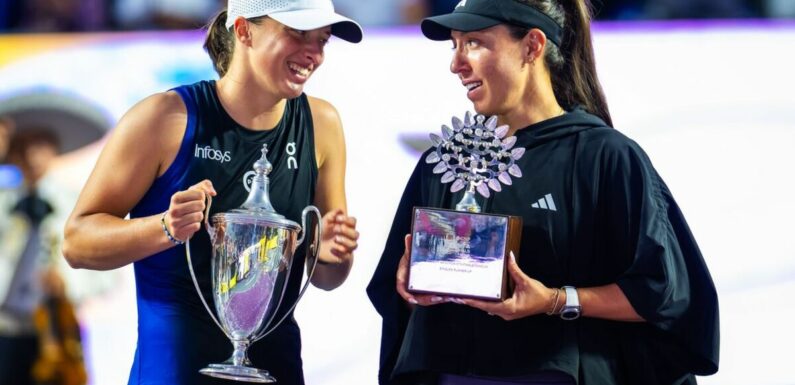 Jessica Pegula could only laugh as she was thrashed by Iga Swiatek 6-1, 6-0 in the grand final of the WTA Finals in Cancun on Monday evening, sending the French Open champion back to the top of the world rankings.
American Pegula had seen off former world No. 1 Aryna Sabalenka and US Open champion Coco Gauff en route to the final, but was blown away by Swiatek at the last hurdle, who dropped just one game in a match that only lasted 59 minutes.
Unable to answer the Polish star's brilliance, Pegula was left with no choice but to see the funny side of it after she was given a pasting in Cancun and took to social media to share her thoughts on the humbling defeat.
Posting a photo of what appeared to be a cocktail on Instagram, Pegula captioned the image by writing: "Ended the year through the Iga bakery factory lol. Jokes aside. 2023 in the books."
The bakery pun is a reference to the production of a bagel, which is a term used in tennis to describe when someone has been beaten 6-0 in a set. But for the single game that Pegula won in the first set, she would have been 'bagelled' twice by Swiatek in the same match.
Despite suffering a heavy defeat in her final match of the year, it has been a successful campaign for Pegula. The world No. 5 has won two singles titles and has an overall record for the year that reads 59 wins and 18 losses.
The 29-year-old has also won two doubles titles alongside Gauff, winning 35 matches across the year with just 13 losses. Her efforts have earned her £4.9 million in prize money over the last 12 months.
Don't miss…
Djokovic tells reporter he can't help his wife after battling to win Paris title[ADMISSION]
Grigor Dimitrov shares emotional reason he cried after Novak Djokovic Paris loss[REACTION]
Novak Djokovic batters Grigor Dimitrov to win Paris Masters as Serb booed again[NOVAK WINS AGAIN]
Support fearless journalism
Read The Daily Express online, advert free
Get super-fast page loading
Swiatek is world No. 1 once more after winning the WTA Finals for the first time. At 22 she is the youngest champion of the event since Petra Kvitova won in 2011 at the age of 21. In 2022 she strung together 37 consecutive victories, winning six straight titles that put her at the summit of women's tennis for 75 weeks before she was dethroned by Sabalenka in September, until now.
Speaking after her WTA Finals success Swiatek said: "2022 was so amazing that I don't know if it's going be possible for me to repeat a season like that. So I just didn't feel at the end like I'm in the shadow anymore because I knew that I'm having another great season.
"I learned my lesson and this time I didn't want [the number one ranking] to have an impact on me. It did a little bit, it's hard not to think about stuff like that, but I knew that I had to focus on different things."
Source: Read Full Article