Novak Djokovic has retained his unprecedented ownership of the Australian Open, recovering from a two sets to one deficit to overcome an impressive Dominic Thiem, and his own mid-match wobbles, in claiming his eighth title at Melbourne Park.
Djokovic won 6-4, 4-6, 2-6, 6-3, 6-4, in a match that confirmed the Serb's position at the top of the tennis heap, and his unmatched talent for hanging on when his opponent has the momentum and then – somehow – reversing the tide to prevail over four hours.
Triumphant: Novak Djokovic prevailed after a four-hour, five-set battle.Credit:AP
Having absorbed Thiem's best, Djokovic was not so much supreme as steadier in the deciding fifth set, in which he broke the Austrian in the third game.
Djokovic had been broken five times in the course of the match, but he would not be broken – in both senses of the word – when it counted most. This is the Djokovic way. He bends, without breaking.
Surprisingly, though, this was the first time Djokovic had succeeded in coming back to win a grand slam final from two sets to one down; he had been beaten on seven prior occasions. His unbeaten (8-0) record in finals at Melbourne is comparable to Rafael Nadal's supremacy (12-0) at Roland Garros.
Djokovic's eighth championship here was his 17th major title, meaning the 32-year-old is within three of Roger Federer's 20, and is well-placed to equal or surpass his older Swiss rival and potentially Nadal (19). It underscored that Djokovic, despite finishing behind Nadal in 2019 rankings, is the game's premier player today.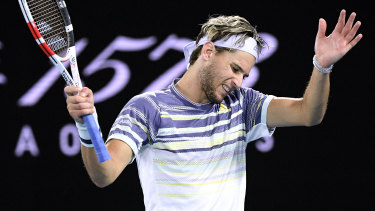 Gallant in defeat: Austria's Dominic Thiem reacts during his final loss to the world No.2.Credit:AP
The Austrian Thiem had appeared set for victory after the third set, when his back court play and serve were superior and he also seemed to have the greater energy and confidence than a strangely enervated Djokovic, who had lost his sense of direction in the second set at 4-all following a contentious code violation for twice taking too much time on his serve.
During this momentum-shifting 4-all game, Djokovic touched the chair umpire's foot, after he was called for a second time violation. This cost the Serb a first serve – and assisting Thiem in breaking his serve for a 5-4 lead that enabled the challenger to claim the second set, 6-4.
Djokovic, angered and distracted, gave the French chair umpire Damien Dumusois a sarcastic spray. "Great job, especially in the second one (time violation call). You made yourself famous. Well done.''
Djokovic did not receive a code violate for touching the umpire's foot, as he might under more draconian rules in other sports. But he did appear to pay a price, in that his focus wavered and level of play dropped – even unforced errors ensued. His second serve decelerated by more than 10 kilometres per hour over the next several games.
On edge: Novak Djokovic lost his cool and had words with the umpire after receiving a time warning.Credit:Getty Images
Thiem surged to take the second and then third sets. Djokovic was, if not listless, then visibly depleted. He received medical treatment after the third set, seeing the doctor and trainer, while consuming some energy drinks.
But Thiem tightened in the fourth set. A few key shots went awry, and the Austrian was broken at 3-4 – the most inopportune time – to open the door for Djokovic again, as the unwavering Serb held serve to take the fourth set.
Thiem had conquered Nadal in a sapping quarter-final, and then Alexander Zverev.  Prior to the final, he had expended twice as much energy in the semi-final than Djokovic and spent more hours on court than the Serb, who had a far less taxing passage to the final against Federer.
At the end, though, it wasn't necessarily fitness than gave Djokovic the edge over Thiem. Whether it was nerves, know-how or sheer will, the difference seemed to be – not for the first or probably last time – in the mind, rather than the body.
Source: Read Full Article