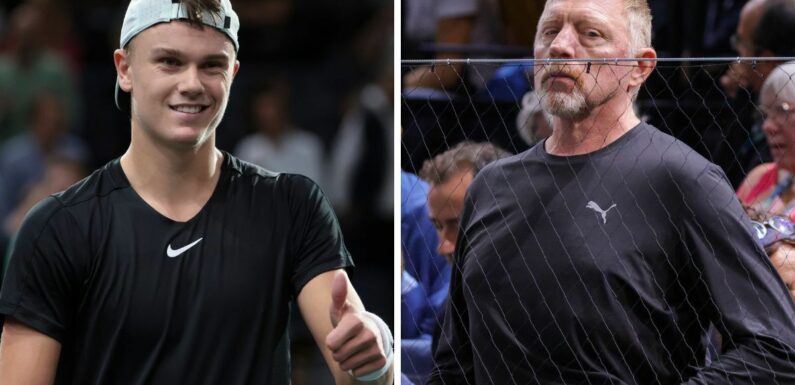 Boris Becker has ticked off his main goal after joining Holger Rune's camp as the 20-year-old qualified for the ATP Finals for the first time. The German started coaching Rune three weeks ago and has already completed the No 1 task he was given. It comes after Rune crashed out of the Paris Masters to Novak Djokovic, who Becker previously coached for three years.
Rune suffered his first-ever defeat in Paris-Bercy on Friday night as Djokovic toppled him 7-5 6-7(3) 6-4 in a thrilling quarter-final. It was a rematch of last year's final, where a teenage Rune stunned the world No 1 and came from a set down to lift the trophy. Friday's match also marked the first time that the sixth seed faced Djokovic since adding Becker to his box.
The 55-year-old worked with Djokovic from the end of 2013 to the end of 2016, guiding him to six of his 24 Major trophies, including his first French Open crown. Although it provided him with some extra insight to help Rune beat the top seed, it was Djokovic who avenged last year's defeat, as well as a loss in their Rome Masters meeting earlier this season.
While Rune was unable to retain his Paris Masters crown, Becker still managed to help the four-time title winner achieve his main goal, qualifying for the ATP Finals. When Becker announced that he would be coaching the world No 7, he told Eurosport: "I will be in Paris-Bercy with Holger – and hopefully help him to qualify for the ATP Finals in Turin. That is the big goal and that is the task."
Click here to join our WhatsApp community to be the first to receive breaking and exclusive tennis news
Just in Paris Masters schedule row rumbles on as Andrey Rublev calls out ATP[LATEST]
Last year, Rune managed to get in as an alternate following his statement run to the title in Paris, where he beat five top-10 players in the space of one week and was able to make his own top-10 debut. But the youngster wanted to go one better this year, making it into the elite eight.
Following a strong start to the season, Rune was in prime position to make his ATP Finals debut in Turin. But he won just one match in three months between his Wimbledon quarter-final showing and his recent run to the Basel semi-final. He struggled to pick up ranking points and it looked like he would be overtaken by his rivals in the race to the Finals.
But he experienced a turnaround once Becker joined him at last week's Swiss Indoors Basel, winning back-to-back matches for the first time since July. He made it to the semi-final and followed it up by getting to the quarter-finals in Paris this week. And when Alex De Minaur lost to Andrey Rublev in the fourth quarter-final of the tournament on Friday, Rune's place at the ATP Finals was confirmed.
Advert-free experience without interruptions.
Rocket-fast speedy loading pages.
Exclusive & Unlimited access to all our content.
Don't miss…
Emma Raducanu makes very optimistic comeback claim after injury hiatus[UPDATE]
Novak Djokovic furious with Paris Masters 'mistake' as tensions boil over[NEWS]
Murray's ex-coach working wonders for Dimitrov as keys to resurgence shared[INTERVIEW]
After helping his player achieve his goal, Becker took to X (formerly known as Twitter) to reflect on the Djokovic defeat and look ahead to Turin. "Spectacular fight last night from both players. Congratulations @DjokerNole," the 55-year-old wrote.
"@holgerrune2003 showed a lot of poise and perseverance. As his coach I'm excited to work with such a promising young player. Now the focus is on the #ATPFinals. See you in Turin." 
Source: Read Full Article