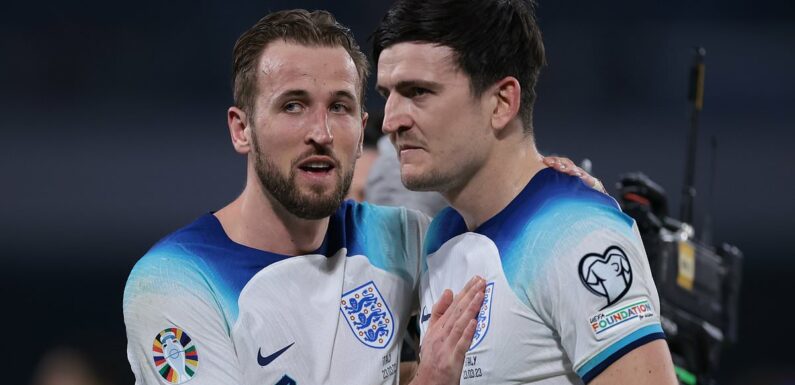 England have one foot in Germany and Scotland look set to join them.. but who needs what to book their place at Euro 2024 this week?
Euro 2024 qualifying returns this week with several huge games across Europe 
53 nations are hoping to join hosts Germany at the tournament next summer
Listen to the latest episode of Mail Sport's podcast 'It's All Kicking Off!' 
European Championship football is firmly back on the agenda this week after the host nations for Euro 2028 and Euro 2032 were announced by UEFA on Tuesday.
The UK and Ireland will be responsible for putting on the showpiece event in five years, while Italy and Turkey were awarded hosting rights for the edition in nine years time.
It also put next summer's Euro 2024 firmly in the spotlight with the final fixtures in the automatic qualification stage taking place this week and next month, before the play-offs are held in March.
The tournament will be staged in Germany, with Julian Naglesmann's side having qualified already by virtue of being hosts, and 53 nations are vying for the 23 other places up for grabs.
In light of qualifying heading towards a conclusion, Mail Sport takes a look at who needs what to secure their place in Germany over the coming days and which teams are in danger of missing out.
53 teams are battling it out to join Julian Nagelsmann's Germany at next summer's Euro 2024
Your browser does not support iframes.
Group A: Scotland, Spain, Norway, Georgia, Cyprus
It has quite frankly been an amazing year for Scotland with Steve Clarke's side having won all five of their games in qualifying so far.
They are six points clear of Spain at the top of Group A and on the verge of reaching only their fourth ever Euros.
The Tartan Army require one more victory from their final three games to do just that, although they face a tricky trip to Spain on Thursday.
However, they will also qualify if Norway fail to beat both Cyprus and Spain this week, meaning that is is a near certainty Clarke will be leading his side out in Germany next summer.
La Roja are the favourites to join them given they are two points clear of Norway with a game in hand, and they could secure their place if they win both games and Erling Haaland and co fail to do so over the coming days.
Scotland need just one more win from their final three games to qualify for the tournament
Group B – France, Netherlands, Greece, Republic of Ireland, Gibraltar 
Like Scotland, France possess a 100 per cent record in qualifying and therefore are on the verge of securing their place.
They will qualify on Friday if they beat the Netherlands or if they draw and Greece lose to the Republic of Ireland.
Netherlands then face Greece on Tuesday in what is likely to be a crunch match with both sides currently level on points, although Ronald Koeman's side do have a game in hand.
Like Scotland, France have a perfect record in qualifying and are certain to be in Germany
Meanwhile, things aren't looking good for the Boys in Green who have won just once in qualifying.
They will be out of contention if they lose to Greece or if they draw, and the Netherlands beat France.  
GROUP C – England, Italy, Ukraine, North Macedonia, Malta
Despite the criticism Gareth Southgate has faced, England are set to reach their eighth successive major tournament.
With four wins out of five and a six point gap to second place Italy, they will go through if they beat the Italians next week.
However, if that doesn't go to plan, they will have another chance to secure their place at next summer's tournament by beating Malta next month, before their final game of the group sees them travel to North Macedonia. 
Italy remain the favourites to come second, with Luciano Spalletti's side level on points with Ukraine and North Macedonia but having played a game fewer. 
However, they do play both teams along with England after this Saturday's clash with Malta. 
England will secure their place at Euro 2024 if they defeat Italy at Wembley on Tuesday night
GROUP D – Croatia, Turkey, Armenia, Wales, Latvia
Group D is perhaps the most competitive group left, with four teams all fighting for qualification.
Croatia and Turkey currently sit top on 10 points, while Armenia and Wales have seven and are just behind.
In good news for Rob Page's side, their destiny is in their own hands with home games still to play against Croatia and Turkey, along with a trip to Armenia.
Rob Page's Wales side face an uphill task to qualify for Euro 2024 but it is in their own hands
Wales sit out Thursday's round of matches before what is pretty much a must-win clash against the Croat's on Sunday in Cardiff.
Nothing can be decided during this gameweek, unless Croatia win both their matches and Armenia lose to Latvia – which is unlikely given they are yet to pick up a single point.
Wales do have the consolation prize of almost certainly having a spot for the play-off rounds due to their Nations League ranking. 
GROUP E – Albania, Czech Republic, Moldova, Poland, Faroe Islands
Like Group D, four teams remain tightly squeezed together in the race for qualification and there are a couple of unfamiliar names in there.
For example, Albania currently sit top with 10 points from five games having previously only reached one Euros in their history, back in 2016. 
Meanwhile, Moldova have never qualified for a major tournament, but are currently level on points with Czech Republic and two clear of Poland.
In fact, they secured a remarkable 3-2 victory over Poland in June despite being ranked 171st in the world at the time.
With the competitiveness of the group, nothing will be decided this week and qualification will go down to the final round of fixtures.  
Favourites Czech Republic and Poland face an anxious wait to edge out the unfancied Albania and Moldova and secure their place in Germany (pictured – Czech defender Jakub Brabec) 
GROUP F – Belgium, Austria, Sweden, Azerbaijan, Estonia 
Belgium and Austria both have one foot in Germany as they sit on 13 points, seven clear of Sweden with just three games to go.
Belgium play Austria on Friday in Vienna and whoever wins that match will secure their place.
Sweden must win all three of their remaining matches but even if they do, either of the top two just need one more victory to qualify.
Given Sweden travel to Belgium on Monday, it's pretty safe to say the Red Devils and Austria will be in Germany next summer.
Domenico Tedesco's Belgium and Austria have both almost qualified for the tournament
GROUP G – Hungary, Serbia, Montenegro, Bulgaria, Lithuania
While Bulgaria and Lithuania are not 100 per cent out, it seems a tough ask to ask them to turn around an eight point deficit in just three games given both are winless.
Meanwhile, Hungary and Serbia are two clear of Montenegro, with the latter likely to be watching keenly when the table-toppers do battle on Saturday night. 
It is quite a convoluted process in Group G, with several permutations over what could be decided this week. 
Hungary could secure qualification if they beat both Serbia and Lithuania in the coming days
In short, if Serbia beat Hungary and Montenegro they qualify, while if Hungary defeat both Serbia and Lithuania, they will secure their place.
Meanwhile, if Serbia lose to Hungary but beat Montenegro, they won't qualify but will almost certainly be at the tournament next summer.  
Whatever happens, we will have a strong indication of the top two when players disperse back for club duty at the end of next week.  
GROUP H – Slovenia, Denmark, Finland, Kazakhstan, Northern Ireland, San Marino 
There are several qualifying groups with plenty still to play for and Group H is most certainly one of them.
Slovenia, Denmark, Finland and Kazakhstan are all within one point of each other with four matches left to play given this is one of the three groups with six teams in it.
Qualification will go down to the final round whatever happens this week but for fans of Northern Ireland it is looking rather bleak.
Northern Ireland's hopes of qualifying for Euro 2024 under Michael O'Neill look rather bleak
Despite the homecoming of Michael O'Neill last year, they have a single victory from six qualifying games.
They will be unable to finish in the top two unless they win their remaining four games.
However, they must also rely on Denmark and Slovenia failing to pick up one more win in qualifying and Finland and Kazakhstan picking up fewer than four points.
GROUP I – Switzerland, Romania, Israel, Belarus, Kosovo, Andorra
Switzerland currently sit top of Group I, two points clear of Romania and three ahead of Israel.
However, given Israel's proposed matches against Switzerland and Kosovo have been postponed amid the ongoing Israel-Hamas war, nothing can be decided during the current round of fixtures. 
GROUP J – Portugal, Slovakia, Luxembourg, Bosnia-Herzegovina, Iceland, Liechtenstein
It has been a stellar effort from Luxembourg, world no 85, to still be in with a chance of qualification for the Euros at this stage given the teams they are competing against.
They remain just three points behind Slovakia with four games to go, while Portugal are eight clear of the minnows.
However, due to the fact Luxembourg face Slovakia on Monday, Portugal will qualify if they beat Slovakia on Friday or if they draw and Luxembourg lose to Iceland. 
Cristiano Ronaldo and his Portugal team-mates need just one more win in qualification 
Roberto Martinez's side need just one more victory and if they don't achieve it on Friday, they face Bosnia-Herzegovina on Monday. 
The game between the current second and third place teams in Group J that day is likely to play a big part in determining which nation joins Cristiano Ronaldo and co at next summer's tournament. 
IT'S ALL KICKING OFF! 
It's All Kicking Off is an exciting new podcast from Mail Sport that promises a different take on Premier League football.
It is available on MailOnline, Mail+, YouTube, Apple Music and Spotify.
Your browser does not support iframes.
Source: Read Full Article