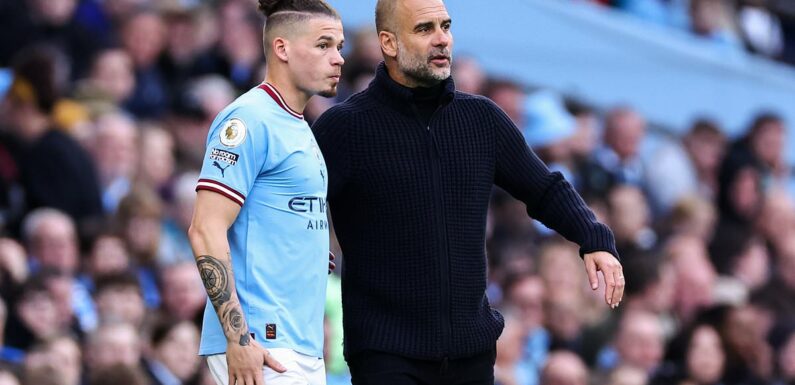 Zlatan Ibrahimovic, Yaya Toure and Mario Gotze… the players who flopped under Pep Guardiola after he admitted to failing to get the best out of Kalvin Phillips
Pep Guardiola has admitted he's failed to get the best out of Kalvin Phillips
He is not the only player to struggle while playing under Guardiola
Mail Sport's new WhatsApp Channel: Get the breaking news and exclusives here
Pep Guardiola is widely recognised as the finest manager of his generation having built some of the greatest teams of the 21st century.
His critics will argue he has always had a huge budget to spend wherever he has been, or a certain Lionel Messi to help him conquer Europe, but the Spanish manager has also developed a reputation for improving players.
His current Manchester City side contains world-beaters all over the pitch, but many of them did not arrive at the club as truly elite players.
Rodri had a shaky start to life in England, but now has a strong case for being the best holding midfielder in Europe, Manuel Akanji and Nathan Ake joined as solid squad options but played vital roles in City's Treble-winning campaign, and John Stones is now comfortable as a ball-playing midfielder having spent his entire career at centre back. 
Guardiola deserves credit for his ability to push the majority of his players to new levels, but not everyone has flourished under the 52-year-old.
Pep Guardiola has admitted he has been unable to get the best out of Kalvin Phillips
The manager may have to hand Phillips a call-up due to the forced absence of Rodri due to a three-match suspension
Your browser does not support iframes.
The City boss admitted on Tuesday that he has failed to get the best out of Kalvin Phillips since his £45m from Leeds United last year.
The England international could now get a run in the side due to Rodri being suspended for the next three matches, but it already feels like he is running out of time to turn his City career around.
Mail Sport looks back at other players that have fallen by the wayside while working with Guardiola over the years. 
Zlatan Ibrahimovic
Zlatan Ibrahimovic's transfer to Barcelona in 2009 looked on paper like the right move at the right time.
The Swedish forward had just led Inter Milan to three successive Serie A titles, making a move to the best side in Europe at the time the logical move.
Standing at 6ft 4in with remarkable athletic ability, there are similarities between Ibrahimovic and current City frontman Erling Haaland, who has been a revelation since moving to the Premier League last summer.
But Ibrahimovic at Barcelona simply didn't work and he has since placed the blame for his underwhelming performances at Guardiola's door.
Ibrahimovic has referred to himself as 'a Ferrari' when he joined Barcelona, but felt Guardiola stunted his progress by filling him up with diesel rather than premium petrol. 
He has also hit out at Guardiola's ego, accusing him of always putting himself above his players. Guardiola responded by joking that Ibrahimovic is 'completely right' and that he gets 'jealous' when Haaland scores a hat-trick for City nowadays.
It is fair to say there was a personality clash between the pair and that working together was always going to be a short-lived experience.
Guardiola and Zlatan Ibrahimovic fell out at Barcelona, leading to the latter leaving after just one season
Despite Ibrahimovic scoring 16 league goals in 2009/10, Guardiola appeared to lose faith in him as the season went on, and he substituted the striker shortly after the hour mark in both legs of Barcelona's Champions League semi-final defeat against Inter.
The relationship was beyond repair and Ibrahimovic was sent out on loan to AC Milan in the summer of 2010, just one year after arriving at Barcelona. The following year he joined the Rossoneri permanently.
Xherdan Shaqiri  
Xherdan Shaqiri had just won the Treble with Bayern Munich when Guardiola took charge of the German giants in 2013.
Known for his creativity and spectacular goals, there was no reason to believe Shaqiri would struggle under Pep, but injuries and loss of form meant his career went backwards during their two years together.
The Swiss playmaker scored just nine goals across all competitions for Bayern between 2013 and 2015, but refused to blame Guardiola for his drop-off.
'My situation changed under Pep Guardiola, but I never had any problems with him. His training was special, detailed and pretty demanding – but absolutely ace,' Shaqiri said when reflecting on his time at Bayern.
Having fallen down the pecking order, Shaqiri went out on loan to Inter prior to being sold to then-Premier League outfit Stoke City in August 2015.
Xherdan Shaqiri struggled with injuries and form at Bayern, but not blame Guardiola for his troubles
He would go on to join Liverpool in 2018, winning the Champions League and Premier League with the Reds before moving to Lyon in 2021.
Still only 31, Shaqiri is now playing his football in America with Chicago Fire. 
Yaya Toure
Yaya Toure had opportunities to impress Guardiola at two different clubs but was unable to convince him that he warranted a regular place in his team.
Toure was undoubtedly unfortunate to be at Barcelona when the club were just putting together arguably the greatest midfield trio of all time, consisting of Sergio Busquets, Xavi and Andres Iniesta.
This meant he was often restricted to substitute appearances or being played out of position, as was the case in the 2009 Champions League final when he stepped in at centre back due to injuries and suspensions.
In 2010, he was deemed surplus to requirements at the Nou Camp and left to join Manchester City.
Over the next six years, Toure would establish himself as one of the Premier League's best midfielders, playing a pivotal role in City winning the title twice.
But when Guardiola replaced Manuel Pellegrini in 2016, he wanted to put his own stamp on the team and Toure was phased out.
Yaya Toure lost his place in the Man City side when Pep Guardiola arrived at the club
Guardiola was happy for Toure to leave City in 2018, after also letting him walk out of Barcelona eight years earlier
In his final season at the club in 2017/18, Toure made just 10 top flight appearances as City became the first Premier League team to amass 100 points in a campaign.
Toure had failed to win over Guardiola again, and moved to Olympiacos at the end of the campaign.
The box-to-box midfielder was angry with how things finished at City, and initially put his downfall at the club on Guardiola not liking African players.
He has since apologised for his comments, and revealed he has tried to reach out to Guardiola to speak to him personally to settle their differences. 
Claudio Bravo 
Guardiola made the bold decision to take England No1 Joe Hart out of the team to bring in Barcelona's Claudio Bravo in his first transfer window at City.
Bravo was expected to be the ball-playing goalkeeper that would fit into Guardiola's system perfectly, but that's not how things played out.
The Chilean shot-stopper looked jittery from the outset, flapping at a long ball in his first Manchester derby to allow Ibrahimovic to score, and he then conceded 14 goals from 22 shots on target, which led to him being dropped for Costel Pantilimon in January 2017.
In the only season where he was City's main goalkeeper, the team finished third, 15 points behind champions Chelsea, and it was clear Guardiola needed to make a change.
Claudio Bravo had a disastrous first season at City after being brought in to replace Joe Hart
He was replaced by Ederson in 2017, and the Brazilian has played a key role in City's success
He did exactly that by bringing in Ederson from Benfica, and he remains City's No1 to this day.
Bravo stayed at City as a back-up option until 2020 before moving back to Spain to play for Real Betis.
He turned 40 last month, but is still at Betis, and won the Copa del Rey with them last year. 
Mario Gotze
Mario Gotze joined and left Bayern Munich at the same time as Guardiola. The three years in between provided mixed fortunes for the German forward.
After signing from Borussia Dortmund in 2013, Gotze enjoyed a positive campaign at his new club, scoring 10 goals and registering nine assists as Bayern won another league title. 
At the end of the campaign, he represented Germany at the 2014 World Cup, famously scoring the winner in the final against Argentina.
Returning from the tournament in Brazil, he looked set to kick on and become one of the best players in the world, but he never got close to reaching those heights.
Nine goals in the 2014/15 season suggested he could still produce the goods semi-consistently, but his influence on the team was waning and he had a disappointing 2015-16 campaign that saw him make just 14 league appearances, scoring three goals.
His time at Bayern was up, and he re-joined Dortmund in the summer of 2016. 
Speaking about his Bayern career in 2018, Gotze questioned Guardiola's man-management skills, while heaping praise on his previous boss Jurgen Klopp.
Mario Gotze believes Guardiola lacks empathy having lost form under him at Bayern Munich
'I'm still in touch with Jurgen,' Gotze told DAZN. 'Of course, he taught me everything about professional football. At that time, I was just 17 and coming up from the youth team. He introduced me to everything. He let me play.
'Technically, (Guardiola) was a tremendous asset. But he is very focused on the game and doesn't think about players outside of his plan. He didn't have much empathy, and empathy is part of being a world-class coach.'
Gotze is still playing in Germany all these years later, having signed for Eintracht Frankfurt last summer. 
IT'S ALL KICKING OFF! 
It's All Kicking Off is an exciting new podcast from Mail Sport that promises a different take on Premier League football.
It is available on MailOnline, Mail+, YouTube, Apple Music and Spotify.
Your browser does not support iframes.
Source: Read Full Article