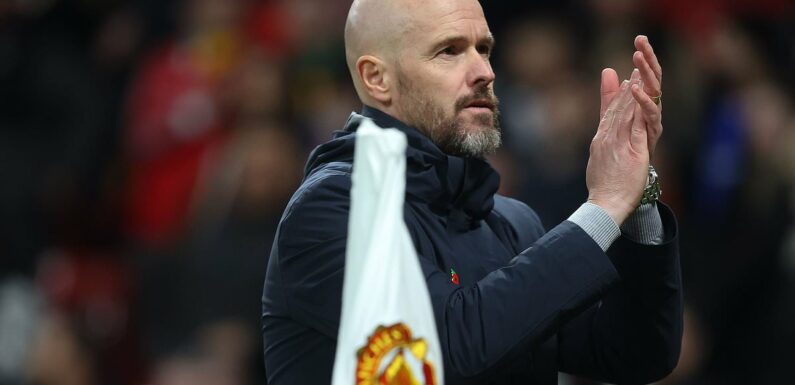 Erik Ten Hag 'to be backed with transfer war chest to reset squad after Sir Jim Ratcliffe seals £1.3bn deal… as Man United boss targets full-back and winger – with Jadon Sancho among three stars up for sale'
Billionaire Ratcliffe set to assume control of the football operations of the club
Man United boss Ten Hag poised to carry out 'a reset' of his squad in January
City had their pants pulled down by a development team – It's All Kicking Off 
Erik Ten Hag will be reportedly be backed with a transfer war chest after Sir Jim Ratcliffe has sealed his £1.3billion deal for a 25 per cent stake in Manchester United.
An agreement is close for British billionaire Ratcliffe to assume control of the football operations side of the club, almost a year after the Glazers confirmed they were open to investment.
The Sun report the under-pressure Dutchman is poised to carry out 'a reset' of his squad in January – and is believed to be targeting a full-back and a winger.
The Sun quotes a United source saying Ten Hag's eyes remain 'very firmly' fixed on securing a Champions League place.
Sir Jim Ratcliffe's £1.3bn deal for a 25 per cent stake in Man United could be agreed soon
Man United boss Erik Ten Hag is poised to carry out 'a reset' of his squad in January
Your browser does not support iframes.
The source said: 'January will be a big month for United. The deal involving Sir Jim should be done by then, and this will free up funds for Ten Hag to reset his squad.
'He's targeting a forward who can play on either flank and a right full-back.'
No documents have been signed yet in Ratcliffe's £1.3billion deal but the end of a saga that started almost a year ago is in sight. 
Those with knowledge of the situation say there is a chance the agreement could be announced this week, but next week is more likely. 
The anniversary of a tiresome process, which began when the Glazers confirmed they were open to investment, is November 22.
Despite the uncertainty, Ratcliffe is reportedly preparing a fire sale to rid the Red Devils of three of its underperforming stars.
As part of his overhaul of the club, he will consider alternative plans to renovate and expand Old Trafford and improve facilities in and around the famous old ground.
Old Trafford was one of England's most iconic stadiums but the roof has been leaking for years.
Its facilities are also outdated compared to Tottenham's new home and Manchester City's stadium.
Ratcliffe is set to pledge £245million to improve infrastructure at the club. 
 Man United could also sell Jadon Sancho (left) and Anthony Martial (right) in January
Manchester United's famous Old Trafford ground has slowly fallen in disrepute
Despite the shortcomings at Old Trafford, Mail Sport has learned that the bulk of that cash is earmarked for a new training centre rather than for the stadium.
It is estimated that between £150m and £200m has been earmarked to modernise the Carrington training ground.
United have lost nine of their 18 fixtures in all competitions this season and are currently sixth in the Premier League.
Ten Hag's team are bottom of their group in the Champions League following the 4-3 defeat at FC Copenhagen.
IT'S ALL KICKING OFF! 
It's All Kicking Off is an exciting new podcast from Mail Sport that promises a different take on Premier League football.
It is available on MailOnline, Mail+, YouTube, Apple Music and Spotify.
Your browser does not support iframes.

Source: Read Full Article