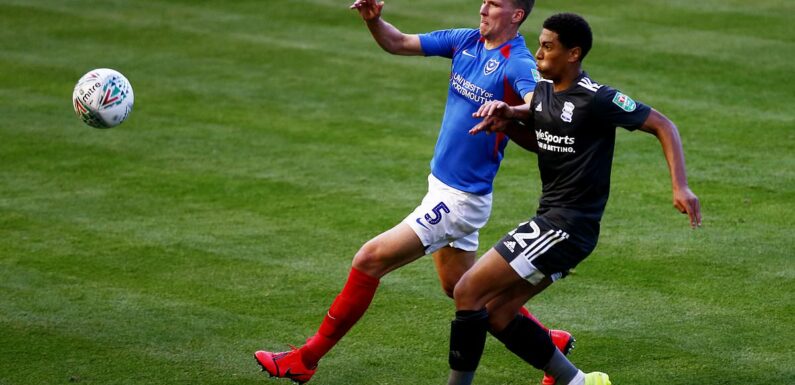 REVEALED: Read the first scout report of a 16-year-old Jude Bellingham (by a Premier League club who didn't sign him) that hailed both his 'awe inspiring' display and 'enormous feet'
A report from 2019 reveals how top clubs were aware of Bellingham's potential

Bellingham debuted for Birmingham against Portsmouth in the Carabao Cup 
Listen to the latest episode of Mail Sport's podcast 'It's All Kicking Off!'
Portsmouth 3-0 Birmingham City 
League Cup First Round – Tuesday August 6, 2019 
'Only 16 but awe inspiring. He looks 6ft 1in, very athletic, long legs and enormous feet.
'He is still developing physically but has a frame to become a huge presence and graceful runner. He moves naturally.
'Long strides, opens his legs with strength. Has a fantastic mentality, intelligent in terms of finding space to receive possession. He gets between the lines and pulls wide.
'Made plenty of runs away from the ball to stretch, rarely gave the ball away. When he did, he quickly sprinted back.
Jude Bellingham's first scouting reported hailed the 16-year-old midfielder's 'huge potential'
Bellingham was unable to prevent Birmingham from suffering a 3-0 loss in the Carabao Cup
The midfielder has since gone on to star at Borussia Dortmund and now Real Madrid
'Never panicked on the ball, took it away from pressure and used his body.
'Threw himself into a few challenges and got a yellow card in the second half for a heavy tackle.
'Huge potential, only 16 and already able to go toe to toe with Portsmouth's first team. 
'Sign him, develop him, send on loan. In 18 months he will play in our first team.'
IT'S ALL KICKING OFF! 
It's All Kicking Off is an exciting new podcast from Mail Sport that promises a different take on Premier League football.
It is available on MailOnline, Mail+, YouTube, Apple Music and Spotify.
Your browser does not support iframes.

Source: Read Full Article