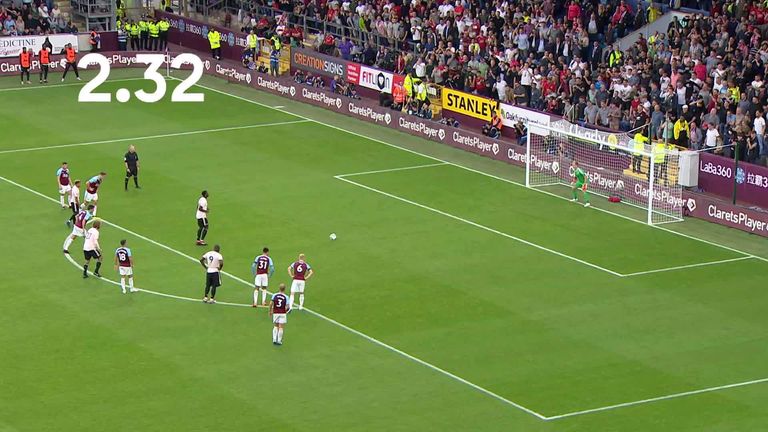 Paul Pogba and his stuttering penalty routine for Manchester United were back in the headlines on Sunday.
The Frenchman hesitantly took 28 steps over 9.96 seconds before Jordan Pickford eventually saved his 27th-minute spot-kick against Everton – his second miss from 12 yards this season.
Pogba did, however, convert the rebound, but with his penalty-success rate this term at 50 per cent, questions are being asked of his suitability from the spot.
But is it time for a change in technique, or penalty-taker at Manchester United? We examine the trends of Pogba's penalties to find out…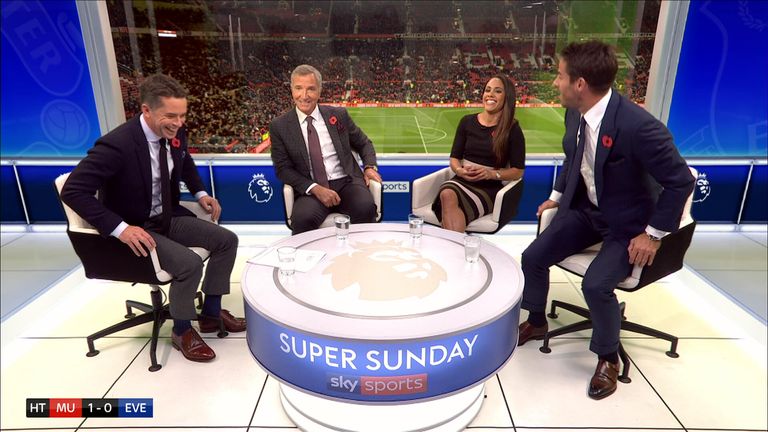 Pogba's penalties
Throughout his seven years in senior football, Pogba has taken eight penalties, two for Juventus and six for Manchester United.
Paul Pogba's career penalty record
The 25-year-old has failed to convert from 12 yards on three occasions, leaving his penalty success rate at 62.5 per cent.
Pogba emerged as United's designated penalty taker this season despite only scoring one for his current club, against Fenerbahce in the Europa League in 2016.
He has had mixed results with his new responsibility, scoring against Leicester, Brighton and Young Boys and missing against Burnley and Everton.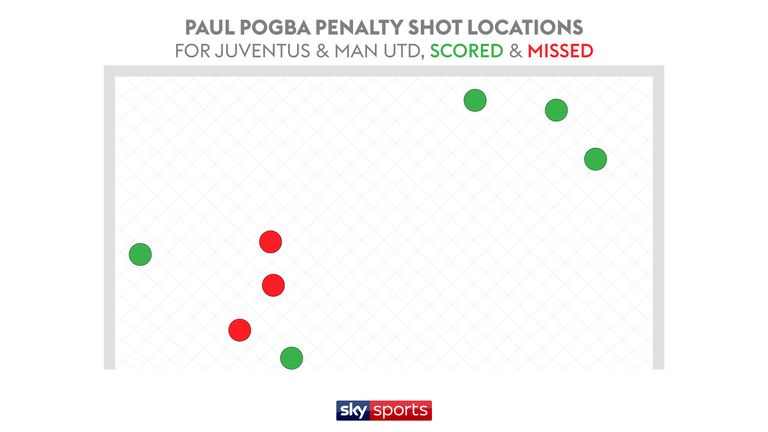 Devil in the direction
It is clear Pogba favours shooting to a goalkeeper's right but, interestingly, he has more success shooting to a 'keeper's left.
Five of Pogba's eight career penalties have gone to a goalkeeper's right but only two have found the back of the net.
A 40 per cent conversion rate to a goalkeeper's right is of stark contrast to his flawless record in the other direction, with Pogba yet to miss any of his three attempts to a goalkeeper's left.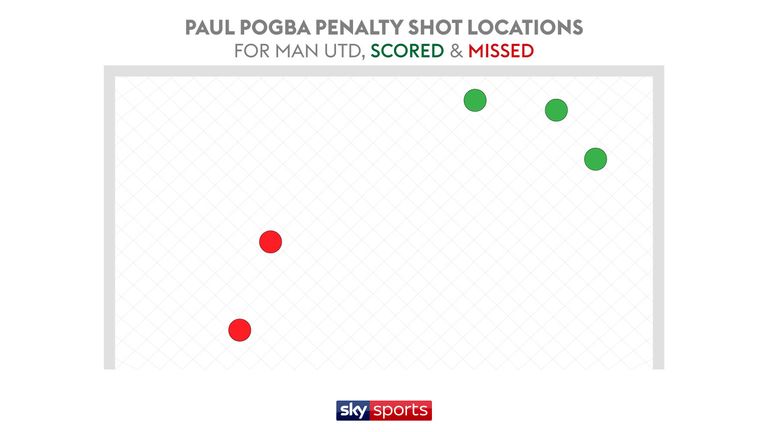 Even more interestingly, Pogba's last three successful spot kicks have been identical in technique and shot location, as have his last two unsuccessful attempts.
His strikes against Leicester and Brighton in the Premier League and Young Boys in the Champions League have gone high to the goalkeeper's left, while his misses against Burnley and Everton were as a result of low saves from goalkeeper's to their right.
Steps to success
The overriding trademark of Pogba's unique penalty approach has been a sequence of steps and the prolonged period in time before he eventually strikes the ball.
Across his four Premier League penalties this season, Pogba's run-ups have contained 75 steps (100 if you include his successful effort against Young Boys), with a combined 25.2 seconds between the start of his run-ups and making contact with the ball.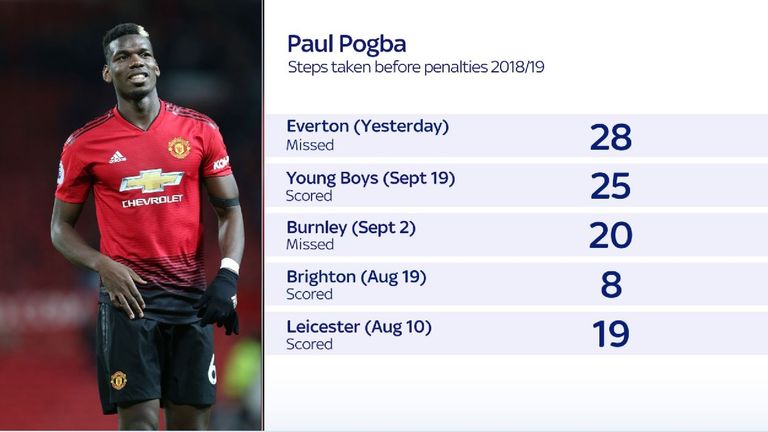 Pogba's run-up to his latest miss against Everton consisted of 28 steps and lasted 9.96 seconds, 0.38 seconds longer than Usain Bolt's 100m world record (9.58 seconds).
Time for change?
While pleased with Pogba's desire to take penalties, United boss Jose Mourinho suggested it may be time for him to change his technique, a technique Sky Sports pundit Gary Neville believes contradicts everything players are taught in football. "It doesn't feel right – it's feels as if it's a little bit for show," Neville said on co-commentary.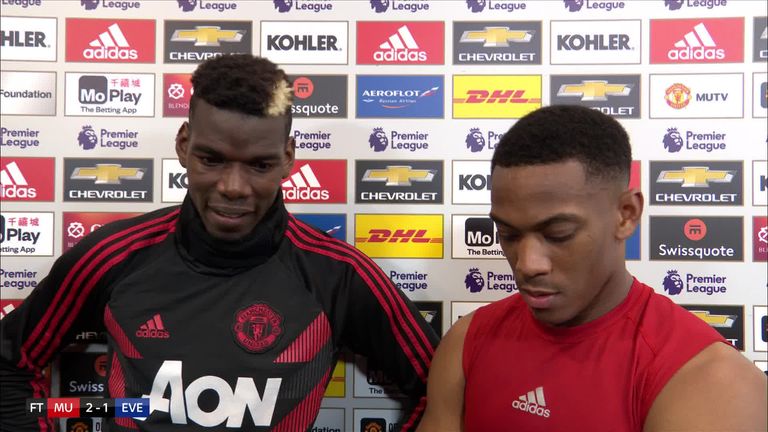 Pogba admitted he was lucky to convert the rebound and conceded at full-time that he may alter the approach he has adopted throughout his professional career.
"I always try to destabilise the goalkeeper," he told Sky Sports. "I always shoot like this and that's how I know how to take penalties.
Is Pogba's run-up legal?
"He is quite entitled to do what he is doing, but when he addresses the ball, he then has to continue – because once he can kick the ball, he has to continue his run," former Premier League referee Dermot Gallagher told Ref Watch.
"I may practise to change it because maybe the goalkeepers are starting to know my steps, but the most important thing is when the ball goes in."
Persist with Pogba?
With Romelu Lukaku out of form and Marcus Rashford in and out of the starting line-up, a replacement to relieve Pogba of the penalty duties looks in short supply.
But with a one in two record from the spot, should Pogba keep faith with his routine, tinker it a little, or even hand over duties to someone else? Have your say below using our interactive tool.
Source: Read Full Article