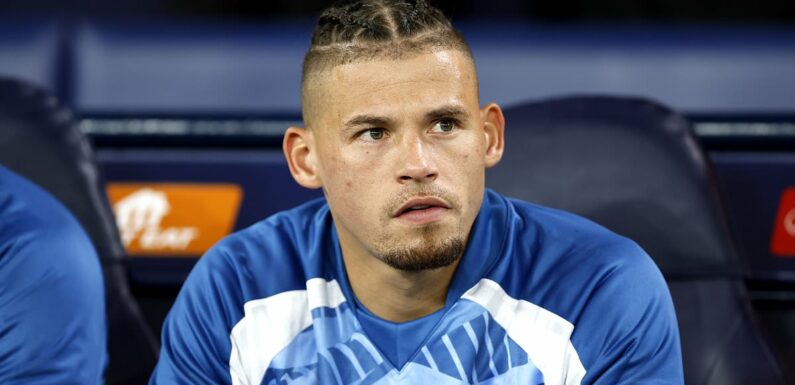 Newcastle are 'poised to make January move for Kalvin Phillips' with a 'good chance' the the out-of-favour Man City midfielder finally opts to leave following just TWO starts in nearly 18 months
Newcastle are reportedly interested in bolstering defensive-midfield options 
Kalvin Phillips has failed to convince Pep Guardiola since joining City in 2022 
Listen to the latest episode of Mail Sport's podcast 'It's All Kicking Off!'
Newcastle are reportedly readying an approach for Manchester City midfielder Kalvin Phillips in January. 
The former Leeds star has struggled for game time since moving to the Etihad in 2022 and has started just two Premier League for Pep Guardiola's side. 
Phillips opted to fight for his place in the starting squad following a disappointing maiden campaign but he could now be tempted by a move to Newcastle this winter. 
According to The Northern Echo, Eddie Howe's side are interested in bolstering their defensive-midfield options and have identified the 27-year-old as an ideal candidate. 
The Magpies signed Sandro Tonali from AC Milan for £52million in the summer but he has been deployed in a more attacking role so far this season. 
 Phillps has started just two games for Man City in the Premier League since joining in 2022
Howe's side are competing on four fronts this seasons including in the Champions League
Your browser does not support iframes.
Pep Guardiola (R) admitted that the 27-year-old 'struggles' to fit into Man City's tactical system
Bruno Guimaraes has often been the deepest midfielder but the Brazilian is best utalised further forward. 
During his eight years in the Leeds first team, Phillips established himself as one of England's strongest holding midfielders – leading City to launch a lucrative bid for him.
However, with his continued troubles to crack Guardiola's squad, a move could now be on the cards. 
Last month the former Barcelona boss admitted he was still finding it hard to play in City's system, saying: 'Marcelo (Bielsa) gave Kalvin the best of Kalvin in his career.
'I'd love to have done with Kalvin what Marcelo has done to him. We have our own specific way to play and (he) sometimes struggles in a few things, while the previous (Leeds playing style) was perfect (for him)'. 
IT'S ALL KICKING OFF! 
It's All Kicking Off is an exciting new podcast from Mail Sport that promises a different take on Premier League football.
It is available on MailOnline, Mail+, YouTube, Apple Music and Spotify.
Your browser does not support iframes.
Source: Read Full Article