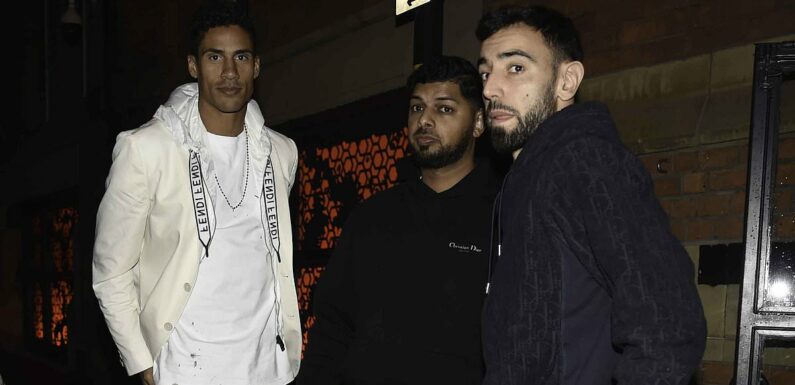 Man United players celebrate win against Fulham in style by dining out at exclusive Manchester venue… but Marcus Rashford is absent after Erik ten Hag slammed his decision to go clubbing after City defeat as unacceptable
Manchester United won 1-0 away at Fulham on Saturday afternoon 
Rashford was absent after being criticised for going clubbing last week
Is Erik ten Hag out of his depth at Man United? Listen here to It's All Kicking Off 
Marcus Rashford was conspicuously absent as Manchester United players celebrated their last-minute win over Fulham in style when they dined out at an exclusive venue in Manchester.
Bruno Fernandes scored in injury time as United returned to winning ways on Saturday afternoon, beating Fulham 1-0 at Craven Cottage after successive 3-0 defeats at home to Manchester City and Newcastle in the Carabao Cup last week.
And Erik ten Hag's men toasted the victory at MNKY House in Manchester, a swanky restaurant in Spinningfields, a stone's throw away from Albert Square.
Dining at the venue does not come cheap, with up to £1,000 for a platter – albeit one that includes caviar, lobster, ceviches, oysters and sushi.
Fernandes was joined by Harry Maguire, Mason Mount, Scott McTominay, Raphael Varane, Jonny Evans and Lisandro Martinez, with the Argentine still sporting a protective boot following his foot injury.
Raphael Varane (left) and Bruno Fernandes (right) were among the Manchester United players who headed out to MNKY House in Manchester on Saturday night
Mason Mount (left) joined his teammates as did Lisandro Martinez (right)
Jonny Evans (left), Harry Maguire (middle) and Scott McTominay (right) also joined the party
Your browser does not support iframes.
Rashford, however, was a notable absentee after ten Hag branded as 'unacceptable' his decision to go clubbing after the defeat in the Manchester derby last week.
'I spoke with him about it. It's unacceptable. He apologised and that is it. For us it's an internal matter,' ten Hag said ahead of the match against Fulham.
'He's very motivated to put things right. He's totally with us.
'He has made a mistake but that doesn't say he's not fitting in. I see him every day in training, what he's doing, I know.'
While he was not out within 48 hours of their next game against Newcastle, Ten Hag is understood to be frustrated with the optics that partying after such a humiliating defeat can project. 
Rashford has clashed with Ten Hag before. Last season he was dropped for a game at Wolves after being late for a meeting.
The England international, however, was not part of United's squad against Fulham because of an injury issue.
Rashford did not train on Friday and underwent a fitness test ahead of the match but did not make the team. 
Marcus Rashford was a notable absentee after Erik ten Hag labelled as 'unacceptable' his decision to go partying after a 3-0 defeat in the Manchester derby last week
The England striker travelled down to London with United on Saturday but was not in the squad and watched the game sat just behind the bench 
The 26-year-old was United's standout performer last season, scoring 30 goals in  56 appearances in all competitions and was rewarded with a new five-year deal in the summer, worth £325,000-a-week.
Rashford, however, has failed to replicate the same form so far this season, scoring once in 14 matches in all competitions. 
United return to action on Wednesday when they travel to Denmark to face Copenhagen in a pivotal Champions League clash.
Ten Hag's men are third in Group A with three points, one behind Galatasaray and six behind group leaders Bayern Munich.  
IT'S ALL KICKING OFF! 
It's All Kicking Off is an exciting new podcast from Mail Sport that promises a different take on Premier League football.
It is available on MailOnline, Mail+, YouTube, Apple Music and Spotify.
Your browser does not support iframes.

Source: Read Full Article