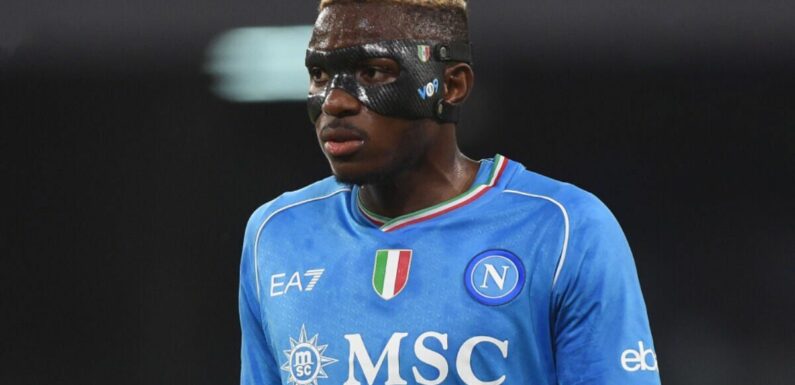 Man Utd were 'hours' away from losing transfer target to Liverpool after Jurgen Klopp chat
Manchester United and Chelsea may have felt that they had a lifeline in their pursuits of Napoli striker Victor Osimhen after the player's agent threatened legal action against his club over a video that was posted on social media. However, if the Nigerian forward were to part ways and leave Italy, he may have his sights set on another outfit instead.
Napoli's TikTok account appeared to mock Osimhen in a bizarre video after he missed a penalty in one of their recent matches. They have since released a statement insisting that they "did not intend to cause offence" but Osimhen's agent has threatened legal action, throwing his future at Napoli in doubt after a series of unprecedented circumstances.
This came after Osimhen fired Napoli to the Serie A title last year and stayed with the club, despite interest from a host of top teams including United and Chelsea. The two clubs may have been of the belief that the recent incident could push Osimhen away from Napoli, but if so then he may still turn both of them down.
Spanish outlet SPORT reported a previous comment that Osimhen made regarding Barcelona: "When I was young, my favourite team was Barca because of Samuel Eto'o. And it is still my favourite team."
JUST IN Ideal Chelsea target Victor Osimhen may be up for sale after mistake from club[TRANSFERS]
If Barcelona were to show an interest in Osimhen and the current situation were to force him to consider his Napoli future, then it would be tough to turn down the team he supports even if interest was renewed by United and Chelsea.
Napoli came under criticism after deleting a video mocking Osimhen before his agent Roberto Calenda threatened legal action against the club. "What happened today on Napoli's official profile on the TikTok platform is not acceptable," Calenda said on Tuesday. "A video mocking Victor was first made public and then, but now belatedly, deleted."
We use your sign-up to provide content in ways you've consented to and to improve our understanding of you. This may include adverts from us and 3rd parties based on our understanding. You can unsubscribe at any time. More info
Don't miss…
Osimhen reacts after own club Napoli mocked him as star considers legal action[REACTION]
Man Utd tried to sign Alexander-Arnold but got brutal seven-word response[LATEST]
Man Utd boss Erik ten Hag has three undroppables for Crystal Palace rematch[TEAM NEWS]
The FIFA agent added: "A serious fact that causes very serious damage to the player and adds to the treatment that the boy is suffering in the last period between media trials and fake news. We reserve the right to take legal action and any useful initiative to protect Victor."
In an attempt to clarify the situation, Napoli released a statement on Thursday that read: "Napoli, in order to avoid any exploitation on the topic, specifies that it never intended to offend or make fun of Victor Osimhen, the club's technical asset. To demonstrate this, during the summer training camp, the club firmly rejected every offer received for the striker's transfer abroad.
"It is a common experience that on social media, in particular on TikTok, expressive language has always been created with lightness and creativity, without having had, in the case involving Osimhen, any intention of mockery or derision. However, if Victor had perceived any offense towards him, that is not what the club intended."

Source: Read Full Article