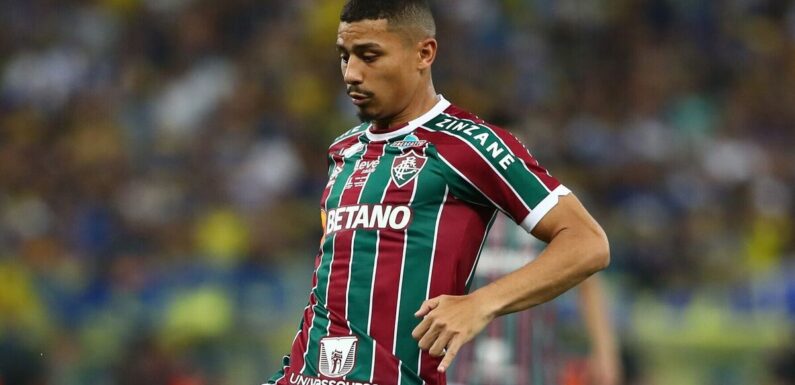 Liverpool hero Jamie Carragher has reiterated their need for reinforcements in January after their surprise draw against Luton Town on Sunday and their future transfer business could affect one of their most cherished squad members. Jurgen Klopp signed four midfielders in the summer transfer window, spending around £170million to fix the issue, but the German is yet to find a holding midfielder to replace Fabinho after he departed for Saudi Arabia.
Following their disappointing 1-1 draw at Kenilworth Road on Sunday, where Luis Diaz salvaged a point in stoppage time, Carragher pointed to two problem areas where the Reds are suffering. And the 44-year-old said that Alexis Mac Allister is suffering while being played out of position, underlining the need to strengthen with at least one new signing in January.
"Liverpool in midfield are improved from what we saw last season, but they still haven't got a top holding midfielder," Carragher said on Sky Sports.
"[Alexis] Mac Allister isn't a top holding midfielder. He's good on the ball in terms of receiving, but defensively, he finds it really tough and he lacks a bit of pace for that position. In the back four, Liverpool could do with not so much a player for a specific position, but just a great defender who can almost play in a couple of positions.
JUST IN Diaz statement in full as Liverpool ace pleads for terrorists to release his dad[LATEST]
"They went with [Joe] Gomez at left-back because they thought he would be stronger defensively. I think Liverpool could do with a player in that position on the other side at right-back and maybe release Trent [Alexander-Arnold] into midfield.
"Liverpool are not ready to win the league, Jurgen Klopp and Liverpool supporters know that right now. They want to get back into the top four. In terms of challenging again, I think they need a holding midfielder and a top-class defender."
The Reds have been linked with Brazilian starlet Andre, who put in a fine performance in a holding role as Fluminense beat Boca Juniors in the Copa Libertadores final on Saturday night. The 22-year-old has been valued at around £25million by his club and could prove to be a long-term addition to the squad, which may spell the end of Thiago Alcantara's spell at Anfield.
Advert-free experience without interruptions.
Rocket-fast speedy loading pages.
Exclusive & Unlimited access to all our content.
DON'T MISS
Jurgen Klopp baffled after Liverpool draw with Luton as boss defends Nunez[REACTION]
Four Liverpool stars dire as Luis Diaz denies Luton historic Premier League win[ANALYSIS]
Liverpool star Ryan Gravenberch gives brutally honest answer Klopp will love[INSIGHT]
The Spaniard, 32, has been hit by injury problems in recent months and having once been a starter under Klopp, Thiago hasn't featured since a 2-1 win over West Ham back in April. He only made 28 appearances across all competitions in 2022-23 after being hampered by a hip problem towards the end of the campaign.
Klopp is hoping to have the former Barcelona and Bayern Munich playmaker back in the New Year and he was sure to underline how highly he rates the midfielder as part of his plans as he spoke about his excitement ahead of his return in 2024.
"With Thiago it's slightly different. It's an ongoing thing," Klopp said. "And we cannot put any kind of pressure there as well, but we expect him to be back probably start of the New Year. It's now already November, that would mean another four weeks, I would say that's probably a realistic thing to try.
"We can't wait, to be honest, to have him back. The player is just exceptional. I understand that you ask, but we can't now have a week-by-week update, because that will not change a lot in this moment."
But the reality is with youngster Stefan Bajcetic also breaking into the team last season and the potential signing of Andre to add to Wataru Endo, Thiago is likely to be the player sacrificed to make way for new faces.
His contract expires next summer and it would be a surprise if Liverpool renewed his contract considering his age and injury issues – giving Klopp the unwanted task of allowing one of his most adored players to leave next summer.
Get every single Sky Sports channel with Sky Stream, Netflix and Sky TV for £46 a month.
You can enjoy all the best Sky has to offer without needing a satellite connection.
Sky Sports also offers all live events from the Premier League and the F1 and more.
If you're already with Sky, you can get the full Sky Sports experience for £22 a month.
You get all the channels you'll ever need for £18 a month in time for all the top matches to take place in 2023.
If you need a brand new TV and want to watch the best sporting events around on it, Sky is offering a deal where you get Sky Glass, Sky Sports, Sky TV and Netflix for just £34 a month.
Source: Read Full Article