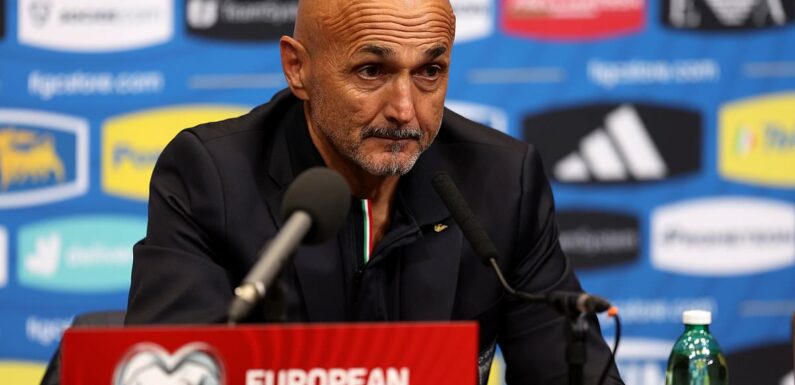 Italy boss Luciano Spalletti recalls 'traumatic' training ground raid by police amid investigation into betting breaches and claims Sandro Tonali and Nicolo Zaniolo were 'absolutely distraught' after being questioned
Sandro Tonali and Nicolo Zaniolo were quizzed amid the betting breaches probe 
Italy boss Luciano Spalletti recalled a 'traumatic' police raid at training ground 
Listen to the latest episode of Mail Sport's podcast 'It's All Kicking Off!' 
Italy boss Luciano Spalletti has described the 'trauma' of last week's raid on his team's training base, revealing the abrupt arrival of investigators looking into illegal betting left Newcastle's Sandro Tonali and Aston Villa's Nicolo Zaniolo 'absolutely distraught'.
Tonali and Zaniolo are not available after prosecutors turned up in Florence on Thursday to interview the pair, who were then released to their clubs by the Italian FA.
Spalletti said: 'It was traumatic for the team because we had the authorities almost coming into the dressing room. Everyone was surprised. Everyone was upset. Some of us were able to give them a hug before they went home.
'The players (Tonali and Zaniolo) were absolutely distraught. When you are part of a national team, very strong ties and bonds are created. We've all been affected by this. It's sad. It's hurt us all.'
Spalletti added: 'Gambling is a form of temptation. It is a vice. These things happen. We are committed to keep speaking to these players. We will provide them with all the help we can to make sure they can go back to doing what they enjoy most.'
Italy boss Luciano Spalletti recalled the 'traumatic' raid by police at their training ground
He admitted Sandro Tonali and Nicolo Zaniolo were 'distraught' after being quizzed by officers 
Tuesday's game is Spalletti's fourth in charge of Italy and he urged his players to embrace the challenge. 'We must not come here with fear,' he said. 'We must not be hung up on the colour of the shirts the opposition wear, the names on the back, or the stadium we are in.'
Belgium's Euro 2024 qualifier against Sweden was abandoned at half-time last night for security reasons after two Swedish people were shot dead in Brussels before the game. 
The gunman fled the scene and prosecutors said they were treating the incident as terrorism. 
Police instructed Sweden fans to stay inside the King Baudouin Stadium for their own safety after the game was suspended.
IT'S ALL KICKING OFF! 
It's All Kicking Off is an exciting new podcast from Mail Sport that promises a different take on Premier League football, launching with a preview show today and every week this season.
It is available on MailOnline, Mail+, YouTube , Apple Music and Spotify
Your browser does not support iframes.
Source: Read Full Article