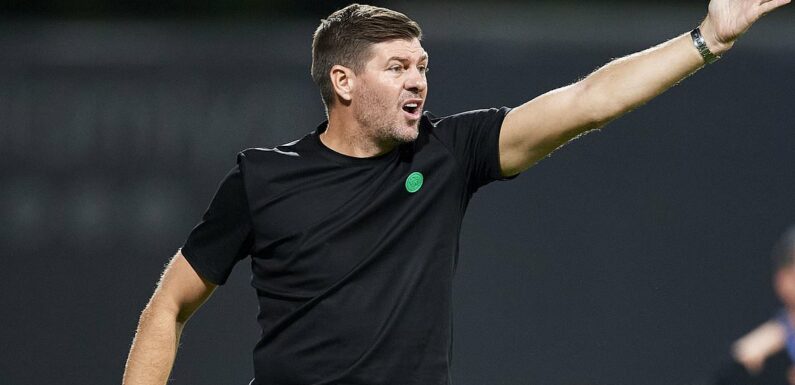 Steven Gerrard hits out at his OWN Al Ettifaq player in a damning blast after he went AWOL before a Saudi Pro League match despite doctors declaring him fit to play
Steven Gerrard has lashed out at an Al Ettifaq player after he went missing 
The winger claimed he was too tired to play in a match and instead drove home 
It's baffling why Guardiola sold Palmer to a rival club – It's All Kicking Off 
Steven Gerrard has taken aim at one of his Al Ettifaq players after they went AWOL.
Liverpool and England legend Gerrard took charge of the Saudi Pro League side in July, his first role since his dismissal at Aston Villa, but has endured a rocky start. 
His situation was worsened by Mohammed Al-Kuwaykibi disappearing before a game without permission despite being cleared to play, infuriating his manager. 
The winger sat out of his side's goalless draw with Al-Feiha at the weekend, instead choosing to climb into his car and drive back home against Gerrard's wishes.
After claiming he was too tired to feature, he was assessed by the medical team. 
Steven Gerrard took aim at one of his Al Ettifaq players after they went AWOL before a game
Mohammed Al-Kuwaykibi (R) ruled himself out of contention for a match before driving home
Boss Gerrard criticised the winger after he disappeared despite being cleared to feature
'He got in his car and went home without permission,' Gerrard told reporters.
'He was analysed by the doctor, the doctor said he was good to train but he got in his car and said he was tired and went home.
'I am still looking for reasons and answers as to why he wasn't here to help us today.'
Issuing a statement on the bizarre situation, the club backed their manager.
'We refuse to criticise the team's coach, as this is not the first time that Muhammad Al-Kuwaykibi has taken the same position,' the release read.
'In Al-Nasr's first league match, he missed the main exercises with the same excuse.'
Al-Kuwaykibi has played 11 league games this season but is yet to score. 
His club are seventh in the Pro League table but 13 points adrift of leaders Al-Hilal.
IT'S ALL KICKING OFF! 
It's All Kicking Off is an exciting new podcast from Mail Sport that promises a different take on Premier League football.
It is available on MailOnline, Mail+, YouTube, Apple Music and Spotify.
Your browser does not support iframes.
Source: Read Full Article