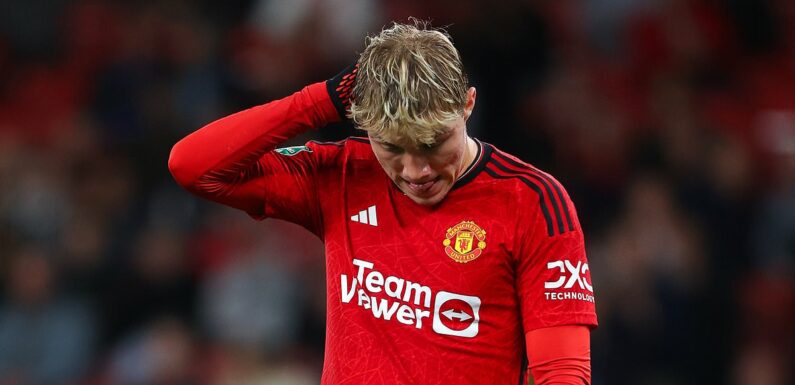 Man United have one goal between SEVEN forwards with Rasmus Hojlund yet to score in the league and the top scorer in all competitions is a defensive midfielder! The damning stats behind their faltering attack
Rasmus Hojlund leads the way in many stats but has not yet scored in the league 
Manchester United have only scored eight goals in seven home games so far 
West Ham have had three superb seasons – why is David Moyes under pressure? 
When your entire forward line are being outscored by a player that has spent the vast majority of their career as a defensive midfielder, then you know that there is an issue in front of goal. 
It has been a poor start to the 2023-24 Premier League season for Manchester United in many ways, and it would be unfair to pin all the issues at the club on a misfiring attack. 
However, with form difficult to come by at the moment with five wins and five defeats in the last 10 games in all competitions, having a forward that can steal a point or three late on in a game has perhaps never looked more valuable to United.
With the now injured Rasmus Hojlund the only real addition to the front line after last season, it is intriguing that there has been such a widespread collapse in form up top. 
Here, Mail Sport takes you through some of the most damning statistics that tell the story of Man United's faltering front line. 
Rasmus Hojlund is Manchester United's top scorer in all competition but has not yet scored in the Premier League
Erik ten Hag's side have only scored 13 goals this season – the sixth-fewest in the top-flight
Only one forward player has scored a goal in the Premier League so far this term for United
Your browser does not support iframes.
Not enough goals
The biggest issue currently facing the side is perhaps the most important facet of the game itself; there just aren't enough goals in the team. 
United have scored only 13 times in the Premier League this season, the sixth-fewest, with only Fulham, Bournemouth and Crystal Place netting fewer in addition to the three newly-promoted sides. 
However only one of those 13 have come from a forward player in the Premier League, with Marcus Rashford on the scoresheet in September at the Emirates in a 3-1 defeat to Arsenal. 
Defenders at the club have bagged three, with Raphael Varane, Victor Lindelof and Diogo Dalot all chipping in, but a whopping 69 per cent (nine from 13) of their league goals have come from the midfield. 
Even then, six were scored by Bruno Fernandes and Scott McTominay, who are the only players in the squad to have netted more than once – which further highlights how bereft of form in front of goal the Red Devils have been across the board. 
Outside of the league, Hojlund's form in the Champions League promises there is something to anticipate from the Dane with five goals, and nine goals from four in the Champions League makes for better reading. 
However, Hojlund aside the top scorer at the club across all competitions is Casemiro, which would surely have fetched long odds before the season from anyone outside the Brazilian's family. 
Erik ten Hag will know that his side must work on their offensive output if their form is improve, but with only eight goals in all competitions from his forwards out of 26, it may just be a case of instilling some confidence in his frontline. 
Scott McTominay is Man United's top goal scorer in the Premier League with three goals – tied with Bruno Fernandes
Defender Victor Lindelof has netted as many times as Rashford this season in the top-flight 
Is it a supply issue?
For the most part, there are two parts to any goal; the finish and the assists. Obviously, if a team is lacking in the latter, then the former will be drying up, too.
The forwards will get the blame – as they usually seem to – but there is not an awful lot being created for them to latch onto. 
In the league, Man United have only created 25 big chances, about 1.9 per game, which is enough to rank them 11th. For big chances missed, however, they have spurned 20 opportunities which, according to Opta, gives them the third-lowest conversion rate in the league (20 per cent).
The two teams below them? Newly-promoted Sheffield United and Burnley, widely tipped to go back down this term, and who have netted just 19 goals between them.  
That means that United have only actually scored five of the big chances they've created, with their other eight goals seemingly coming from less favourable goal scoring opportunities. 
But that lack of clear-cut chances being created will needless to say be a real worry for Ten Hag, on top of the fact that his side have converted just 5 per cent of their so-called big chances. 
Antony averages just 0.18 big chances per 90, while Hojlund has covered the most distance per 90 for United
Bruno Fernandes has averaged the most chances created per game with 2.35 in the league
Only two players have been averaging more than one chance created per game (Bruno Fernandes 2.35 and Marcus Rashford 1.06), with both assisting three. Christian Eriksen (two) is the only other player to have set up more than one goal. 
Fernandes has created 40 chances across 17 games, and judging by the numbers is the clear outlier in terms of creative output, and is more or less performing as expected in this regard, with Rashford creating the second-most at just 17 from 16, and Eriksen only 10 in 15 games. 
Yes, United are scoring a disappointing number of goals, but there are also very few opportunities being created. That being said, a conversion rate of just 5 per cent is well below par, and no matter how few chances there are, the forward line must surely do better. 
A lack of effort?
Work rate in football is one of those non-negotiables that every single manager demands from the off without question – United included, it would seem. 
There are a number of players who have come under scrutiny for a lack of effort at United at times, Antony perhaps the most prominent among those, when times are tough. 
The Brazilian is third for distance covered per 90 minutes at the club this season, with 9.6km – not far short of the Premier League average of 10.08km from 2020-21.
Rashford has covered the same amount on average per 90, although he has played almost double the minutes, with Alejandro Garnacho at 10.7km, Martial at 10.8km and Hojlund again the best performer at 11.1km. 
Perhaps a more damning statistic for the team is the number of pressures – that is to say, the amount of times a player makes a direct attempt to put pressure on an opponent with the intent to win back possession – that players are making. 
Anthony Martial has put 25.6 pressures per 90 minutes in the league on average this season
Alejandro Garnacho has also proven to be an intense option up front with 20.2 per game
Pressures are a strong indicator of intensity and energy in attack, and according to Opta, United's most intense front three so far has been Hojlund (36.2), Garnacho (20.2) and Martial (25.6). 
Once more, the £72million man is the outlier, but the fact that he has more than double the pressures of Antony (17.7) and almost twice that of Rashford (18.2) highlights just how far ahead of his team-mates Hojlund has been.  
United's most-used front three in the league has been Hojlund, flanked by Rashford and Fernandes, but perhaps Garnacho's energy has been under used and Martial ought to be back in the line up when fit for the pressure he is putting defences under?
As the numbers seem to suggest, both Rashford and Antony ought to be putting in the harder yards on a more regular basis – and those looking for a run in the side need look no further than Hojlund for example.  
Anyone buying the ticket?
Assists are obviously a prime indicator of goal scoring prowess, and so is attacking intent and energy in the frontline, but perhaps the clearest example for how blunt an attack is, is how many shots the team are taking. 
Only three of their main five forwards – in terms of minutes played – have averaged more than two shots per game. 
United actually rank fifth in the Premier League for the number of shots that they are taking, with 178, ranking them behind only Liverpool (217), Manchester City (198), Tottenham (192) and Aston Villa (179) – all of whom are higher up the table. 
This would suggest two things in the main; either United are taking a huge number of shots, but many of which are wayward and causing little issue for the goalkeepers, or their shots are accurate enough, but level of finishing is poor with a success rate of 0.07 per cent – and the latter seems the more likely. 
It's an old adage – and most often uttered on a Sunday league pitch with a sheepish look after a shot from 40 yards has ballooned out for a throw – but if you don't buy a ticket, you can't win the lottery. 
Rashford leads the way for shots per game, with average of 3.5 including blocked efforts
£72m man Hojlund is only taking 1.9 shots per game, behind Antony, Garnacho and Rashford
Of course, it helps if you pick the winning numbers. Take Hojlund for example. He has taken 14 shots this season (joint-77th), and missed eight big chances (joint-fourth). So that would suggest that he is getting into the right positions, but has proven unable to finish off the chance. 
Perhaps that's what comes of splashing £72m on a player that scored only 10 goals at Atalanta last term as part of a 3-4-1-2, and asking them to become a Premier League-topping No 9 as a sole striker.  
The leader for shots per game is Rashford (3.5), followed by Garnacho (3.4) and Antony (2.9), with Martial's 1.5 behind Hojlund's tally of 1.9. Rashford, it's worth pointing out, has also missed six big chances. 
Interestingly, both Rashford and Fernandes are tied on 36 for shots – the third-highest in the league behind Erling Haaland and Mohamed Salah. The only difference is that the latter two are leading the division for goals scored and the United duo have four goals between them. 
Old Trafford has not seen a forward score in six months
If every person's home is their castle, then Old Trafford's fortifications are on the verge of crumbling – and that's not a dig at the leaky roof. 
United's home form is, at best, unimpressive; they've scored only eight goals in seven home ties in the Premier League, with more than one goal coming in just two matches. For comparison, their three main rivals City (16 in five), Liverpool (17 in six) and Arsenal (18 in seven) are all doing much better.
Worse still, none of those have been scored by a forward player. In fact, the last attacker to score a goal at Old Trafford in the league was Jadon Sancho – currently out of contention after a rift between him and Ten Hag – which came in the final game of last season on May 28. 
Jadon Sancho was the last forward to score at Old Trafford – and he is currently out of the team
The fact of the matter is that United are not putting on a show in front of their home support – where they will always have an advantage – to the same extent that their rivals have done. 
And the Old Trafford faithful are not to blame. Despite the unease beneath the surface at the club, the shaky form and the hostility towards the owners, the crowd have remained on side with the players. 
Not scoring away from home is one thing – United average one goal a game on the road – given you are playing outside of your natural habitat, but to also not be able to thrive on your home turf belies how poor the level of finishing truly is. 
Hojlund is an outlier – should Ten Hag worry? 
That one player is so clearly outperforming their team-mates is one thing, but for them to be doing so and still not getting on the scoresheet is another. 
Granted, every attacker at United seems to have misplaced their shooting boots, but it certainly feels as though there's little pressure to change that any time soon. 
Hojlund is streets ahead of his team-mates for distance covered, big chances, and pressures, and although he's not netted in the league he is still the club's top scorer in all competitions. 
In that sense, his data in the league can be treated as an anomaly – Hojlund is quite clearly a capable enough finisher five times in the Champions League, but has not quite developed the ability to put away the more difficult challenges, and perhaps lacks the natural striker's instinct to shoot at the slightest sniff of goal.
Ten Hag should perhaps be concerned that there is one player out performing the squad, but still not putting up overly impressive numbers
Hojlund is clearly the most potent threat in attack for United, and they're not the only team to have a player putting up much bigger numbers than their team-mates, but the difference is, with United Hojlund's numbers are not objectively that impressive from a wider perspective. 
Yes, Haaland and Salah are out performing their respective squads, but they're also the top scorers in the league, and among the biggest threats going forward in Europe. Moreover, their team-mates are also putting up strong numbers and in any other side could be the star of the show in their own right. 
With United, Hojlund is the leader, but those behind him would barely break into another team on the basis of their numbers, and that will be a concern for Ten Hag. 
The Dane has not scored in the league, but there is nobody really pushing him on, threatening his place in the line up should he start putting in fewer pressures, or continue to waste the big chances. There ought to be accountability to bring out the best in a striker who is, in the context of the league, not performing that well. 
IT'S ALL KICKING OFF! 
It's All Kicking Off is an exciting new podcast from Mail Sport that promises a different take on Premier League football.
It is available on MailOnline, Mail+, YouTube, Apple Music and Spotify.
Your browser does not support iframes.

Source: Read Full Article