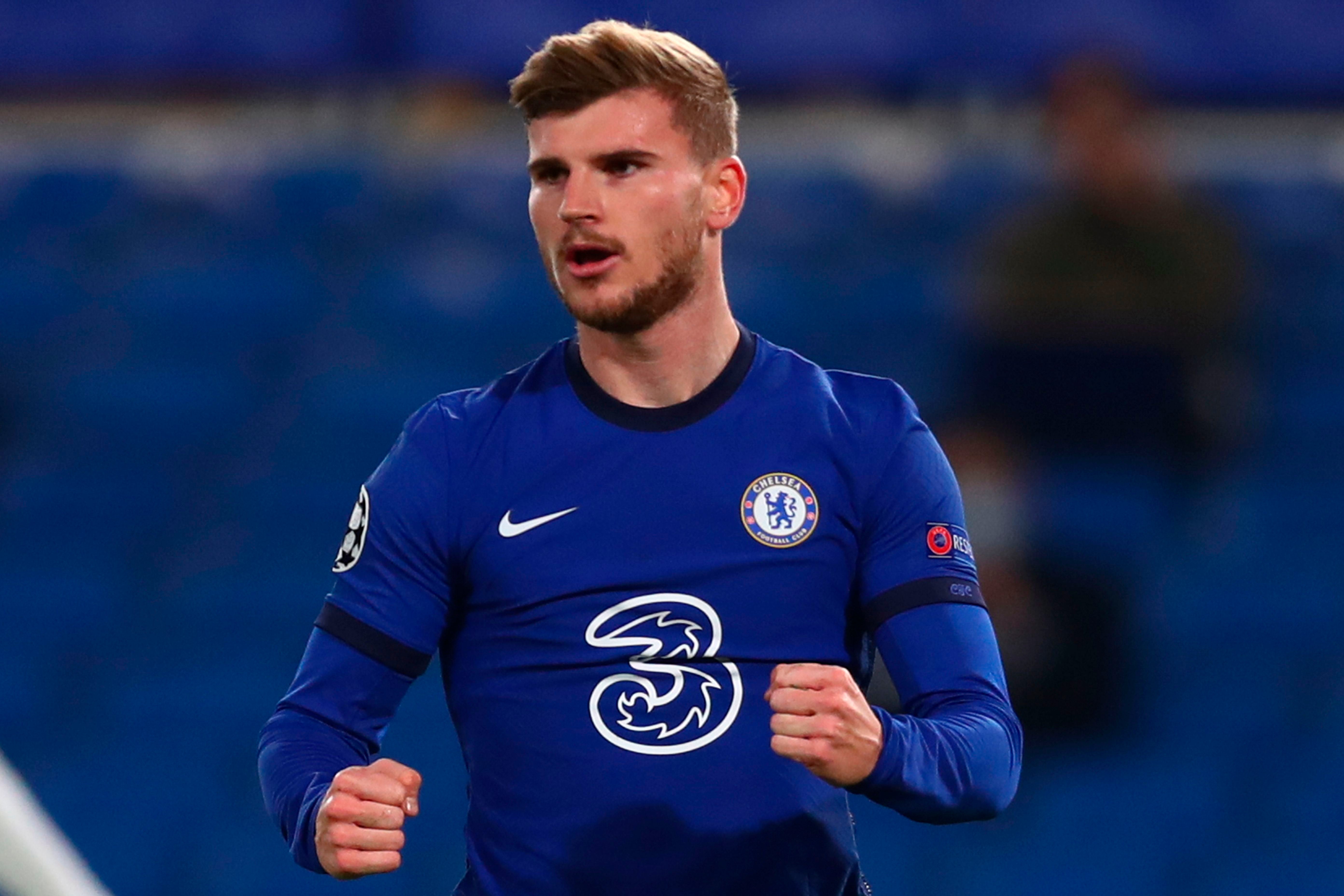 Timo Werner scored twice from the penalty spot
Timo on spot-kicks
The baton looks well and truly handed over.
After another recent miss from the spot, Jorginho passed over penalty-taking duties to Timo Werner and the German striker continued in the role tonight.
His strikes from 12 yards have been fierce, unerring, perfect – drilled into the top or bottom corners, giving goalkeepers no chance and his team plenty of confidence.
It's a no-frills approach totally in contrast to Jorginho's run-up, but it's also proving more effective.
Dominant at the back
Thiago Silva and Kurt Zouma are beginning to develop a very nice understanding at the back, but the Brazilian's ability was on show most of all here.
Several times while Rennes still had 10 men and a chance of a comeback, it was his positional work and ability to reach the ball for clearances which alleviated brief spells of pressure.
One particular block and clearance just before he was subbed off for a rest was typical of his ferocious commitment, while he then shepherded striker Serhou Guirassy out of the way for his goalkeeper; it was simple, basic work, but expertly done.
One the ball there was also plenty to admire, with a fired-through pass from deep starting an attack which almost resulted in a goal.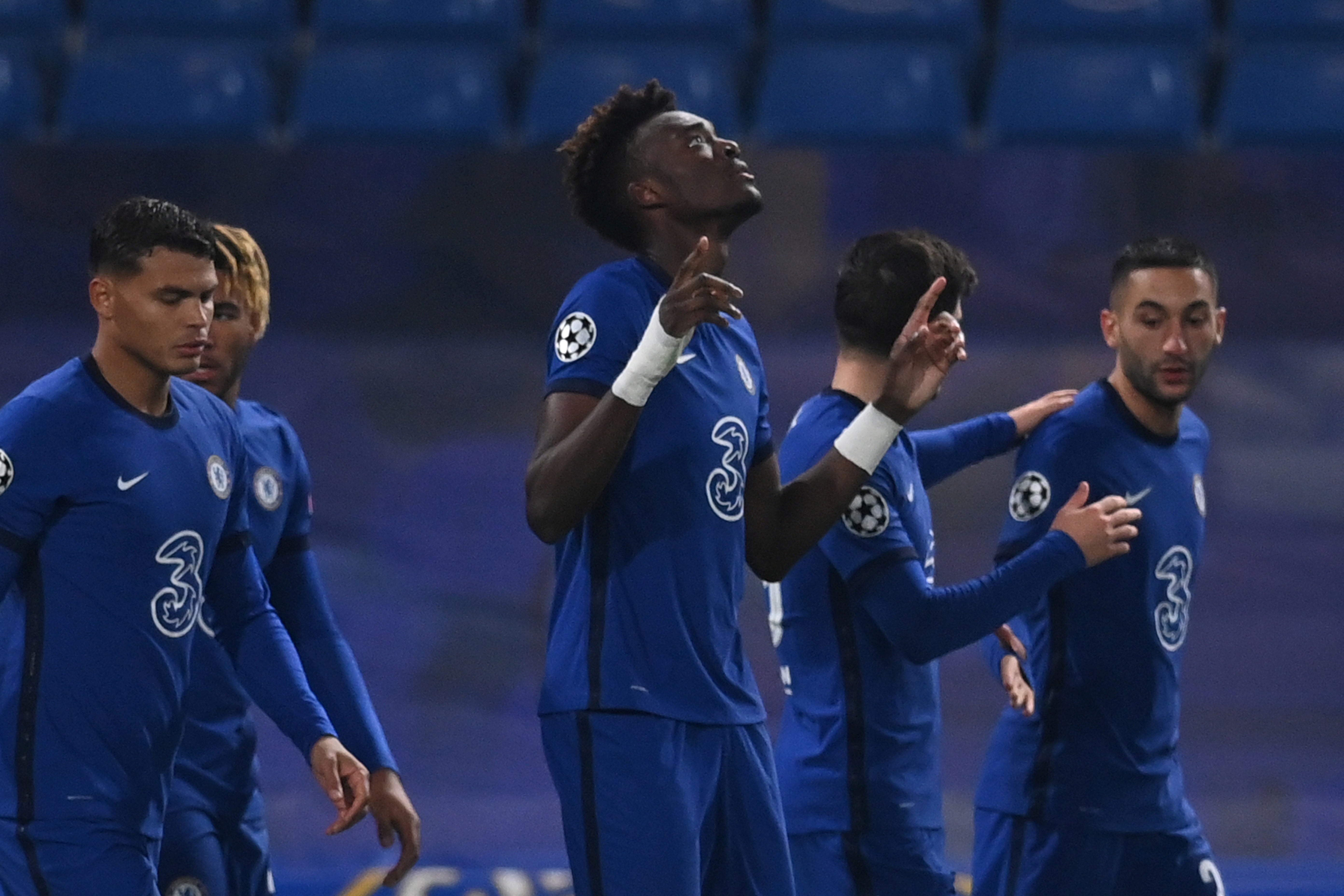 Tammy Abraham celebrates scoring Chelsea's third
Easy return for Mendy
Much had been made in the build-up of the goalkeeping links between the clubs.
Petr Cech used to play for Rennes before joining Chelsea, while he's now in the upper reaches of the hierarchy at Stamford Bridge and was part of the selection process behind signing Edouard Mendy – again from the Ligue 1 club.
Mendy had a solid, if quiet night.
He claimed everything aerially, his distribution was fine and under no pressure at all – and he made a good late save to push away a shot and preserve his clean sheet.
Routine, comfortable, competent – everything they've lacked in the position of late.
Rennes starlets kept under wraps
For those who enjoy watching the top youngsters around Europe in action, the Rennes team-sheet was faintly disappointing.
Edouardo Camavinga was out with injury, a talented teenager of enormous repute in midfield, while left-back Faitout Maouassa was excellent last year and linked to Man United and Chelsea themselves – but he's out until the new year.
Jeremy Doku was only sub, too, the Belgian starlet previously linked with Liverpool among others before his switch to Rennes this summer.
Given Premier League clubs' penchant for snatching up overseas talent, perhaps Rennes will see this as a positive.
Group watch
It's looking good for Chelsea. Seven points from three games puts them over halfway toward likely qualification, at the halfway stage by matches.
Sevilla's comeback win over Krasnodar means it's the Premier League and LaLiga sides neck and neck at the top, and a long way back to the other pair, on just one point apiece.
Avoiding defeat next time out at Rennes will put Chelsea within touching distance of the last 16, which Frank Lampard will see as another big step forward.
A long way to go still, but a night of only positives for those of a blue persuasion.
Source: Read Full Article