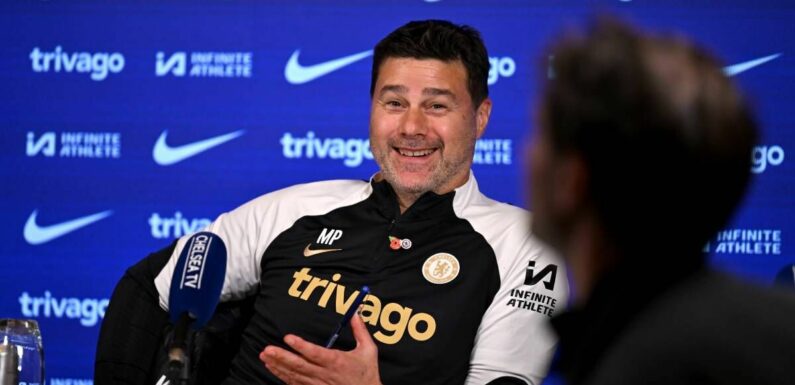 Tottenham has-been? Mauricio Pochettino is more worried about being a White Hart Lane Mr Bean.
So much so, the Chelsea manager has literally mapped out his return to his former club in his mind so that nothing can go wrong.
Not even an embarrassing case of mistaken identity.
The Argentinian was such a massive part of Tottenham's growth into their new training centre and stadium that it will be strange for him to take his Chelsea side as visitors to the new ground.
So it would be easy to imagine him doing a "reverse Ron Atkinson" – after the former Nottingham Forest manager sat in the wrong dugout when visiting the City Ground for the first time as the home manager..
Unfortunately, though, Pochettino was unable to differentiate between the former West Brom, United and Aston Villa manager and the bumbling buffoon played by an actor with a very similar name.
"Ah, Mr Bean! Ron Atkinson is the actor, yes?" Pochettino said. "Ah, okay! I was thinking of the actor – what is his name? Rowan Atkinson!
"My wife will say, I told you, you have to remember these names!
"But no, there will not be a repeat. I know the layout very well because I designed where it all was. The local dressing room and the away. The local is on the right and the away dressing room on the left. I know that very well."
The move to the new Tottenham Stadium was very much part of Pochettino's five-year plan to help build the club that he will forever be tied in with this part of the club's evolution.
But the Chelsea manager – on what will inevitably be a night of mixed emotions – remains remarkably well-balanced.
And he admits he is not yet at the same point with his new fans as he was with what will forever be one of the loves of his life. But he will not be holding back in showing his new allegiance either should the occasion arise.
"We need to be natural – that is the most important thing – not to be fake," he said.
"I am not going to say things that are very nice. I don't want to be a hypocrite and say something I do not feel or we are still in the process of creating.
Advert-free experience without interruptions.
Rocket-fast speedy loading pages.
Exclusive & Unlimited access to all our content.
"People are clever – you shouldn't underestimate the fans, either the Chelsea or the Spurs ones.
"If I repeat here something like the Champions League run and the Battle of the Bridge and then hide the emotion – come on! I cannot just say I have forgotten all those things. That would look stupid."
Source: Read Full Article