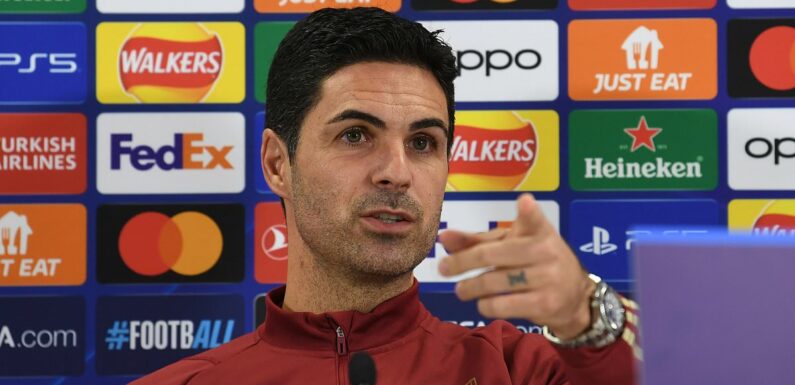 Mikel Arteta DEFENDS his scathing rant at VAR officials following Arsenal's controversial loss to Newcastle – after Gary Neville called his criticism 'dangerous' – as he insists 'it is my duty to support my players'
Arsenal boss Mikel Arteta slammed VAR chiefs after their 1-0 loss to Newcastle 
He defended his outburst at officials after calling the awarded goal 'a disgrace' 
CHRIS SUTTON: Arsenal manager Mikel Arteta is a clown – It's All Kicking Off
Mikel Arteta has doubled down on his comments after Arsenal's defeat to Newcastle on Saturday, saying it was his duty to defend the club.
Arteta had described Anthony Gordon's winner as 'embarrassing' and a 'disgrace' in his post-match media duties on Saturday.
And then on Sunday, the North London club strongly backed him, releasing a statement in which they said the loss involved 'yet more unacceptable refereeing and VAR errors', adding that the Premier League 'deserve better'.
Gary Neville had called the criticism from Arsenal and Arteta 'dangerous' and said they risked 'undermining the refereeing community, but Arteta was defiant. 
He said: 'It is my duty to stand in front of the cameras and give a very clear and honest assessment of what happens in the game. This is what I did.
'Reflect very openly how I felt the team played and how the game was conditioned by the decisions that were made.
Arsenal boss Mikel Arteta has stood by his comments slamming VAR officials after their loss to Newcastle this weekend
Arteta called the decision to allow Anthony Gordon's goal for Newcastle 'a disgrace'
Your browser does not support iframes.
'My duty is to defend my players, club and people in the best possible way. This is what I'm going to do time after time and I do it, not the way I feel, (but) with the evidence and being as clear as possible. I always do it. It's the way I am and I have to defend my club.'
The outburst was not the result of just the Newcastle defeat, having felt slighted by previous decisions going back to last season.
As Mail Sport revealed yesterday, Arsenal are set to cite the refereeing decisions that have gone against them since the last campaign in their next meeting in a bid to prove a pattern.
'Things don't happen overnight,' said Arteta. 'When I was that clear and had all the evidence to stand for the words I used in the media, it's because I feel strongly about them.
'One thing is saying it externally, internally to my players it's how we can play better, be more dominant and play the way we want so we give no chance to the opponent.
Arteta said he had a 'duty' to stand up for his players, speak honestly and protect the club 
In a tense affair on Tyneside, a number of decisions came under the microscope 
'But one thing is my duty to you guys and then my duty as a coach to do what I have to. This is exactly what I've done. Nothing special, nothing different. I and the club would do it again until this is right.'
Arteta did not hold back in his post-match press conference following the game where he took aim at the level of officiating. 
Officials had to assess three separate incidents before the decision to award Gordon's goal 
He said: 'How the hell did this goal stand up? It's incredible. I feel embarrassed. It's an absolute disgrace that this was allowed. For many reasons it's not a goal. 
'It's so difficult to compete at this level. This is nowhere near the [refereeing] level to describe this as the best league in the world. I feel sick to be part of this.'
Arteta added in his post-match interview with Sky Sports: 'The question is it's not a goal, it's simple. For a goal there are certainly things that are not allowed in football.
'I have to stand here and explain, we lost three points. There's too much at stake. It's embarrassing.
'It's incredible how the players competed against this team, it makes me sick. I feel sick to be part of this.'
The club then backed Arteta's words the following day after 'yet more unacceptable refereeing and VAR errors', saying fans, players and managers 'deserve better' from the PGMOL.
Sky Sports commentator Neville was far from impressed with the statement and words from Arteta, calling them 'dangerous'.
'I thought the statement was really poor,' said Neville on Sky Sports on Monday evening. 
Gary Neville questioned Arteta's comments and Arsenal's decision to release a statement
The pundit called the club's words 'dangerous' and said they risked undermining referees
'Liverpool had a shocking one against them few weeks ago here and we knew it was wrong, there was feeling they had been hard done by. A day after when Liverpool wrote statement with the suggestion of replay, I thought to be fair that was quite dangerous. The Arsenal statement is also quite dangerous. 
'All clubs signed a new behavioural charter and I'm not saying referees shouldn't be put under pressure but clubs themselves should definitely behave better in these circumstances.
'I'm looking at the Premier League and leadership in the Premier League, the reality of it is they have to start protecting referees, I was in favour of the transparency at the beginning of it,' he said.
Neville later added on social media: 'I can never remember [Man United] writing letters undermining the system and the whole refereeing community.
'Arsenal's letter and even the Liverpool statement a few weeks ago are wrong. Do it privately.' 
IT'S ALL KICKING OFF! 
It's All Kicking Off is an exciting new podcast from Mail Sport that promises a different take on Premier League football, launching with a preview show today and every week this season.
It is available on MailOnline, Mail+, YouTube , Apple Music and Spotify
Your browser does not support iframes.

Source: Read Full Article