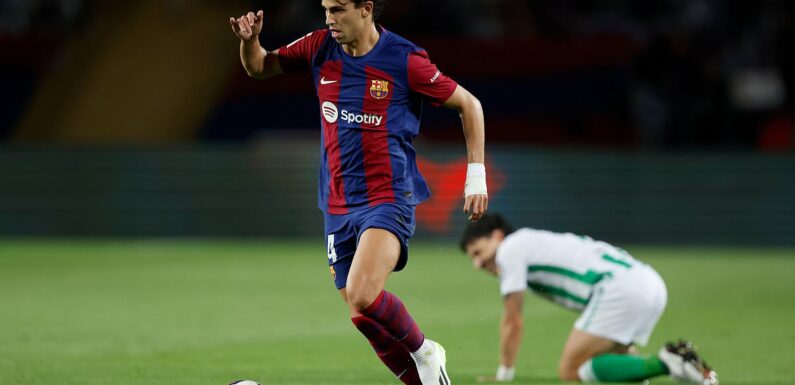 Joao Felix provides much needed star power at Barcelona, Valencia finally end their Atletico Madrid hoodoo and Mason Greenwood appears to be in safe hands at Getafe… 10 THINGS WE LEARNED from LaLiga
Barcelona crushed Real Betis 5-0 as Real Madrid won 2-1 against Real Sociedad

Valencia beat Atletico Madrid and Sergio Ramos made his second Sevilla debut

Listen to the latest episode of Mail Sport's podcast 'It's All Kicking Off' 
Barcelona were ruthlessly brilliant against Betis and Atletico Madrid were jaw-droppingly bad against Valencia as La Liga returned after the international break. 
There were debuts for Mason Greenwood and Sergio Ramos – the Sevilla defender's was his second, 18 years after the first. 
Meanwhile at the Bernabeu, Real Madrid won again to stay top with a Joselu header earning them the points. 
Here are ten stand-out things from the weekend action in Spain, with a special mention for the linesman who didn't want Madrid wasting time.
Reigning champions Barcelona cruised to a 5-0 win over Real Betis at the Olympic Stadium
Sergio Ramos made his second debut for Sevilla after returning to the club this month
Diego Simeone's Atletico Madrid side were abject during their 3-0 defeat against Valencia
Your browser does not support iframes.
Marathon man Bellingham now on 'just' five goals in five games
It was the first time he has failed to score but he so nearly made it six in five games on 90 minutes with a header that was saved.
Madrid were hanging on a bit at the end and referee's assistant Pau Norbert came on to the field of play at minute 83 to pass the ball back to Kepa Arrizabalaga. 
The Bernabeu, interpreting the action as ensuring Madrid took kick quickly didn't like the gesture and he could be spoken to by Spain's Refereeing committee for the incident.
Jude Bellingham was denied a sixth goal in five games for Real Madrid on the weekend
Joselu can get 20 goals
He'll need to play the games and that might be difficult once Vinicius returns.
But the journeyman striker used to reach double figures at relegation threatened clubs.
Joselu can double his tally this season with better service. 
He got the winner on Sunday.
Veteran striker Joselu grabbed the winner for Real Madrid against Real Sociedad on Sunday
This always happens
Valencia striker Hugo Duro has only scored 12 league goals in his career so far. 
Five of them have come against Jan Oblak. 
The 23-year-old centre-forward got two in the 3-0 win over Atletico Madrid.
Hugo Duro scored the 12 goal of his career this weekend, with five coming against Jan Oblak
This never happens
Atletico Madrid had not lost to Valencia in any of their last 17 meetings. 
Only twice in the 23 times they had faced them in the Diego Simeone era had they lost to them. 
Not since 2014 had Valencia got three points against Atletico. 
And Diego Simeone's team turned up at Mestalla on Saturday having beaten Rayo 7-0 in their last game. 
So 3-0 to Valencia it was then!
Valencia boss Ruben Baraja led the club to their first win over Atletico Madrid in 17 meetings
The kids are very very good
Don't say it too loud or they will all be sold in January but Valencia's Javi Guerra (20), Diego Lopez (21) and Fran Perez (21) are all Spain internationals in the making. 
Valencia don't spend any money – the flip side of that is that the kids get game time and these three have soared because of it. 
They schooled Atletico Madrid on Saturday.
Javi Guerra is among Valencia's young Spanish stars who impressed against Atletico Madrid
Haven't we forgotten something?
Spain's national team left the boots and the gloves on the tarmac last week when they took off for Georgia. 
Las Palmas went one better than that at the weekend by leaving the players behind. 
Around 15 had to get a later flight and all for nothing because Sevilla marked Ramos' return with a 1-0 win.
Around 15 Las Palmas players missed their flight ahead of their match against Sevilla
Perfect partners
We know Joao Felix and Diego Simeone was always a marriage of inconvenience – maybe the Portuguese and Barcelona will be the perfect match. 
He wants to be the star and play all the time; they need him to play all the time and be the star because there is a fantasy deficit at the club since Lionel Messi left that no one has really filled. 
He was brilliant on Saturday as Barcelona put five past Betis.
Joao Felix produced a superb performance in Barcelona's 5-0 win against Real Betis
Barca part of the City group
We know that Girona are part of the City Group that own Manchester City but maybe Barcelona qualify as secret partners. 
Two of their best performers at the weekend were Ferran Torres and Joao Cancelo. 
The full-back in particular looks a gift on loan and the perfect fit for a team that has needed a defender who can really contribute in an attacking sense for some time.
Loanee Joao Cancelo looks like the perfect fit for Barcelona in both defence and attack
It's been a while
When Torres scored direct from a free-kick against Betis it was the first time anyone had managed to do so since May 2021 when Messi did it at Mestalla. 
No one had scored direct from a free-kick since the great man left. 
It was Torres' reward for another good performance this time playing from the start.
Ferran Torres became the first Barcelona player to score from a free kick since May 2021
Greenwood in good hands
Since Pepe Bordalas took over relegation threatened Getafe last season their home record reads four wins and two draws – and one of those draws was against Barcelona. 
The Manchester United loanee has joined a club that rows in time behind its manager.
He's the boss – he led them to safety last season and he has them mid-table after five games played now.
Mason Greenwood's new boss Jose Bordalas has led Getafe to mid-table early this season

Source: Read Full Article