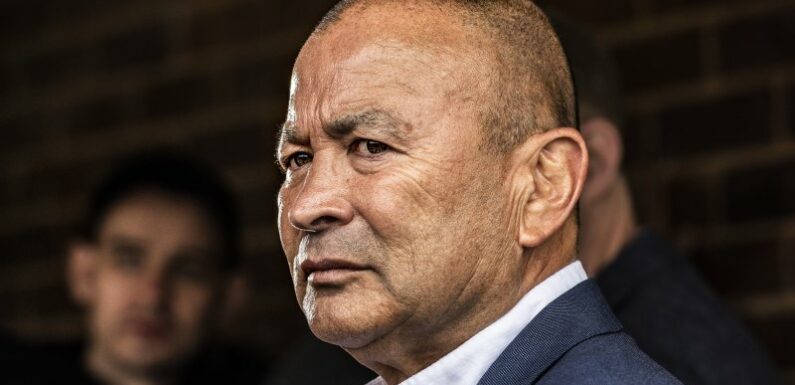 Save articles for later
Add articles to your saved list and come back to them any time.
Rugby Australia chief executive Phil Waugh says he would consider it disloyal for Eddie Jones to have conducted a job interview with the Japanese Rugby Football Union before the World Cup, if he sees proof the discussions took place.
Speaking to Sydney radio station 2GB on Wednesday, Waugh addressed the ongoing saga around the future of Jones, who continued to deny at a press conference on Tuesday that he had spoken to the JRFU.
This masthead exclusively reported Jones conducted a Zoom interview with the JRFU in August about filling the role of Japan head coach from 2024, despite being less than one year into a five-year contract with Rugby Australia. Multiple news organisations around the world, including in Japan, have subsequently reported the same information.
On Tuesday at Coogee Oval in Sydney, Jones continued to deny he'd had an interview with the JRFU, and that he would be participating in a second interview next month.
Waugh told 2GB's Chris O'Keefe he had been given the same denials several times from Jones.
"As I've said quite publicly, Eddie said to me that he hasn't had that [interview] and he said that to me a number of times, and I'll take him for his word," Waugh said.
Wallabies head coach Eddie Jones at Coogee Oval.Credit: Steven Siewert
"It's not my responsibility to speculate or go and talk to the Japanese Rugby Football Union and ask them whether they've met with Eddie."
Waugh admitted, however, that if proof of Jones' Japanese interview "becomes evident then clearly that'd be very disappointing".
Asked if he believes Jones had been disloyal, Waugh said: "Anyone of a reasonable mind would say that if those conversations did occur, going into a World Cup, then I think that would be an appropriate assumption."
When O'Keefe suggested that was "a big call", Waugh replied: "It's not a big call. That'd be fair to say that if those conversations were occurring in the middle of a World Cup campaign for Australia, at a World Cup that we were going to win, then it would be disappointing."
Wallabies players after their loss against Wales in the World Cup in Lyon.Credit: AP
Waugh declined to answer a question about whether Jones might have breached his contract.
"Contracts are interesting, as you know. I'm not going to get into the legalities of the wording within a contract," he said.
"The reality is that we were clearly very disappointing in the World Cup. And we've let down Australians that put the trust and belief in the environment to do well. It's been disappointing and we've got a lot to do in terms of regaining the trust of the public."
Waugh also sidestepped questions about Jones' future, pointing instead to possible action following an independent review of the Wallabies' World Cup campaign.
Phil Waugh says Eddie Jones has denied talking to Japan.Credit: Peter Rae
"We need to do a thorough assessment of our performance and the campaign, which we're in the process of doing and, hopefully, we can do that really quickly," Waugh said.
"There'll be a review and assessment of the campaign and then recommendations from that, and then we act on those."
Waugh also indicated the controversial absence of senior players such as Michael Hooper and Quade Cooper hurt the Wallabies' World Cup campaign, which ended with Australia missing the knockout stage for the first time.
In a shock move, Jones snubbed the experienced duo, and other senior players, in his squad and instead took the most inexperienced Wallabies side ever to a World Cup.
"I know Michael very well and I've been in constant contact with Michael and, as you say, I think 100-and-20-odd Tests [played] for the Wallabies," Waugh told 2GB.
"He was battling a calf injury going into the tournament. But in hindsight, some of those exclusions were pretty relevant in terms of the performance."
Former Wallabies star Mat Rogers also expressed dissatisfaction about Jones' performance at the press conference in Coogee.
"I know Eddie and I respect Eddie but I need Eddie to come out and say, 'I am here, I am 100 per cent committed until the next World Cup as long as I have a contract in place with Rugby Australia'. I'm not seeing it," Rogers said on Stan's RWC 2023 Central show.
"I hope to god that he is not speaking to his players the same way he is speaking to us, and I'm sure that's not the case. If my coach was speaking to me like that, I'd be like, 'Are you all in here or are you not?' Don't treat the fans with contempt. Don't treat the fans as silly. They deserve a straight answer. I'd like to get it and we're not. I'm not happy."
Watch all the action from Rugby World Cup 2023 on the Home of Rugby, Stan Sport. Every match streaming ad-free, live and in 4K UHD with replays, mini matches and highlights available on demand.
Sports news, results and expert commentary. Sign up for our Sport newsletter.
Most Viewed in Sport
From our partners
Source: Read Full Article