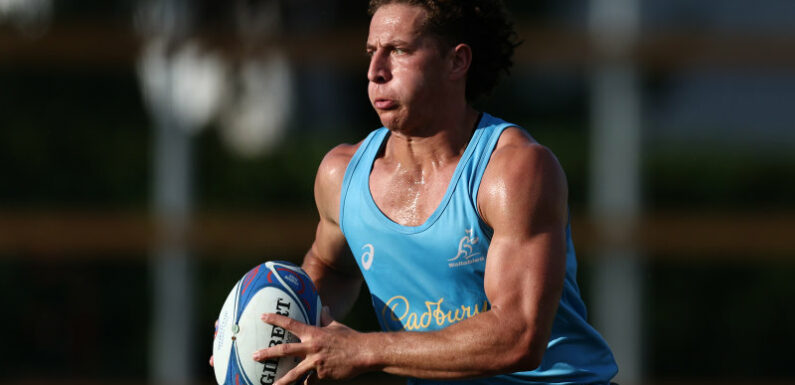 Save articles for later
Add articles to your saved list and come back to them any time.
Times have changed. The rugby we will witness at the Rugby World Cup in 2023 will look a lot different to the action I was a part of when I played in my Rugby World Cup victory in 1991, and to the footy played when we claimed the Webb Ellis Cup a second time in 1999.
But rugby is still rugby, and when you get to Rugby World Cups, there are certain keys to success that have stayed pretty consistent and true throughout the decades. In my experience, there are four main factors of success.
Trust
Trust in the players around you is the bedrock of success. In the tournaments where we were dominant, but especially in 1999, we had so much trust and belief around us that there was very little focus put on cover defence.
We just weren't thinking about "If my teammate makes a mistake here, I better do this to cover for him". We just trusted everybody to do their job.
In both 1991 and 1999, the Wallabies teams I was a part of had mostly been put together the year before, and time in the saddle together built that trust.
The 2023 Wallabies don't have that background. Eddie Jones has elected to put together a new-look team on the eve of the World Cup, and they'll be finding that trust and combination on the training paddock together and through the tough lessons of five defeats.
Wallabies centre Tim Horan in action during the 1999 World Cup semi-final. Horan was later named player of the tournament.Credit: Colorsport/Stuart MacFarlane
How much team unity carries through from the Dave Rennie era is hard to gauge. Rennie was big on team culture and togetherness in diversity, and there were powerful moments of connection in his time. I think back to the side singing the First Nations national anthem. That could have been a good base to the trust and connection of that squad, off the field.
What Rod Macqueen and Bob Dwyer were very good at it was building trust off the field, and it would automatically flow to on it. Eddie Jones did this in 2003 with a pre-World Cup camp in Arnhem Land, and it was good to see the squad doing the same trip in August. The squad's visit to the Australian memorial at Villers-Bretonneux, a day after they arrived in France, was also excellent.
Wallabies at the Villers-Bretonneux memorial.Credit: Julius Dimitaga/Rugby Australia
Twenty-five members of the squad are at their first Rugby World Cup, and Eddie very publicly backing the youngsters brings belief and trust from the players to the coach.
Even though they have lost five games in a row, you can still build trust quickly among players. They are all going through this at the same time, together. It is a shared experience.
And you get the benefit of being a bit of an unknown quantity, as a team in its first year and at a first Rugby World Cup. Rivals don't know what you're going to do, and you also have a bit of a no-fear factor. They will have to draw on that.
Leadership
Looking at not just the two winning teams in which I played, but at the other teams who have won at World Cups, leadership is critical. And not just having one skipper, but having multiple leaders.
Martin Johnson had multiple senior leaders around him in 2003. John Smit had Victor Matfield and others in 2007. In 1999, John Eales was captain, but we had six leaders on the field.
The Queen hands the World Cup to Australian captain John Eales in 1999.Credit: Colorsport / Stuart MacFarlane
The All Blacks had Richie McCaw out the front in 2011 and 2015, but you had another five leaders on the field with him.
Why is that important? It spreads the load of the leadership. It allows the captain to access quick, valuable feedback from two or three other senior figures, and make good strong decisions at all times.
It allows for different lenses to be applied. When tough times arrive in a Test match, all those leaders have been through similar scenarios and talk through the right plan for the next 10-15 minutes.
The danger of panic is kept at bay. Leaders like that embrace the pressure, keep the messaging simple and allow even young players around them to stay calm and keep playing to their best.
Richie McCaw tells the story of the All Blacks being overcome by the pressure in 2007, and that being a factor in their quarter-final loss. But after learning to embrace the pressure, many of those same players were in the 2011 side that beat France in a nail-biting World Cup final.
Will Skelton during a Wallabies training session on Tuesday.Credit: Getty
Michael Cheika did it really well when he was coaching the Wallabies, and I believe this Wallabies team can also have that skill. It's about being comfortable in uncomfortable situations. And you have train for it.
You find out who are the true leaders in those situations, and you sense Eddie Jones has used that lens when picking his leaders for this Rugby World Cup.
When thinking about leadership, too, I always believe a good support staff are crucial to being successful at a Rugby World Cup. Physios, analysts, doctors, assistant coaches – they're all contributing those one per centers that fans don't get to see.
When we won in 1999, we all got together and put the Cup in the middle of a circle, and 50-odd people linked arms and sang the national anthem. Players, coaches, staff, even the Welsh bus driver – everyone in that circle had contributed to us winning the tournament.
Established goalkicker
Stats don't lie on this one. Established kickers are so important. Look at every World Cup winner and they have a high-quality goalkicker who has either kicked major goals to win a critical game or two or has just been the points machine that has driven the entire team through a tournament.
Carter Gordon during Wallabies training.Credit: Getty
Grant Fox, Michael Lynagh, Joel Stransky, Matt Burke, Jonny Wilkinson, Morne Steyn, Dan Carter, Handre Pollard …. and so on. The names are enough to tell a tale of the World Cup win.
Matt Burke kicked 49 of 62 points in the semi-final and final of the 1999 Rugby World Cup win.
Test rugby is a game of pressure, and when you get into scoring positions, defences at the pointy end are the best in the world. You're not going to score lots of tries. You have to be able to collate points in other ways, and kicking a handful of goals can give you scoreboard pressure – and the upper hand.
Carter Gordon has the potential to be a good kicker, but he is still finding his way. He'll need to find confidence and rhythm quickly because the major contenders all have sharpshooters. Whoever wins this World Cup will have someone kicking at 80 per cent.
Don't be shy
At a Rugby World Cup, it's easy to get overawed by the tournament. Every big Test team is in the one place, the games are nearly all high stakes and players are desperate to not let the side and their country down.
Embrace it. Take photos and stop to talk to travelling fans. You don't get many chances to experience a World Cup. Soak up how special it is.
On the field, I am a big advocate for this advice: don't be shy. Don't sit back, don't be scared to try your hand, even if you are one of the youngest players in the side. The last thing your team wants is for you to play within yourself, and not bring your full talent to the field, just because you're worried about making a mistake.
In 1991, I was lucky to play with David Campese, and he epitomised that spirit. On top of all the hard work of the team, his moments of magic proved to be the difference between us winning and losing some big games.
For players like Jordy Petaia and Mark Nawaqanitawase, those players should feel the freedom to play their natural games, and thankfully we have seen that in recent matches. Indeed, it feels like Eddie Jones is basing a big part of his gameplan on power runners up front and in the mid-field, and then giving the outside backs and playmakers the freedom to attack on a whim.
With a young team, it may be the perfect recipe. Yes, they're green and people are looking towards 2027 already. But they don't need wait until a second World Cup to believe they can win a tournament. Why not now?
Tim Horan will provide expert commentary for Stan during the Rugby World Cup. Every game will be shown ad-free, live and in 4K Ultra HD on Stan Sport. Replays, mini matches and highlights are also available on demand.
Most Viewed in Sport
From our partners
Source: Read Full Article