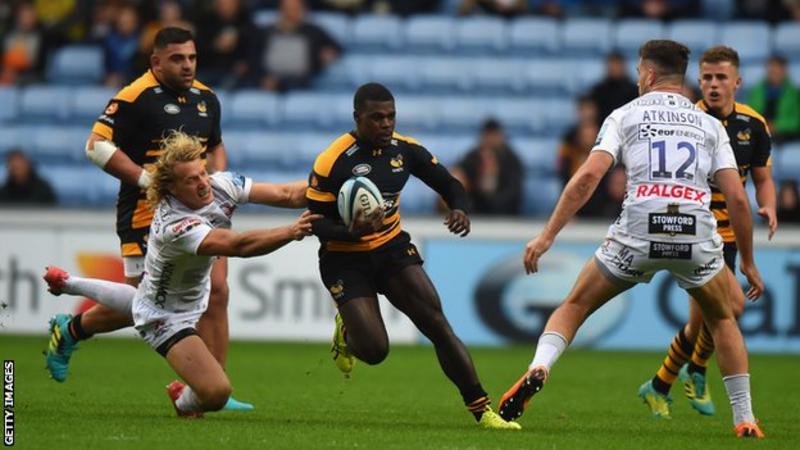 Christian Wade says England's obsession with size contributed to him making just one international appearance during his rugby union career.
One of the Premiership's greatest wingers, Wade has retired at 27 to pursue a career in American football.
The ex-Wasps player's sole England cap came on a tour of Argentina in 2013.
"I have had it all through my career that maybe I was too small to play for England," Wade told the Rugby Union Weekly podcast.
In an in-depth interview, he said: "Even from when I was young I have felt English rugby has always been about size.
"When I was 16 I didn't get picked in the main team because I was too small and they wanted big wingers – and it's always been like that.
"I felt I have always had to prove myself, and I think [my size] gave me the stigma about not being able to defend and not being a good defender, because if you look at my stats they were up there all of the time."
Rugby Union Weekly podcast: The Christian Wade Special
'Rugby has let Wade down' – Monye
Despite admitting he had a "love-hate relationship" with the sport, Wade – who is third in the all-time Premiership try-scorers list with 82 – reflected fondly on his nine-year career as he embarks on a new challenge in the United States.
"Although I didn't get any more caps, I can always look back and say I gave it everything," he said.
"The rest is down to whoever was in charge."
As well as making his England debut in 2013, Wade was also called up to the British and Irish Lions tour that summer, playing against the Brumbies.
"I am definitely very proud of those moments," he added.
"You would have hoped it would have lasted a bit longer, but those sort of things are out of your hands.
"Although I didn't get any more caps and go on any more Lions tours, I was able to do a few bits in Wasps colours that I can be proud of as well."
Wade has had no contact from current England boss Eddie Jones, and says he was resigned to not playing for his country again after missing out on Stuart Lancaster's extended World Cup training squad in 2015.
"That hurt me quite a lot, and from that point on I stopped aspiring to play for England as such," he said.
"It became all about me as an athlete and Wasps. I feel my career then took another lift, and that was my journey from that point onwards."
Wade now starts his training in earnest as part of the NFL Player Pathway, before flying to America in the new year.
He is not ruling out a return to rugby union if his NFL dream does not materialise – but he is determined to make the most of the opportunity.
"In January I will be flying to Florida, when they have a 12-week extensive camp," he said.
"Then in March or April I will be doing one of the Pro Days, and all 32 teams will send their scouts down to have a look at us and let us know if they are interested.
"If I don't get picked up it is back to the drawing board. I understand how hard it is to get in and it will be like trying to climb Mount Everest.
"But I just can't pass up on this opportunity."
Source: Read Full Article