The SCG Trust will replace 3000 square metres of turf in preparation for Friday's blockbuster NRL clash between the Roosters and Rabbitohs after the pitch was torn to shreds during the Waratahs' win over the Reds on Saturday night.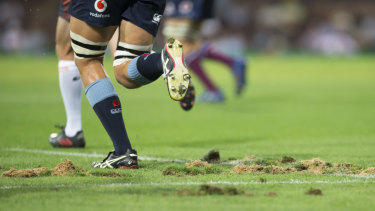 Chewed up: The SCG surface was below par on Saturday evening during the NSW Waratahs and Queensland Reds Super Rugby match. Credit:AAP
An emergency meeting between the Roosters, Rabbitohs, NRL and SCG Trust has been called to inspect the turf on Sunday afternoon but both League Central and the Trust are quietly confident no alternative venue will have to be arranged.
"The SCG will replace 3000m2 of turf today in preparation for Friday night's NRL round one match between the Sydney Roosters and South Sydney Rabbitohs," an SCG Trust statement said.
"Turf at the eastern and western ends of the field was compromised during Saturday night's Super Rugby match.
Running repairs: Ground staff get busy during a break in play in the Waratahs-Reds match.Credit:AAP
"A combination of late rain before kick-off in areas of the field dominated by the winter rye grass contributed to damage at scrum time."
Large chunks of turf were torn up every time the two teams packed down for a scrum, causing farcical scenes as ground staff were rushed onto the pitch at stoppages to try and stamp loose areas down.
"The SCG is confident that the surface will be ready for the Waratahs' match against the Crusaders on March 23," the statement said.
"The new turf is of the ready-to-play variety and will be available for a Roosters training session on Wednesday.  The SCG will continue to work with its sports partners to ensure the field of play is presented to the highest standards."
Source: Read Full Article