AFL chief executive Gillon McLachlan said he has been "wounded" by the pain Eddie Betts has felt since the Adelaide Crows' controversial 2018 pre-season camp but insists the league had no formal reason to act against the club or camp organisers.
McLachlan has apologised to Betts and any other players still suffering from what transpired at the four-day camp on the Gold Coast, with Betts particularly traumatised by having personal information he had given to the camp's counsellors disclosed in front of his teammates.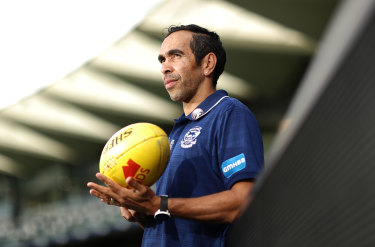 Eddie Betts, now an assistant coach with Geelong, has detailed the emotional pain he has felt since the Adelaide Crows' 2018 camp.Credit:Getty Images
An AFL investigation in October 2018 cleared Adelaide of any industry rule breach and a SafeWork SA investigation last year cleared the Crows of breaching health-and-safety laws.
However, McLachlan re-iterated on Friday that there had been "disgraceful things done" at the camp.
"I am not going to comment on the investigation other than [to say] it was investigated thoroughly, not only by our integrity team but also by WorkCover SA [sic]," McLachlan told 3AW.
"There have been, frankly, some disgraceful things done as opposed to breaking laws or rules. That is a challenging one, to deal with that part.
Eddie Betts and Gillon McLachlan.Credit:Getty Images
"In terms of the lack of action, I don't agree with that, either. Our response has been to make changes, to say, every camp has to be signed off by the AFL to make sure we protect the physical and mental wellbeing of all the participants. I now have structured, regular communications with our Indigenous cohort, both male and now, of recent times, female. But the male one has been going on for quite some time.
"We mandated a push at the behest of that player cohort to make sure that we have prevented this stuff going forward, that there is an Indigenous liaison officer at all 18 clubs."
McLachlan said he had been in regular contact with Betts and had been emotionally hurt by what had transpired.
"I am wounded when anyone of our players, especially senior indigenous people, have been in a situation like this, are wounded. I am sorry that our broader infrastructure has failed them. In terms of the public nature of that, I heard Ed [say] that it would help in his journey if that was public … I am very happy to do it. We are sorry for the broader failings."
Betts, now retired and an assistant coach at Geelong, detailed the incident in which he was told he would be a "shit father" because he was raised only by his mother in his book, The Boy from Boomerang Crescent. The book also details other incidents from the camp.
McLachlan said he had known for "some time" what had occurred at the camp but admitted there were "different interpretations".
Veteran Crow Rory Sloane said some players had been bored on the camp, while others had enjoyed it. He maintains he returned as a better husband, father and son.
Betts maintains he felt "brainwashed" after the camp, and he was told to stay silent.
The AFL Players Association has admitted to failures in its investigation of the camp, while Adelaide lawyer Greg Griffin, who specialises in sports law, has told The Age he had discussed a potential class action against the AFL and the Crows.
Keep up to date with the best AFL coverage in the country. Sign up for the Real Footy newsletter.
Most Viewed in Sport
From our partners
Source: Read Full Article