Only people deep within Parramatta's inner sanctum will know this story.
Some Eels players still don't know.
How Parramatta coach Brad Arthur tried to be Kieran Foran's saviour. When the star five-eighth's life was hurtling out of control. When he was struggling to cope with the expectations of being the club's $4.8 million megastar. When he was just a couple of months away from trying to take his own life.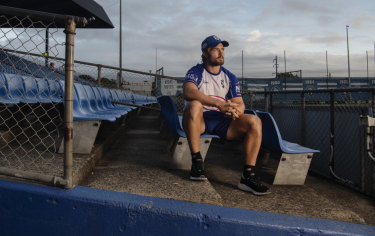 "I haven't been this happy for a long, long time": Kieran Foran.Credit:Louise Kennerley
"I lived at Brad Arthur's house because I wasn't living at home," Foran tells The Sun-Herald. "His family took me in, gave me a bed, gave me a room. He was my head coach.
"He had three young kids. He tried to do everything he possibly could to help me get through that time in my life because he knew how much I was struggling. He exhausted every avenue for me.
"I just needed to help myself and get to a point where I needed to look at my life and what was going wrong and what needed to change. I wasn't coping with the external pressure of what rugby league was doing to me."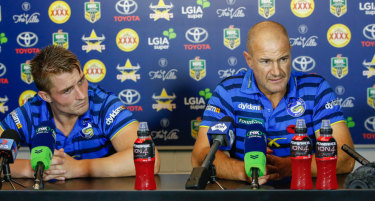 Special relationship: Kieran Foran and Brad Arthur front the media during the troubled 2016 season.Credit:AAP
Foran is lucky to be alive. It is not a throwaway line. He tried to overdose on painkillers one April morning in 2016. He was rushed to St Vincent's Hospital.
"Obviously, the months leading up to that particular moment were as tough as they've ever been," says Foran, who struggled with the breakdown of his relationship to the mother of his two young children.
"I was just trying to hang on. I'm thankful every day I get a second shot, that I've got this second chance. It could have been very different for myself.
"I've lost mates to suicide and close family members. I was my own worst enemy. I was a ticking time bomb.
I was my own worst enemy. I was a ticking time bomb.
"I didn't realise it at the time, but my life was completely and utterly going down the drain. I'll often say to my wife now, 'I still remember the days I prayed for the things I have now'. It was the toughest year of my life. I don't know if I'll have a year that was tougher.
"I still reflect on 2016. I try not to go back there as often these days. It's a great reminder for me when I look back on that year and how far I've come and how much my life has transformed. There's no denying that year presented challenges that I never imagined."
Foran and his Bulldogs will go head-to-head with Arthur and his Eels on Sunday afternoon at ANZ Stadium.
To this day, Foran says he feels intense regret about disappointing the Eels and their fans. He sensationally declares that had he not busted his shoulder in 2016, he would still be an Eel.
"I'd been to a mental health clinic in Sydney at Christmas, went to one for three weeks in Brisbane in April and when I came out I played against Newcastle and did my shoulder," Foran says.
"Rugby league was the one constant in my life each week. That kept me half sane. If I hadn't done my shoulder, I'm still at Parramatta to this day.
Busted and broken: Kieran Foran says had he not injured his shoulder in 2016, he would still be at Parramatta.Credit:AAP
"Because I had done my shoulder, rugby league disappeared from my life, and I was no longer around my teammates and doing rehab while all this other stuff was going on in my life.
"The decision to leave the game became a decision I had to do. I needed a break. There was no thought given to the fact I had just signed a four-year deal with Parramatta. I was either going to hit rock bottom or change my life. I couldn't give what I needed to give to Parramatta.
"To the Parramatta fans and the guys I played with there, it still eats away at me. There are plenty of days I talk to those closely around me and say, 'I owe Parramatta a different Kieran Foran'.
"Brad put a lot of faith in me, and it still eats at me I couldn't return the favour – I couldn't go there and be the player and person I wanted to be, purely because my life away from the field was chaos.
I was either going to hit rock bottom or change my life. I couldn't give what I needed to give to Parramatta.
"I feel sorry and disappointed I couldn't be there and stick it out. I try to be a proud man and do right for others who have done right by me. In that instance, I didn't do right by Parramatta."
Foran is a proud man. It is the very reason he is prepared to try and repay the Bulldogs with everything he has – and for as long as it takes.
"Canterbury have brought me here to do a job and hopefully I can deliver on that job," Foran says. "I won't be leaving until I do. I can't say that more passionately or sternly that I have a job to do here, and I will get it done. I don't know how long it will take but I will get it done.
"I know what sort of footy team we have here. One result won't determine our year. We're building something special here. I've been around footy long enough to know what it takes to win and what sort of footy sides get success, and we have it here.
"We need to build the belief within the footy club. We'll get there. We're putting in the effort. Life has taught me if you tick all the boxes, it will turn for you.
"You have to go through some pain to get the reward. Last year was painful for us. Who knows, there might be a bit more pain at the start of this year, but I know we will get there.''
Few players put their body on the line more than Foran. His premiership halves partner at Manly, Daly Cherry-Evans, will never forget a game against the Gold Coast Titans when Sam Tagataese smashed the No.6 all night.
Glory days: Kieran Foran celebrates a premiership with Sea Eagles fans in 2011.Credit:AAP
"Kieran engages defenders, he puts his outside men into holes for opportunities to score tries and he still does that better than most halves in the comp," Cherry-Evans says. "But this particular night on the Gold Coast, he copped an absolute battering from Sam Tagataese – not once or twice, but three or four times. He got hit so hard, every time he got hit you'd think to yourself, 'surely he won't get up this time'. He did, and he was one of the best on the field, as usual, that night.
"His selflessness, the way he wants his teammates to look better, it was exciting to play alongside him. He helped make me a better player."
Now 28, Foran is in a good place. There will be no running off to reunite with his good mate Des Hasler and DCE on the northern beaches. Hasler was the one who negotiated another big payday for Foran to come across to Canterbury.
Being injured while the club moved on fan favourites Josh Reynolds, Moses Mbye and David Klemmer because of salary cap pressure was never going to sit well with some fans. Foran knows it. He's a smart bloke.
His selflessness, the way he wants his teammates to look better, it was exciting to play alongside him.
There's a clarity in his eyes and the way he speaks.  He has not touched a drop of alcohol since New Year's Day. He's even contemplated abstaining from the grog for good. The only thing that would raise eyebrows is the top-bun hairstyle he ran out with last weekend against the Warriors.
"Even my stepkids have given it to me about that," Foran says with a smile.
After operations on both big toes and his right wrist last year, Foran is as good physically as he's ever been.
"That's the question I get asked the most," he says. "I've reinforced my body as well as I've ever reinforced it. I'm lifting the sort of weight in the gym I was lifting when I was 21 and 22, when I was lifting really heavy weights."
Mentally he is also clear.
"That's the second-most asked question,'' he says. "The place I'm in at the moment, I haven't been this happy for a long, long time. It's everything. All the stars have aligned."
Now they just have to align above Belmore.
Source: Read Full Article