If the AFL season can be thought of as a series of increasingly pointed questions, Collingwood had more answers this introductory night in a thoroughly gripping game of footy.
But there are many pages to be turned yet, though not Collingwood's Jeremy Howe, whose crash-landing from a typical leap early in the third quarter caused him such a gruesome injury that television producers exercised discretion not to replay it nor zoom in on it.
It cast a sombre pall over what was otherwise a rousing contest. A-hundred-and-plenty beats a hundred and a bit; whoever heard of that this century? This was a classic exhibition of modern rebound football, which is something to behold since this is round one.
The big question for Geelong is whether it can reprise last year's Tom Brady act. The answer is yes. Though down on manpower, they played plenty of smart footy until lack of legs caught up with them. The premiership blueprint stands up. Don't write it down after one round.
For Collingwood, the question is whether it can repeat its Houdini feats of last year. If they won so many by so little, the argument runs, surely they would lose some this term. But their thinking is that just as surely they could win some by more. So they did this night.
But to make good on their ambition, they will have to be more efficient than they were here. Star recruit Tom Mitchell gave them the grunt they wanted at the fall of the ball, but too often they squandered it. In contrast to last year, they won the contested ball and clearances, so that's a start.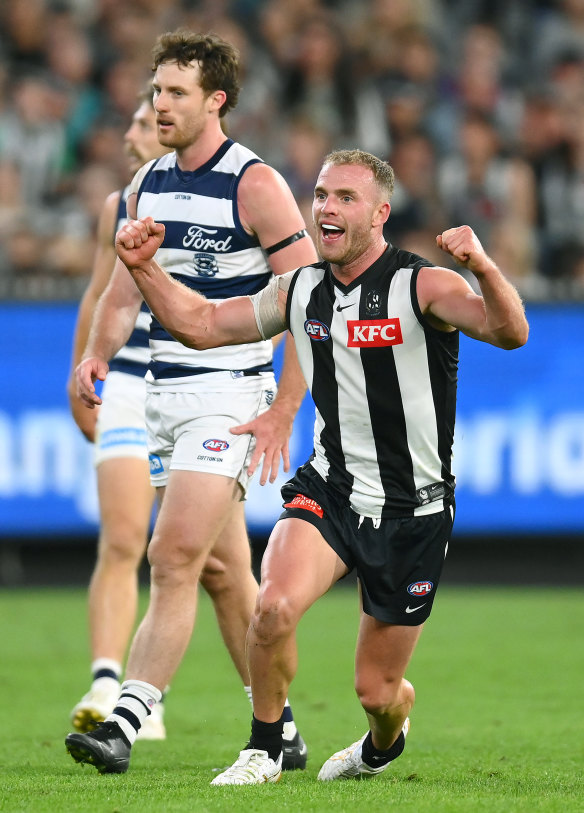 New Magpie Tom Mitchell.Credit:Getty Images
The Magpies' other imports, Dan McStay and Bobby Hill, had minimal initial impact, but in the third quarter, Hill bobbed up in the damnedest places to kick the Pies back into the game.
But, unexpectedly and uncharacteristically, they were ill-disciplined, giving away two crucial third quarter goals because of 50-metre penalties. Whatever else the Magpies have or haven't, it's not goals to spare. There's scope for betterment.
Both sides are different from last year, but are they better? They'd better hope so, since both topped up with players from other clubs in the off-season and did not bother with draftees wild cards this night. They're in their windows; blooding can wait.
Geelong could hardly find a level above the team that romped to the premiership last season, but you can write down that they will be no worse. One gain was the sometimes commanding – and sometimes profligate – performance of Esava Ratugolea at full-back.
The balance of players either unavailable, underdone or injured on the night worked against the Cats once Tom Stewart went down in the first quarter and Sam de Koning was hobbled, too. In truth, the game changed complexion when that pair limped off, then again momentarily after Howe's horrific accident.
The most emphatic answer the Magpies gave this night was to question about how they would fare without Howe. Twice they trailed by more than 20 points, but roared home like a king tide. It's no small thing to say about the Pies that it wasn't even close.
There was a subsidiary question about how Ollie Henry would settle in his first game for his new club against his old.
It was settled this way: a goal for Henry in the second quarter, which he celebrated by cocking his ears to the Magpie crowd, then, as he strolled into the goal square minutes later for what he thought was a simple second goal, a ferocious tackle from Collingwood skipper Darcy Moore. All of this was at the Collingwood end, and now the crowd had its say.
Other questions begged: for Geelong, is there is life after Joel Selwood? It was staring them in the face pre-game when the legendary former skipper did a one-man (and a baby) motorcade of honour.
The mark of a great leader is that his team does not collapse when he is gone, but continues to improve. QED. Dangerfield's style of leadership may be different, but the foundations Selwood laid are sound.
Talking of leadership, the Magpies' blessing is that in the post-Pendlebury era, they still have Scott Pendlebury.
Another question for Collingwood: is there a way without all-Australian ruckman Brodie Grundy? It is more nuanced and moot, since Grundy was not there for most of the Magpies' fairytale ride last year, but he was a popular player at the club and his departure would always be a test of the fabric.
The evidence this night says that they will be alright. Darcy Cameron his own in the ruck, and Mason Cox asserted himself as he does from time, taking towering marks and kicking two goals. After his second, he imitated Henry's gesture; he is nothing if not a showman.
And so to one final question: is the game losing its appeal? More than 88,000 on Thursday night and 86,595 this night says no in capital letters. They're the converted, yes, but they're massed still. If the footy is this good for the rest of the season, they'll all be back, often.
Most Viewed in Sport
From our partners
Source: Read Full Article