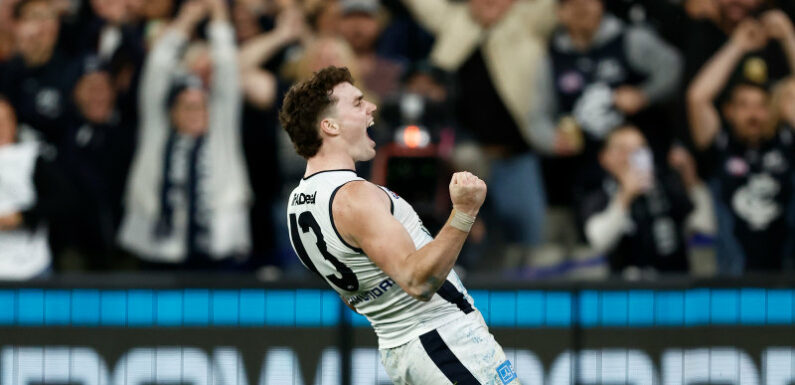 Save articles for later
Add articles to your saved list and come back to them any time.
Key posts
'Build the resilience and greatness': Goodwin says adversity is necessary, confirms Gawn has broken toe
A season and final of moments and momentum: How the Blues won
Blue heaven: Carlton snatch victory from despondent Demons
'Incredible fight by the boys': Sam Walsh on the win
'Waited 10 years for this': Cripps says win feels unreal
Stage set for final quarter
Melbourne take the lead into final change
Baum's top three of the half
Goodnight, footy fans!
Well, that's a wrap for the first semi-final of the weekend team. Thanks for joining us on the wild (stressful) ride.
What a blockbuster we were treated to (or a sour experience if you're a Dees fan).
Carlton are through to the preliminary finals in their first finals series in a decade. Incredible.
Also incredible is that Melbourne, with all their golden talent, have bowed out in straight sets for the second year in a row. Yikes.
Up next, Port Adelaide will host GWS in Adelaide for the second semi-final to see who will face Collingwood the following week.
And for the Blues? They'll head to Brisbane to face the Lions at the Gabba. So, just a simple feat in front of them.
Thank you again for joining us! Have a good sleep and we'll see you tomorrow.
'Build the resilience and greatness': Goodwin says adversity is necessary, confirms Gawn has broken toe
This time last year, Melbourne coach Simon Goodwin was in the exact same position he is in now. Fronting a press conference after his side bowed out in straight sets.
Does he think the same issues are still there?
"I think we moved forward as a footy club. We transitioned a bit of our list as well throughout this period, throughout the last 12 months. We've seen some young guys get a lot of exposure throughout our team and will continue to build. We think we're in a good shape to be able to continue to build," he told reporters.
"We've got to sometimes go through these little challenges, this adversity to really build the resilience and greatness that's required to win big games.
"We sit here, Carlton, you know, they took their opportunities. Full credit to them. They worked on that throughout this year. You can see the adversity they've gone through to get through to the position they're in. This is just for us another step in our little work way that we want to go back to where we want to be."
Another question. Critics will say that the club hasn't maximised its talent on the list since then. Will that burn over summer?
"Look, I think when you've had two years where you set us up in an opportunity to perform strongly in finals and you lose, you know, twice in straight sets, there's going to be criticism out there, but as a footy club, we know we have a list that's building and still going to continue to add to that," said Goodwin.
"We also know we're going to continue to put ourselves in a position where we can have success that we want to have. But that just doesn't happen. It's hard to do. A lot has to go right. So we'll keep training hard, working hard, reviewing, finding ways to get better and come out the other side."
Goodwin also confirmed Max Gawn was playing with a broken big toe.
Greg Baum's best
The moment the Storm skipper found out the Demons had lost
Melbourne Storm captain Christian Welch experienced two very strong emotions tonight. One was the joy of his side winning their semi-final against Sydney Roosters at AAMI Park in the dying minutes of the game, the other emotion was disappointment after finding out his beloved Demons had lost their clash with Carlton across the road at the MCG.
Welch appeared to receive an off-camera tip that the Blues had won while facing the media with coach Craig Bellamy. NRL journalist Martin Garbor appears to have captured the moment Welch found out his side had lost.
A season and final of moments and momentum: How the Blues won
Carlton's season has been one of the most remarkable seen in AFL history.
The Blues began 2023, went into a deep recession that triggered a crisis, steadied themselves and then came roaring back with a surge that sent them from 15th to fifth by the end of the regular season.
Now, they are playing Michael Voss's old team – the club he led to three flags on the trot – at the Gabba for a grand final berth, potentially against Collingwood, after a victory that was improbable throughout the final quarter, but materialised, as if the footy Gods willed it, in the final minute or so, as Blake Acres delivered the winning mark and goal.
Sheer joy: The Blues react after the final siren.Credit: Eddie Jim
Collingwood v Carlton on grand final day. Just think about that for a second, even if the odds are against the Blues next weekend.
Read Jake Niall's full post-game analysis here.
Blue heaven: Carlton snatch victory from despondent Demons
A final-minute Blake Acres goal has propelled Carlton into a preliminary final after a pulsating semi-final with a Melbourne team that has suffered consecutive straight-sets September exits.
Matthew Kennedy – only playing after Harry McKay (concussion) and Jack Martin (suspension) were forced outs – dribbled through a late behind to seal a two-point victory that triggered an eruption from the Blues faithful when the siren sounded seconds later.
The match-winning play unfolded when Sam Docherty marked about 75 metres out, then took off instantly as young Demon Judd McVee fell to ground, before driving a kick deep into attack for Acres to gobble up then blast through.
The critical moment: Blake Acres boots the winning goal.Credit: Channel Seven
Michael Voss' men, who have won 11 of their past 12 matches to climb out of the bottom four and into the final four, again had the lion's share of support from the 96,412 fans who packed into the MCG.
They were last in a preliminary final in 2000, and are headed to the Gabba to take on the Brisbane Lions, the club their coach became a triple premiership captain and legend.
Read full match report here.
Want to relive that last minute of the game, Blues fans?
Demons fans, look away.
Here's the final minute of the game, just as a little treat, thanks to AFL:
Top three of the evening, three who struggled
TOP THREE:
Sam Walsh: Hunted the ball from first bounce to last siren. Instrumental.
Jack Viney: Melbourne's pulse. He couldn't have done any more.
Steven May: Blanketed Charlie Curnow, won his game.
THREE STRUGGLERS:
Alex Cincotta: Was isolated on Kossie Pickett in the second half, and couldn't handle him.
Tom McDonald: With limited recent match time, just could not impose himself.
Charlie Curnow: Double-teamed, admittedly, but Blues will need more than one from him next week.
'Incredible fight by the boys': Sam Walsh on the win
Sam Walsh, who had a terrific evening with game-high disposal count of 34 touches and two goals, found it hard to put the feeling of heading to a preliminary final into words.
"It was incredible fight by the boys. Hard to put it into words at the moment. Just the atmosphere and the way we come back, just show great fight. One of the tightest games of footy I ever played. Credit to Melbourne, a bloody good team," Walsh told Fox.
"Just feels like we're just ready to go again each week. That's been the mind set the past couple of months. I just feel like the way we're playing has created so much energy on game day. Even in those hustles, there's so many moments in finals games you just have to keep coming. I just think we were playing as a team. The best thing about winning finals is you can learn this week, take it into the next. It's probably a lot of turnovers, work on my kicking as well, but that's all to come. We have next week to look forward to."
And what was Voss' message at three-quarter time?
He just said: ""Boys, this is the situation we want to be in." If he had told us this two, three months ago, you wouldn't believe him. The thing is, we just want to become that team."
'Waited 10 years for this': Cripps says win feels unreal
An elated Patrick Cripps after the siren has said they know what they needed to do and they did it.
"We know what we've got to do. We practice that so many times. It worked last week. Yeah, just keep the ball in, try and get another one on the ball," Cripps told Fox.
"I can't believe it. This is unreal. It's just a credit the boys — credit to the boys, credit to Melbourne. I love the way they go about it, a fierce contest all night. To win a final, you've got to win a few times in the game, Voss says. They came out. You know, we knew they would respond from last week. We fought back. Just an arm wrestle. Special game.
"Waited 10 years for this. Two down, off to Brissie next week now."
On the crowd, he said he could barely hear a thing post siren.
"It's the best. That's the biggest crowd I've been in front of. So good when you've got two fan bases going as well. Momentum is huge. Both supporter bases were loud tonight. That roar."
The Blues celebrate the win.Credit: Getty
Most Viewed in Sport
Source: Read Full Article