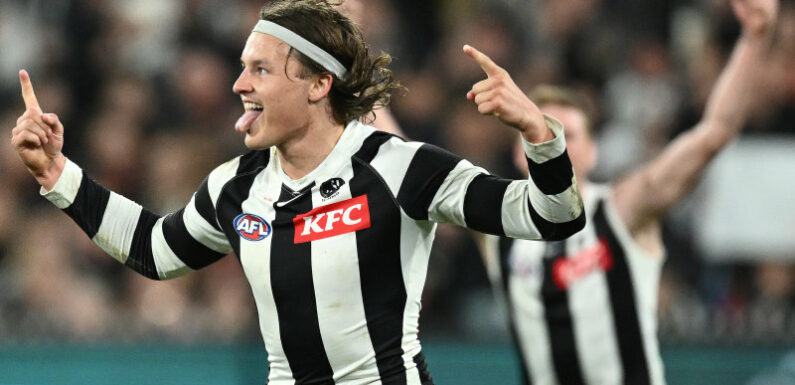 Save articles for later
Add articles to your saved list and come back to them any time.
Key posts
Is Ginnivan open to a trade?
Ginnivan 'locked in' – but where?
Ginnivan in talks with Hawks
Zerk-Thatcher could head to the draft
Got a trade question?
Dogs look to restructure coaching panel after finals miss
McAdam to join Demons forward line
Competitive balance review to take place
Official moves so far
That's all for today, folks
Well, look, an uneventful day with a spicy twist in the end.
We had Shane McAdam join the Melbourne forward line early on with the Crows getting a future second-round selection in return.
Then about nothing much until the reports spritely young Collingwood forward Jack Ginnivan had been in talks with Hawthorn over a potential trade.
The Magpies acquiring Lachie Schultz this week put Ginnivan's position under pressure.
That's definitely one that goes in the 'stay-tuned' basket.
Wednesday is the final day of trading, so a lot could happen before the evening deadline. Get some rest and we'll see you then.
Thanks for joining us today! Ciao.
Dow and Coffield deals done
The Paddy Dow and Nick Coffield deals are done.
Dow will move from Carlton to St Kilda, Coffield from St Kilda to the Bulldogs and picks will be exchanged in a four-club deal that will also involve Essendon. It does not involve high draft picks.
More details to come. Stay tuned!
Paddy Dow in action against St Kilda last month.Credit: Getty Images
Cats add a coach
Geelong have nabbed former Gold Coast interim coach Steven King, who will join the Cats as an assistant.
Prior to taking the main reins briefly at the Suns – which he held between the departure of Stuart Dew and appointment of Damien Hardwick – he was the senior assistant coach there for two seasons.
Steven King addresses the Gold Coast players in his first game as interim coach of the club.Credit: Getty Images
Before that, King was part of the Western Bulldogs coaching staff for 10 seasons, including the 2016 premiership and 2021 grand final loss.
Going even further back, he was a ruckman at the Cats and St Kilda, where he played 240 games over 15 years.
Geelong football manager Andrew Mackie said the club was excited to welcome King back to the Cattery.
"We're excited to add Steven to our coaching staff. He returns to the club with a strong coaching resume and we're happy he sees his next coaching opportunity with the club," said Mackie.
"Steven is passionate about developing players and his knowledge and experience will further benefit our playing group.
"We're looking forward to seeing the impact Steven can have on our football department and welcome him and his family back to Geelong."
'A lot to prove': What would Ginnivan be worth?
Former Adelaide player Josh Jenkins suggested Jack Ginnivan would be worth around pick 33, which former GWS captain Phil Davis hit down.
"It seems a bit high to be fair," said Davis in response on Trade Radio.
"I feel like he's more of a 40-50 kind of player."
So, worth a late second- or early third-round draft pick.
Let us know what you think in the comments!
Watch the clip here:
Is Ginnivan open to a trade?
Jack Ginnivan has not requested a trade, according to a well-placed source familiar with the situation.
Ginnivan's emergence as a trade target and the hold-up on a four-club deal look set to push a number of other deals into deadline day.
The Hawks have added Pie Ginnivan to their trade wishlist, along with Mabior Chol and Massimo D'Ambrosio, while Jack Gunston could also be a Hawk again.
Collingwood' Jack Ginnivan.Credit: Getty
Nick Coffield and Paddy Dow are the players involved in negotiations between St Kilda, Carlton, Western Bulldogs and Essendon, with a bunch of picks also included.
The original hope was that trade would be done yesterday, but there has still not been a deal agreed upon.
Richmond (Jacob Koschitzke) and Port Adelaide (Brandon Zerk-Thatcher and Jordon Sweet) are among the clubs in the trade queue, while Gold Coast (Elijah Hollands and Mabior Chol) have players who want to depart.
Hawthorn and the Power, who are yet to broker a deal for Geelong's Esava Ratugolea and still trying to prise Ivan Soldo from Richmond, loom as the busiest clubs before the trade period ends at 7.30pm on Wednesday.
Ginnivan 'locked in' – but where?
As the reports flood in that Collingwood premiership player Jack Ginnivan has been in talks with the Hawks about a potential trade, the small forward posted "locked in" to his Instagram story.
Then, promptly deleted it. But eagle-eyed fans caught it.
Locked in where exactly, Jack?
A look at the Hawks' list
Hawthorn finished 16th last season with seven wins and 16 losses.
While that might seem like a big "ouch" on paper, the side, which is knee-deep in a rebuild, showed a lot of promise, especially regarding its youngsters.
Now, as just reported, the club are in talks with Collingwood's livewire small forward Jack Ginnivan, who recently became a premiership player.
Cam Mackenzie of the Hawks kicks during the round one AFL match between Hawthorn Hawks and Essendon Bombers at Melbourne Cricket Ground, on March 19, 2023, in Melbourne, Australia.Credit: Getty
So, what do the Hawks need when it comes to their list right now?
The Hawks need quality tall timber at both ends, after missing out on Ben McKay and Esava Ratugolea. Expect them to go hard for a key forward next year, and maybe even this October. Maybe.
Massimo D'Ambrosio, who requested a trade to Hawthorn from Essendon, is a speedy utility who will add more depth to the list.
A classy small forward to work alongside, then eventually succeed Luke Breust, especially with Brockman on the way out.
Essendon to appeal Prespakis suspension
Essendon have confirmed they will appeal the one-match ban handed down to star midfielder Maddy Prespakis for a dangerous tackle on Richmond's Sarah Hosking.
Prespakis was done for careless conduct, medium impact and high contact. You can see the vision below, thanks to AFL Women's:
The decision will be determined at Tuesday evening's tribunal.
The tribunal will also determine the outcome for the Adelaide Crows' Najwa Allen, who's bump on the Western Bulldogs' Kirsten McLeod went straight to the tribunal.
Ginnivan in talks with Hawks
Well, looks like we're getting a late trade twist after all.
Collingwood livewire and premiership player Jack Ginnivan has been in discussions with Hawthorn, who are interested in acquiring the small forward.
Ginnivan is contracted for next year at the Magpies.
Hawthorn are interested but whether a deal can get done will be dependent on the terms. They are still working to get Massimo D'Ambrosio, Mabior Chol and Jack Gunston all in the door.
Jack Ginnivan.Credit: Getty
Just yesterday, Collingwood footy boss Graham Wright said Ginnivan will not be traded, despite the club picking up small forward Lachie Schultz from Fremantle.
"I haven't taken any calls about that [trading Ginnivan]. We haven't sought to take calls either," Wright told AFL Trade Radio on Monday.
"From our perspective, it hasn't been an issue at all. We see Jack as a part of what we're doing, he's contracted for next year and we haven't taken any calls at all."
Schultz, another small forward, will add pressure to Ginnivan's spot in the side as the Pies now have a mosquito fleet, including Norm Smith medallist Bobby Hill, Beau McCreery and Jamie Elliott.
Ginnivan managed just 14 senior games this year, including five as the sub. The season prior, he was one of the club's main goalkickers with 40 majors.
Zerk-Thatcher could head to the draft
Port Adelaide football boss Chris Davies has said if a deal isn't done with Essendon by trade deadline – tomorrow evening – for Brandon Zerk-Thatcher, the defender could be heading to the draft,
"Zerk-Thatcher wants to come home for some family reasons, he desperately wants to come back to Adelaide," Davies said on Trade Radio.
"If we can't find a deal in the next period of time, the drafts become a live option. We will have to look at every option we have at our disposal."
Brandon Zerk-Thatcher wants to go to Port Adelaide.Credit: Getty Images
Meanwhile, West Coast's list manager Rohan O'Brien said there were no timelines to potentially trade the prized pick No.1.
"We won't put a timeline on things. The way it's all structured now, we can wait until the last hour to make a decision. Unless something blows us out of the water we'll take as much time as we need," O'Brien said on Trade Radio.
Most Viewed in Sport
Source: Read Full Article