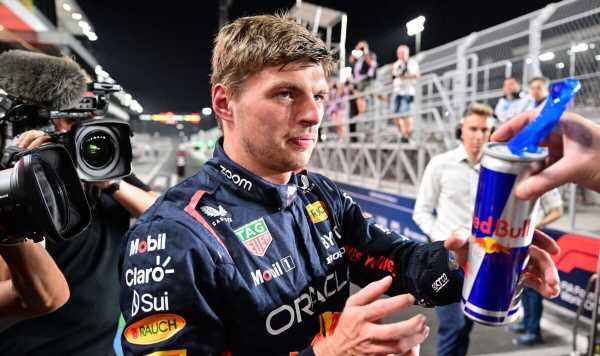 Max Verstappen has admitted that he sank 'five gin and tonics' on the night that he clinched his third Drivers' Championship title, as details of his boozy party celebrations come to light. The Dutchman was already crowned champion before he lined up on pole for the Qatar Grand Prix 11 days ago, and the Red Bull star made certain he would mark the occasion by letting his hair down after the sprint race.
Verstappen only needed three points to claim a hat-trick of world titles and he did so comfortably, coming home to take second spot behind McLaren's Oscar Piastri after a thrilling 19-lap race around the Lusail International Circuit.
His haul of seven points and Sergio Perez's crash confirmed he would become a three-time world champion, and few could blame Verstappen for wanting to celebrate completing his dominant title triumph at the earliest opportunity, even if it would mean partying just hours before the Qatar Grand Prix the following day.
According to The Standard, the 26-year-old admitted in a team debrief to sinking 'five gin and tonics' on Saturday night – known to be his favourite alcoholic drink – before joking that he sweated them out in the sweltering conditions in Qatar after clinching his 49th race win.
Click here to join our WhatsApp community to be the first to receive breaking and exclusive F1 news.
READ MORE Red Bull told to axe Perez 'right away' as team boss vouches for next Verstappen[INSIGHT]
It comes after AlphaTauri driver Yuki Tsunoda revealed earlier this year that Verstappen introduced him to the popular alcoholic drink, which is a simple mix of tonic water and gin and usually served with lime slices. It is a favourite amongst athletes due to its refreshing taste and low calories.
And it appears Verstappen may have more than a few after he apparently appeared on a screen, tuning in from his home in Monaco, looking a little worse for wear during a the team debrief began at their factory in Milton Keynes. There were even said to be cardboard cut-outs of the Red Bull ace as staff queued up for a selfie.
Even though he is currently 209 points clear of team-mate and closest challenger Sergio Perez when wrapping up the title, a humble Verstappen thanked 'every member' of the team with a message confirming his commitment to Red Bull for the long haul.
Advert-free experience without interruptions.
Rocket-fast speedy loading pages.
Exclusive & Unlimited access to all our content.
DON'T MISS
Red Bull in danger after Lando Norris confirms McLaren have taken 'huge step'[NEWS]
Max Verstappen 'would rather Red Bull sack Christian Horner over Helmut Marko'[GOSSIP]
Inside life of F1 world champion Verstappen with model WAG and £12m private jet[PROFILE]
"It feels like a second family to me," he is quoted saying. "Loyalty is very important to me. My dream is to stay with the team until the end. It's way better than I ever could imagine."
Verstappen, who has won 14 of 17 races in 2023, can equal the record he set last year for most race wins in a season.
He finished on top of the podium 15 times in 2022, but Red Bull's dominance has reached new heights with Carlos Sainz the only driver to stop them winning a race this year.
Source: Read Full Article