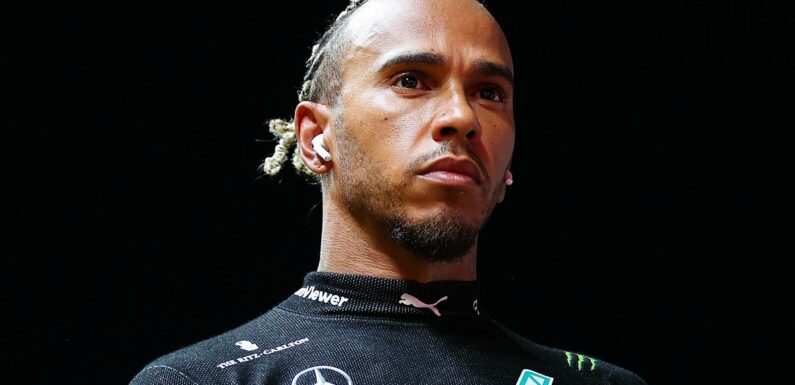 Lewis Hamilton was 'the PERFECT fit' for Ferrari, insists Johnny Herbert, as he claims the Mercedes star should've followed his 'dream' instead of signing new £100m deal with Silver Arrows
Lewis Hamilton penned a new £50m-per-year, two-year deal with Mercedes
Ex-Formula One star Johnny Herbert wishes Hamilton made a different choice
Herbert believes Mercedes star Hamilton would've been a 'perfect fit' at Ferrari 
Lewis Hamilton should've followed his dream and moved to Ferrari instead of extending his stay at Mercedes, insists Johnny Herbert.
Hamilton recently signed a huge £50milion-per-year, two-year extension to keep him at Mercedes until the brink of his 41st birthday.
It remains to be seen whether that will be the seven-time world champion's last contract in Formula One but it does make it more likely that a move to Ferrari – a move Hamilton referred to as a 'dream' two years ago – is off the cards as a result.
Reports claimed that Ferrari were interested in recruiting Hamilton should he have failed to agree new terms with Mercedes. However, Hamilton spoke of his 'unfinished business', as he continues to hunt down that elusive record eighth world title.
And while former Sky Sports pundit and F1 star Herbert understands his decision to stay at the Silver Arrows, he wishes he could've seen his compatriot race in the iconic red overalls instead.
Lewis Hamilton (left) should've followed his dream and moved to Ferrari instead of extending his stay at Mercedes, insists former Formula One star Johnny Herbert (right)
Herbert believes seven-time world champion Hamilton would've been a 'perfect fit' at Ferrari
Herbert, 59, told the Mirror: 'He may be aware of what may be happening in the future with Mercedes and has been satisfied that is where his future is. Still, I would have liked to have seen the final part of his career in a Ferrari.
'I honestly think he was the right character and the perfect fit for them. If he is happy where he is, for him, that is the best mental place for him to be. 
'You have got to have belief in where you are at and Lewis does, which is why he re-signed.'
Hamilton's chances of winning an eighth world title this season look to be all but done following Max Verstappen and Red Bull's domination this season, given the Dutchman won every race before last weekend's Singapore Grand Prix, where he didn't even make the podium.
Max Verstappen has dominated Formula One in the last two seasons for Red Bull 
Mercedes still have plenty of catching up to do but Herbert isn't convinced that they'll be able to catch Red Bull in time and help Hamilton make history.
He added: 'Based on the last couple of years, I don't see Lewis getting an eighth title.
'The car has got better since they changed from the original concept, but they are only as good as the gap behind Red Bull. They are not ahead of the game. Can they turn it around? I don't know. I haven't seen those positive signs. They have gone forward but not very far. The car is not a race winner.'
Source: Read Full Article