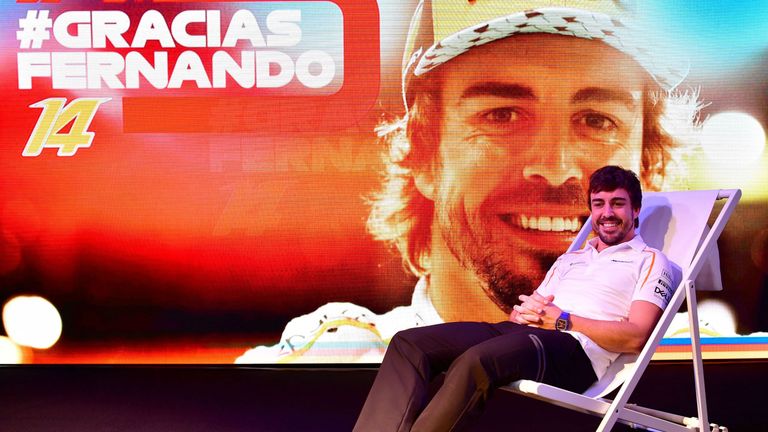 Lewis Hamilton stats from his 11th pole position of a stunning 2018 with both Mercedes drivers at the head of the field for Sunday's season-closing Abu Dhabi GP.
The race begins at 1.10pm on Sky F1 and Sky One and the grid sees Mercedes, Ferrari and Red Bull lining up in a 'Noah's Ark' style formation on the front three rows.
And, for the first time since September's Singapore GP, there are no grid penalties through the 20-car field as of race-day morning.
When's the Abu Dhabi GP on Sky F1?
Find out more about Sky F1
ABU DHABI GP PROVISIONAL GRID
1) Lewis Hamilton, Mercedes
2) Valtteri Bottas, Mercedes
3) Sebastian Vettel, Ferrari
4) Kimi Raikkonen, Ferrari
5) Daniel Ricciardo, Red Bull
6) Max Verstappen, Red Bull
7) Romain Grosjean, Haas
8) Charles Leclerc, Sauber
8) Romain Grosjean, Haas
9) Esteban Ocon, Force India
10) Nico Hulkenberg, Renault
11) Carlos Sainz, Renault
12) Marcus Ericsson, Sauber
13) Kevin Magnussen, Haas
14) Sergio Perez, Force India
15) Fernando Alonso, McLaren
16) Brendon Hartley Toro Rosso
17) Pierre Gasly, Toro Rosso
18) Stoffel Vandoorne, McLaren
19) Sergey Sirotkin, Williams
20) Lance Stroll, Williams
Sky F1's Abu Dhabi GP schedule
Sunday, November 25
9.30am: Abu Dhabi F2 Race Two LIVE!
11.30am: Pit Lane LIVE! (Simulcast on Sky One)
12.30pm: On The Grid LIVE! (Simulcast on Sky One)
1.10pm: THE ABU DHABI GP LIVE! (Simulcast on Sky One)
Get the dedicated Sky Sports F1 channel – the exclusive home of all F1 next season – for £18 a month in HD with no contract. Get Sky Sports F1.
Source: Read Full Article