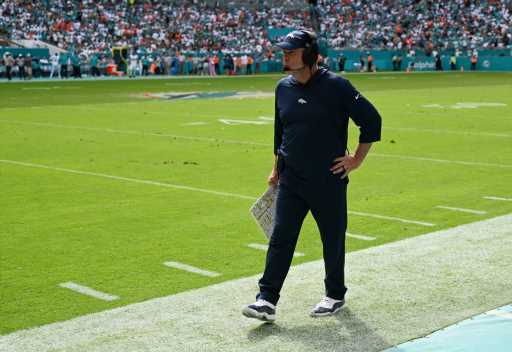 Don't stop now, Sean Payton. There's only one way you can win back Broncos Country with a straight face.
And that's by losing.
A lot.
If 2023 was salvageable, you'd have fired defensive coordinator Vance Joseph before he could board the bus at Miami Gardens.
You didn't. It isn't.
NFL rosters — paid, proud professionals with contracts — do not capitulate by 50 unless they've quit. They don't give up 70 unless they've quit.
There's too much talent in every pro locker room, even the goofy ones, for a team to get rolled like it's an SEC-Sun Belt game in September. You gotta want to whup somebody big. You gotta want to get your backside handed to you on national television.
In college, at least, the team that has its doors blown off can bandage its wounds with a check from its assailants. Payton doesn't need the money. Neither does Greg Penner. Or Rob Walton.
Dolphins 70, Broncos Monroe 20.
Just lose, baby.
Lose, lose, lose.
"Listen, first off, to the fans, we're gonna work our tail off and get this ship straightened away," Payton said Monday when I asked him how the locals should process the worst defeat in franchise history. "That's gonna happen … there's gonna be a process involved in that.
"Certainly there's a lot of work ahead of us, and look, the key is finding these guys, putting them in the right positions to be successful and then (finding) that confidence that comes with winning, you know, that's the main thing."
Baloney.
Blow it up. Now.
Hiring Joseph was a Hail Mary.
Keeping him is sheer madness.
New coach. Same accountability. None.
Which is a shame, because there are signs of tangible offensive improvement buried underneath all that bad. Russell Wilson is closer to the guy the Broncos traded all those draft picks for, despite a shaky offensive line. Marvin Mims Jr. is a keeper. Javonte Williams and Samaje Perine are a physical, north-south, 1-2 punch that should be crushing opponents' souls in the fourth quarter.
But they won't be crushing anything but Gatorade cups if the Broncos are always down by double digits eight minutes after halftime.
Denver's defenders missed either 25 or 24 tackles against the Dolphins, depending on the source. The pass rush is an enigma — per ProFootballReference, only the Raiders are getting a lower percentage of pressure on opposing QBs (8.5% of dropbacks) than the Broncos are (9.8%) after three games.
Yes, Miami has the speed and the scheme to make a lot of defenses look silly right now. But bad is bad. The Commanders, who put a 35 spot on Joseph's unit in Week 2, got run 37-3 by Buffalo last weekend. Las Vegas scored 17 on the Broncos in Week 1 and has averaged 14 points per game vs. the Bills and Steelers, both losses.
"I think there's a grit element, a toughness element, that it can be unpleasant," Payton said. "And one of the things that we preach all the time about finding smart, tough players is not just for the three hours on game day — it's for the (other) times. (And) our league brings us this every year, for every team, these moments where you find out a lot about each other."
The Broncos were found out ages ago.
They're awful.
Embrace it.
This franchise has put off hitting the reset button for years, patching holes with Case Keenums, Joe Flaccos and Teddy Bridgewaters instead of just letting a leaky ship sink. It's time.
The playoffs are the kind of pipe dream even Tommy Chong thinks is too far out, man. The Miami Meltdown wasn't a rallying cry. It was a wake-up call.
The Broncos have a golden opportunity directly in front of them now, if they don't fumble it away. Actually, fumbling things away would be the next logical step.
Caleb Williams, anyone?
The web site Tankathon.com says that Sunday's loser of The Bungle Bowl between the 0-3 Chicago Bears and 0-3 Broncos has the inside track at landing the USC quarterback with the No. 1 pick in next spring's draft.
Stat guru Kenneth Massey pegs the Bears and Broncos to win just five more games apiece. TeamRankings.com's latest projections have the Broncos finishing a lost season with 4.4 victories, fewest in the league. The Bears are next, at 4.9.
Just lose, baby.
Lose, lose, lose.
Why fight the inevitable, Sean? Why fight history? The last two NFL squads to give up 70 points in a game went a combined 2-23-1.
The 1966 New York Giants ended up 1-12-1, and coach Allie Sherman needed a police escort as he left the field after the final home game of the season against the Cowboys.
The G-Men wound up trading four draft picks for quarterback Fran Tarkenton the next spring. For the 1950 Baltimore Colts, things were even bleaker, finishing the campaign at 1-11 and then folding after the season.
Get the paper bags with eye-holes ready. Get ready to say good-bye to some favorites, especially if those favorites are Justin Simmons, Jerry Jeudy or Pat Surtain II. Because hindsight being 70-20, there's only one way out of this darkness.
And that's to dig deeper.
Want more Broncos news? Sign up for the Broncos Insider to get all our NFL analysis.
Source: Read Full Article