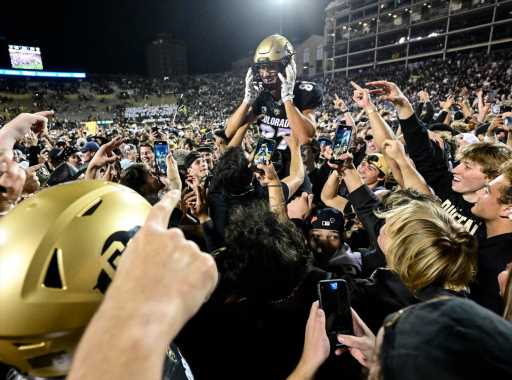 BOULDER — You know what they call Big Brother when he ducks a family fight in the driveway?
A Big Chicken.
We need more Rocky Mountain Showdowns. Not fewer.
To think: A CU-CSU game that kicked off at 10:20 p.m. in the Big Apple drew more eyeballs — 9.3 million viewers, an ESPN record for a late night game — than Georgia, South Carolina, Florida, Tennessee, Alabama, Florida State, Boston College, Penn State, Ohio State, LSU, Mississippi State, and the first Backyard Brawl between Pitt and West Virginia in Morgantown since 2011.
And y'all want to walk away from this? Now? Just when it's getting good?
But the Rams, you say, are hellbent on hurting us! Cheap Shot U knows the only way they can win is by knocking Travis Hunter and Shedeur Sanders out of the game!
Yes, Henry Blackburn crossed a line. And if you're one of the clowns who posted any personal information about the young man or his family, you crossed several more.
"Make sure (to) pray for that kid, man," CU coach Deion Sanders said Tuesday of Blackburn, the CSU safety and Boulder native who became the target of unseemly threats after his late hit on the Buffs' Travis Hunter sent the latter to the hospital with a lacerated kidney.
"That's absurd for people to just be threatening (Blackburn). I don't mind getting death threats. I get them every week. But a kid, it's not good."
It's not. And good on Coach Prime for putting that on the record, for nipping something awful, as Deputy Barney Fife would say, square in the bud.
But the Buffs, you scoff, have nothing to gain and everything to lose! Everything!
CU, some insist, should use this chance to replace CSU with a "buy" game. Let's give an HBCU school a nice chunk of change for a ticket to come up north and sample some Pasta Jay's, then blow their collective doors off.
OK. Fine. I'll humor you. Say the Buffs swap out the Rammies for some random FCS program. And let's say the Buffs win by 45, Shedeur throws for seven touchdowns, the check to Wossamatta U clears, and everybody drives home safe.
Here's what you don't get out of the deal:
• Shedeur having to rally the Buffs with an Elway-esque 98-yard touchdown drive to force overtime. So scratch one "Heisman moment" off the board, right there.
• Overtime. And all the Looney Tunes moments that come with it.
• Any love from the College Football Playoff committee when it comes to the strength of your schedule.
Yeah, but …
Hang on, hang on.
Isn't the point of this — it sure as heck was a talking point for Deion Sanders, and hasn't changed for him since Day 1 — to get the Buffs into that expanded 12-team field?
Guess what, buttercup? Non-conference cupcakes are frowned upon, just as they are in basketball. I'll defer to my old pal Jerry Palm on this one, when the longtime CBS bracketologist wrote last month:
"In a sense, it's better for non-CFP contenders to schedule three or four nonconference wins … and let the conference games fall where they may. For example: Ohio State's strength of schedule is better if Rutgers is 4-8 with three non-conference wins than 1-11. Teams feeling they have a chance to make the CFP should try playing at least one good non-conference game to prove their worth to the committee. Everyone else in their league should just try to schedule wins so they have as good a record as possible for their opponents."
Question for the Ralphies who think this program, in a span of 10 months, now has too much to risk by playing the Rams:
Are you aspiring to be the Rutgers in Palm's scenario? Or the Ohio State?
I think we all know which one Coach Prime signed up for.
"Whenever we were in that close game, I wasn't really worried," CU safety Shilo Sanders said Tuesday. "I was just like, 'Well, everyone's watching now, it's just a bigger stage to make bigger plays, and have all the eyes on you whenever you make a play.' I just looked at it as an opportunity. That's why I said that — close game, more people are going to tune in. It'll be more entertaining than, you know, beating them 60-0. Probably less people going to watch (that one) after, like, the second quarter. So everything happens for a reason."
Viewership for the Showdown actually peaked between 9 and 9:15 local time, per ESPN, at 11.1 million viewers, right before the start of the second quarter. Here are a few of the things that happened over that stretch:
• A 45-yard fumble return by CSU's Ron Hardge III for a 13-7 Rams lead (8:59 p.m.)
• The Blackburn hit on Hunter (9:03 p.m.)
• A Sanders TD pass to make it a 14-14 game
America's in on the hate now. And the fun. You want to stab this thing in the back just when it's taking off?
If Big Brother doesn't want to show up in FoCo next September, it's not because he's scared he'll get hurt.
It's because he's scared he'll lose.
Want more sports news? Sign up for the Sports Omelette to get all our analysis on Denver's teams.
Source: Read Full Article