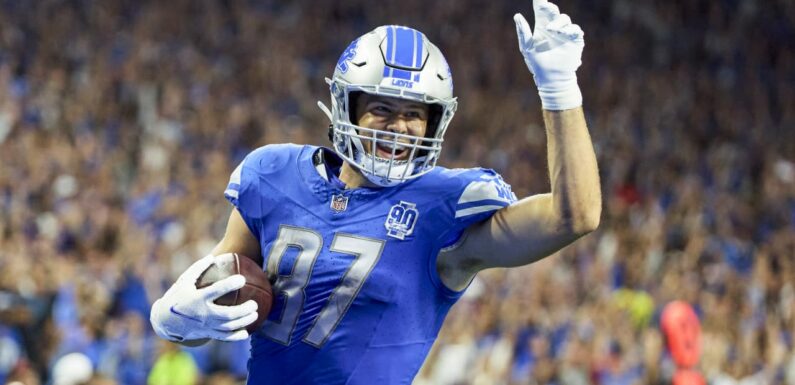 Each week of the 2023 NFL season, the Next Gen Stats analytics team will present a different Position Power Ranking, meant to spotlight the top performers among a specific group of players. This week, we've assembled a list of the top 10 tight ends entering Week 6.
Before we dive in, though, a note on our methodology: To help create quantifiable rankings, we have devised a formula that yields a Next Gen Stats percentile score, which measures how a player is performing relative to his peers. The formula uses each player's percentile score across a series of key metrics to create one composite score, indicating which players at that position performed best. We will lean on this formula to inform our rankings when applicable.
NOTE: Player percentiles are based on components representing a tight end's production and efficiency as a receiver, prowess as a run blocker, and overall play time.
Related Links
Week 6 NFL picks: Chiefs win 16th straight over Broncos on Thursday; 49ers, Eagles stay perfect
NFL RB Index, Week 6: How six backfields should distribute carries moving forward 
NFL trade candidates: Notable players who SHOULD be moved before the league's Oct. 31 deadline
NFL PANIC SCALE: Patriots hitting rock bottom; can injury-riddled Bills, mistake-prone Ravens get right?
Fantasy football 2023 Week 6 sleepers: Back to Dak in prime time?
NFL Power Rankings, Week 6: Eagles vault back up to No. 2, Lions hit top five, Jaguars crack top 10

Playtime Percentage: 81
Receiving Score: 94
Blocking Score: 90
OVERALL TE SCORE: 94
Just five weeks into the season, LaPorta has already graduated from being discussed strictly in "among rookies" terms. He's already set multiple Next Gen Stats era (since 2016), including the most receiving yards over expected (+71) and second-most receiving yards by a rookie tight end (289) through five weeks. Those two marks are also the highest among all tight ends this season.
Rookie tight ends often struggle to see the field due to a learning curve at the NFL level when it comes to blocking. LaPorta's 81.2% playtime rate indicates that he's been effective on run plays — contributing, in part, to his 90 blocking score.

Playtime Percentage: 83
Receiving Score: 90
Blocking Score: 96
OVERALL TE SCORE: 91
Kittle and Brock Purdy had an instant connection from the second the young quarterback relieved an injured Jimmy Garoppolo in Week 13 of last season. From that point until the end of the 2022 regular season, Kittle's seven receiving touchdowns were second to only Jerick McKinnon's eight and were three more than the next closest tight end. That success has carried over to this season, as Kittle's three-touchdown performance (on three receptions) in Sunday's win over Dallas has him leading all tight ends in receiving EPA (+19.2).
Kyle Shanahan schemes rely heavily on tight ends who are willing to put it all on the line as blockers. Kittle's notoriety as a ferocious run-blocker is well established and contributes to his 96 blocking score, tied for the highest on this list.

Playtime Percentage: 67
Receiving Score: 90
Blocking Score: 64
OVERALL TE SCORE: 86
Since making his 2023 debut in Week 2, Andrews is tied for the most touchdowns among tight ends (three) and has racked up the third-most receiving yards at the position (225).
The former third-round pick has been Lamar Jackson's favorite target since Jackson took over as Baltimore's full-time starter in 2019. Lamar has targeted the three-time Pro Bowler 379 times for 3,109 yards in total, and Andrews' second-most receiving yards (3,985) and receiving touchdowns (34) among tight ends in that span are a testament to the level of trust Jackson has in his top pass catcher.

Playtime Percentage: 80
Receiving Score: 89
Blocking Score: 66
OVERALL TE SCORE: 86
The Justin Fields-Kmet connection is real. Since 2022, the duo's nine touchdown hookups is the most on the team and account for the third-most touchdowns of any QB-TE duo.
Chicago's offense may have gotten off to a slow start this season, but Kmet has produced handsomely. His 231 receiving yards through five weeks ranks sixth-most and his +3.7% catch rate over expected is fourth-best at his position (min. 30 targets). Kmet has also corralled three touchdowns this season, matching the league-high receiving TD totals among tight ends put up by Sam LaPorta, Mark Andrews, George Kittle and Travis Kelce.

Playtime Percentage: 95
Receiving Score: 81
Blocking Score: 96
OVERALL TE SCORE: 85
Goedert's career began in the best possible way: David Akers aggressively trolling Cowboys fans in Dallas by announcing the Eagles had drafted a player named Dallas just ahead of the tight end-needy Cowboys. Since 2021, Goedert has generated +10.2 receptions over expected, the most among tight ends.
Ahead of the Eagles' Week 5 game against the Rams, head coach Nick Sirianni acknowledged Goedert's lack of production through four weeks, noting that Goedert's "dry spell" would end soon. It sure did as Goedert erupted for 117 yards – including +46 receiving yards over expected — and a touchdown on eight receptions in the win. It was the most receiving yards and receiving yards over expected among tight ends in Week 5.
Being effective as a tight end isn't just about catching passes, and Sirianni acknowledged enough when he highlighted Goedert's contributions in the run game this season. Goedert's 96 blocking score is tied for the highest on this list and is proof that performance doesn't necessarily equal production.

Playtime Percentage: 54
Receiving Score: 88
Blocking Score: 60
OVERALL TE SCORE: 83
Kelce's relatively low ranking may surprise some. His reputation as possibly the greatest tight end of all time precedes itself, and there is no shortage of metrics in which Kelce ranks first. Since 2016, he leads all tight ends in receptions (699), receiving yards (8,809), receiving touchdowns (62) and yards after the catch (4,130).
Right now, the 34-year-old is still the top offensive weapon on the Chiefs. He's already been injured twice this season after previously not missing a single game due to injury since his rookie 2013 campaign. His playtime percentage has dipped as a result. The snaps he's missing are mostly run-blocking snaps with Noah Gray and Blake Bell contributing more in the run game this season.
Kelce is still an elite pass-catching tight end with the eighth-most receiving yards (222) at his position this season despite missing a game, but the banged-up tight end just won't be on the field as much as in past years if the Chiefs want him in tip-top shape down the stretch.

Playtime Percentage: 83
Receiving Score: 82
Blocking Score: 76
OVERALL TE SCORE: 82
After being traded from Detroit, Hockenson made his Vikings debut in Week 9 of last season, leading all tight ends in receptions over expected (+4.5), routes (351) and intended air yards (644) through the end of the regular season. All it took was a change of scenery for the former No. 8 overall pick's full potential to be realized.
That production helped him to earn the richest tight end contract in NFL history in the offseason, and it has carried over to 2023, with Minnesota's top tight end finding himself with the most targets (39), the third-most receiving yards (254) and the fourth-most intended air yards (235) among tight ends through five weeks.
Minnesota has high expectations for Hockenson — expectations that will be pushed to their limit in the coming weeks with Justin Jefferson being placed on injured reserve with a hamstring injury.

Playtime Percentage: 64
Receiving Score: 79
Blocking Score: 93
OVERALL TE SCORE: 81
Despite some light competition from second-round pick Luke Schoonmaker in the preseason, Ferguson entered Week 1 as the unquestioned starting tight end of the Dallas Cowboys. Ferguson continues to be one of the top road graders at the position, a quality that works to keep defenses honest. While not a speedster by any means, his +24 yards after the catch over expected is tied for fourth-most among tight ends this season. Receiving may not be Ferguson's main asset, but his continued development in that area is a great complement to his third-highest blocking score on this list.

Playtime Percentage: 75
Receiving Score: 79
Blocking Score: 72
OVERALL TE SCORE: 80
Engram was a YAC machine during his time in New York, finishing fourth in YAC (1,485) and fifth in YACOE (+249) among tight ends from 2017 through 2021. And yet, New York allowed him to play out his rookie deal without an extension, something the Jaguars were more than happy to capitalize on.
Engram's hot debut season with the Jaguars in 2022 helped him earn a three-year, $41.25 million extension this offseason. He has picked up right where he left off, leading all tight ends and ranking 10th among all players in YAC (181) this season, despite Trevor Lawrence spreading the ball around more with the arrival of Calvin Ridley.

Playtime Percentage: 59
Receiving Score: 82
Blocking Score: 61
OVERALL TE SCORE: 79
A clean bill of health and a new scheme under offensive coordinator Eric Bieniemy has breathed new life into the 32-year-old Thomas. A good tight end is a young quarterback's best friend, and Sam Howell is targeting his top tight end at a higher rate per route (19.7%) than Terry McLaurin (17.5%), Curtis Samuel (17.3%) and Jahan Dotson (16.1%). It's paying off too. Thomas has generated 29 more receiving yards than expected this season, the fifth-most among tight ends and more than Kittle, Andrews, Goedert and Kelce.
HONORABLE MENTION:
Hunter Henry, New England Patriots
Tyler Higbee, Los Angeles Rams
Jonnu Smith, Atlanta Falcons
Darren Waller, New York Giants
— Mike Band, Keegan Abdoo and John Andersen contributed to this story.
Source: Read Full Article