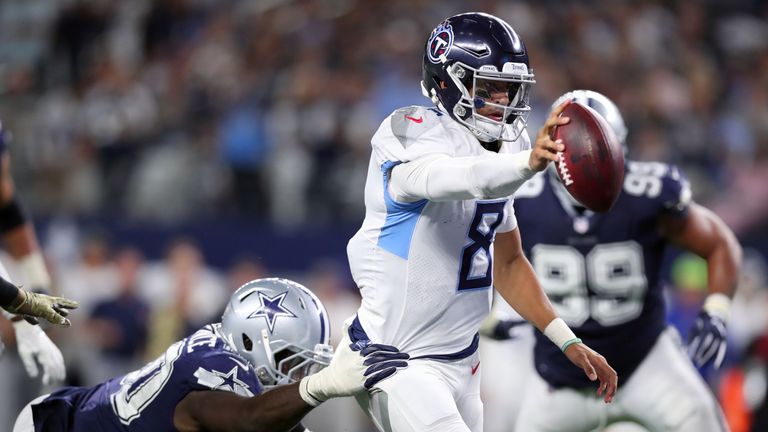 Marcus Mariota threw two touchdowns passes and rushed for another to lead the Tennessee Titans to a 28-14 road victory over the Dallas Cowboys on Monday Night Football.
Mariota completed 21 of 29 passes for 240 yards and tossed scoring strikes to running back Dion Lewis and tight end Jonnu Smith as well as running into the endzone himself, from nine yards out in the fourth quarter, to snap a three-game losing streak for the Titans (4-4).
Dallas quarterback Dak Prescott was 21 of 31 for 243 yards, also throwing two touchdowns, although he was also intercepted in the endzone when the Cowboys had the chance to go 14-0 in the first quarter – that set up a Derrick Henry score to tie the game up at 7-7 – and fumbled in the third, allowing Tennessee to take the lead.
The Cowboys had earlier gone in front thanks to Amari Cooper's first touchdown for the team. He caught five passes for 58 yards, including the four-yard score, on his Dallas debut.
It stayed level, at 14-14 heading into half-time, after further touchdowns for Lewis for the Titans and Allen Hurns for the Cowboys, but it was Tennessee who took control of the contest after the interval to inflict a third defeat in four on Dallas (3-5).
FIRST QUARTER
Titans 0-7 Cowboys: Dak Prescott four-yard touchdown pass to Amari Cooper (Brett Maher extra point good)
Titans 7-7 Cowboys: Derrick Henry one-yard touchdown run (Ryan Succop extra point good)
SECOND QUARTER
Titans 14-7 Cowboys: Marcus Mariota 18-yard touchdown pass to Dion Lewis (Succop extra point good)
Titans 14-14 Cowboys: Prescott 23-yard touchdown pass to Allen Hurns (Brett Maher extra point good)
THIRD QUARTER
Titans 21-14 Cowboys: Mariota seven-yard touchdown pass to Jonnu Smith (Succop extra point good)
FOURTH QUARTER
Titans 28-14 Cowboys: Mariota nine-yard touchdown run (Succop extra point good)
Game's key stats
Source: Read Full Article